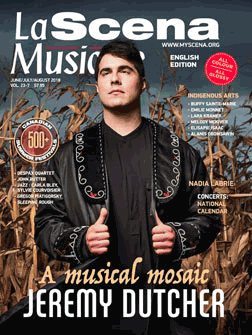 This page is also available in / Cette page est également disponible en:

Francais (French)
The National Academy Orchestra is celebrating its 30th year. This mentor-led training school founded by Boris Brott prepares emerging musicians by "bridging the gap between theoretical excellence and practical employment in professional careers." That means following an innovative curriculum under the guidance of a highly accomplished and professional staff.
Participants are chosen through auditions at universities, conservatories and academies across the country. The program, which has been recognized by all three levels of government, has played host to mentors like the violinist, violist and conductor Pinchas Zukerman; cellist Rachel Mercer; and Toronto Symphony Orchestra concertmaster Jonathan Crow. Other mentors include members of the National Arts Centre Orchestra, Canadian Opera Company Orchestra, the National Ballet of Canada Orchestra and the Los Angeles Philharmonic.
Academy graduates hold prestigious positions around the globe in such ensembles as the Cleveland Orchestra, the TSO, the MET Orchestra and the St. Petersburg Philharmonic. Alumni include a Grammy Award winner (conductor Roi Azoulay) and the first brass player to take first prize at the Iris Marquardt Competition (trombonist Camille Renaud).
The object of the NAO, Brott says, is to provide students with entrepreneurial skills alongside practical musicianship to prepare them to become "confident, flexible, capable and contributing" members of the artistic community. A vital element of the program is the "all-encompassing repertoire," which includes opera. Brott stresses also "the way we embed high calibre-professionals, performing together with the NAO fellows."
Brott Opera, another auditioned program for emerging artists, returns for its fourth year. A program of master classes and vocal coaching culminates in two presentations: a "PopOpera" performance as well as a fully-staged opera (this year, The Magic Flute). The opera program at Brott offers the musicians of the NAO even more "real-world" experience and the chance to explore another skill set. Members of the vocal faculty have included the late pianist Stewart Hamilton, the soprano Adrianne Pieczonka and the tenor Richard Margison.
Since 1988, the Brott Music Festival, Canada's largest non-profit music festival, has been bringing an eclectic mix of classical music, opera, jazz, pops, and chamber performances to audiences in Hamilton and across Southern Ontario. With guests like Anton Kuerti, James Ehnes, Mordecai Richler and even former Prime Minister Kim Campbell, the festival is renowned for the calibre of entertainment, world-class soloists, the high artistic standard and its exuberant young orchestra.
The Brott music festival runs from June 21 to Aug. 16.
www.brottmusic.com
This page is also available in / Cette page est également disponible en:

Francais (French)