This page is also available in / Cette page est également disponible en:

English (Anglais)
La compositrice Kristin Norderval signe la musique de la 16e production de la compagnie lyrique de création Chants Libres, une œuvre sociopolitique où il est question de résistance, de dictature et de torture.
La chanteuse et compositrice Kristin Norderval ne craint pas de se frotter à des sujets forts, et l'opéra qu'elle a composé pour Chants Libres, The Trials of Patricia Isasa, qui raconte l'emprisonnement et la torture d'une victime de la dictature qui a sévi en Argentine entre 1976 et 1983, en est un bon exemple.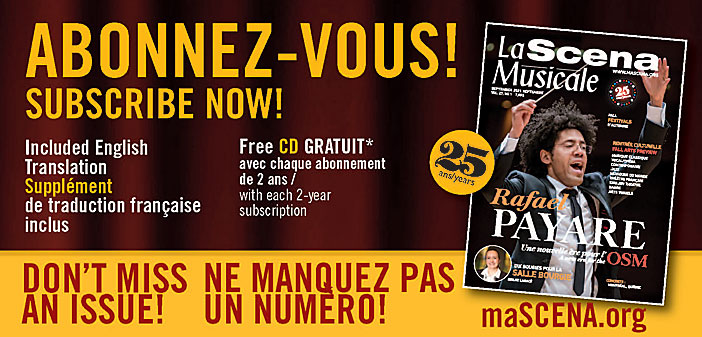 « J'ai baigné dans l'engagement politique toute ma jeunesse, explique-t-elle, jointe par téléphone à Oslo. J'ai grandi avec le sentiment qu'il est important de s'engager dans le monde qui nous entoure. »
C'est par le chant que Kristin Norderval est venue à la musique, à travers un parcours classique incluant un intérêt marqué pour les musiques nouvelles. D'ailleurs, en plus d'en avoir composé la musique, Kristin Norderval tient également un rôle dans sa nouvelle œuvre.
« Ce sont deux activités bien séparées et, lorsque je me présente pour chanter, toute ma concentration se porte sur mon travail d'interprète », dit-elle. La compositrice travaille fréquemment avec l'électronique et cette nouvelle œuvre ne fait pas exception, mais les explorations électroacoustiques seront rehaussées par la présence d'un chœur (l'Ensemble Kô) et de sept musiciens (incluant le bandonéon de Daniel Binelli et la guitare d'Olivier Lamontagne) placés sous la direction de l'Argentin Cristian Gort.
« Les musiciens sont excellents et ils peuvent passer d'un style très classique à des envolées plus jazzées ou à la couleur très particulière du tango. »
L'histoire de Patricia Isasa sera portée par Kristin Norderval (Patricia âgée) et par la soprano Rebecca Woodmass (Patricia jeune) qui seront entourées du baryton-basse Dion Mazerolle, du ténor Daniel Pincus, du baryton Vincent Ranallo et du comédien Claude Lemieux (sur écran). La directrice de Chants Libres, Pauline Vaillancourt, assure la mise en scène de cette nouvelle création de la compagnie.
C'est au tournant du siècle que Kristin Norderval a vraiment commencé à penser à la composition, en grande partie grâce à l'événement « New Op » organisé en 1999 par Pauline Vaillancourt à Montréal.
« Ça a été le meilleur événement du genre auquel j'ai assisté de ma vie, se rappelle-t-elle. C'est ce qui m'a donné l'envie de composer. Ensuite, les réactions américaines aux événements du 11 septembre 2001 m'ont amenée à vouloir faire entendre une autre voix. En 2008, j'ai créé une œuvre tournant autour du thème de la pensée de masse conditionnée par la propagande. C'est une œuvre sur laquelle j'ai beaucoup travaillé et j'avais énormément de matériel sur Guantánamo et sur l'usage de la torture. Je voulais poursuivre ce travail, mais dans une perspective plus positive, et lorsque j'ai entendu Patricia Isasa raconter son histoire, j'ai compris comment je pourrais le faire. J'ai alors contacté l'auteure Naomi Wallace et je suis très heureuse qu'elle ait accepté de participer à ce projet. L'une des choses les plus horribles à propos de la torture, ce n'est pas tant la douleur physique que la douleur mentale, toutes les victimes peuvent en témoigner. Le fait que Patricia soit passée à travers ça en conservant son humanité et sa santé mentale démontre vraiment une force exemplaire. Naomi voulait insister sur ce point et c'est illustré dans le premier acte de l'opéra, qui se déroule entièrement dans la tête de Patricia à travers des souvenirs de sa détention. Le deuxième acte nous transporte dans la réalité d'une cour de justice. »
Notons que cette histoire, heureusement, finit bien, et que Patricia Isasa assistera même à la création de l'œuvre.
---
The Trials of Patricia Isasa
CRÉATION | 19-20-21 mai 2016 au Monument-National, 1182, boulevard Saint-Laurent
Billetterie : 514-871-2224
www.chantslibres.org
This page is also available in / Cette page est également disponible en:

English (Anglais)