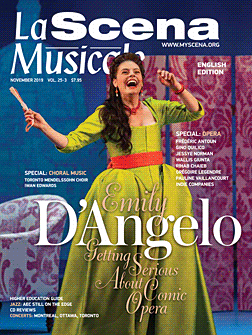 This page is also available in / Cette page est également disponible en:

English (Anglais)
Il y a longtemps qu'on n'a pas entendu chanter la soprano Pauline Vaillancourt à Montréal. Depuis 2000, en fait, alors qu'elle partageait la scène avec le comédien Jean Maheux dans L'Enfant des glaces, un électr'opéra dont elle avait réalisé la conception et la mise en scène (musique de Zack Settel, livret de Quevedo et Nerval); c'était la neuvième production de la compagnie lyrique de création Chants Libres, dont la chanteuse est aussi la directrice artistique. Pour l'entendre, il faudrait aller en Europe, où elle a ces dernières années collaboré avec le compositeur italien Maurizio Squillante. Elle tenait le rôle principal de son opéra expérimental The Wings of Daedalus (Les Ailes de Dédale) en 2003; elle participait aussi en 2005, avec Joëlle Léandre (contrebasse), Carol Robinson (clarinette), Marianne Schroeder (piano) et Frances-Marie Uitti (violoncelle), à une série de concerts en hommage à Giacinto Scelsi (1905-1988). Elle retournera en Italie en juillet 2007 pour travailler à un nouvel opéra de Maurizio Squillante. Pauline Vaillancourt explique : « J'aime participer à des créations expérimentales qui me demandent de repousser, encore, mes limites, mais je l'ai déjà beaucoup fait et, avec le type de mise en scène que je privilégie, je me demande un peu si mon corps peut encore suivre. J'y arriverais sans doute en me concentrant au maximum, mais je considère que je n'ai plus grand-chose à me prouver en tant qu'interprète. Par contre, pour ce qui est de faire évoluer d'autres interprètes dans mes propres créations, j'ai encore beaucoup de choses à découvrir. »
Les nouvelles formes d'opéra ont souvent, en effet, la caractéristique d'être très exigeantes pour les interprètes. Les mises en scène de Pauline Vaillancourt visent à faire éclater le spectacle opératique et exploitent l'instrument des chanteurs comme on ne songerait pas à le faire dans l'opéra traditionnel. « Le chanteur part de son corps, et ce serait fou de ne pas se servir des différentes possibilités qu'offre cet outil. Quand on se sert adéquatement de son corps, on peut faire des choses extraordinaires; c'est ce que m'a appris mon expérience d'interprète et c'est ce que je cherche à représenter dans l'esthétique qui me caractérise. » Dans cette esthétique, le public n'assiste pas à un spectacle, mais, de plus en plus souvent, il est dans le spectacle. C'était déjà le cas dans la précédente production de Chants Libres, L'Archange (2005, musique de Louis Dufort, livret d'Alexis Nouss), dont Pauline Vaillancourt avait assuré la conception et la mise en scène; l'action se déroulait sur un plan surélevé qui entourait les spectateurs, ceux-ci devant se tourner d'un côté puis de l'autre pour suivre l'action. Dans le cas de la 12e production de Chants Libres, Alternate Visions, un opéra augmenté, l'action se déroule dans un bar où public et personnages se confondent. « Je trouve ça très intéressant que le public soit avec nous, précise Pauline Vaillancourt, parce qu'il est à l'intérieur de l'histoire, par opposition à un public qui assiste à un spectacle, avec détachement. C'est un autre défi pour les artistes et pour la scénographie; on ne fait pas dans le papier mâché, c'est vraiment un bar high-tech. » Les développements technologiques sont fréquemment au cœur des productions de Chants Libres, mais la directrice artistique n'en fait pas une condition sine qua non. Ainsi, la prochaine production de la compagnie sera un opéra-féérie signé Gilles Tremblay, « qui écrit sa musique sur du papier », et dont l'œuvre sera jouée par un ensemble de 26 musiciens et 17 chanteurs en chair et en os. « Cependant, précise Pauline Vaillancourt, on est en 2007, et l'opéra est toujours un art total, alors on serait bien fou de se passer des outils qui existent et qui sont à notre disposition. »
Pour la réalisation d'Alternate Visions, Chants Libres s'est associée au Laboratoire DEII (pour « Laboratoire de développement d'environnements immersifs et interactifs ») et à Hexagram, (Institut de recherche/création en arts et technologies médiatiques, né de la jonction des deux principales universités en arts médiatiques de Montréal, Concordia et l'UQAM, dans le but d'intégrer leurs expertises en arts médiatiques). Inutile de dire que les technologies à l'œuvre dans cette production représenteront la fine pointe de ce qui se fait actuellement. Il est question de caméras miniatures accrochées à certains personnages avec retransmission en direct, de personnages virtuels et de « costumes interactifs ».
La genèse de cette nouvelle production remonte à 1999, alors que Chants Libres recevait la huitième édition de la conférence internationale des compagnies de création lyrique NewOp. Le compositeur John Oliver y avait fait entendre des extraits de son travail en cours et Pauline Vaillancourt a été séduite principalement par le livret de Genni Gunn. L'œuvre a beaucoup évolué par la suite, bien entendu, à travers diverses collaborations commencées, puis avortées (avec l'Europe notamment). Jean Décarie, de l'École des médias de l'UQAM et chercheur à Hexagram s'est intéressé au projet et les différents partenariats se sont mis en place. Parmi les partenaires se trouvent aussi les galeries OBORO (Montréal) et Western Front (Vancouver), pour un autre volet de la production   « C'est que l'opéra, précise Vaillancourt, raconte l'histoire de personnages qui se rencontrent virtuellement en ligne pour se donner rendez-vous dans un bar. La dernière représentation sera diffusée en direct sur Internet à Western Front, où se trouveront trois musiciens qui improviseront par-dessus notre présentation. » Ces musiciens s'ajouteront aux six musiciens de l'ensemble Bradyworks, qui seront à Montréal pour interpréter la musique de John Oliver.
Chants Libres travaille au renouvellement de l'opéra depuis 1991 (première production : Ne blâmez jamais les bédouins, opéra de chambre pour voix solo; musique d'Alain Thibault, livret de René-Daniel Dubois). Parmi les grandes réussites de la compagnie, on compte Les chants du capricorne (1995, Giacinto Scelsi), Le vampire et la nymphomane (1996, Serge Provost/Claude Gauvreau), Yo soy la desintegración (2000, Jean Piché/Yan Muckle/Pauline Vaillancourt), l'opéra jeune public Pacamambo (2002, Zack Settel/Wajdi Mouawad) et L'Archange (2005). Chants Libres ne cherche pas à servir de porte d'entrée que le public pourrait emprunter pour ensuite se rendre à « l'autre opéra ». Pauline Vaillancourt précise : « Je pense que notre travail rend le public plus exigeant en matière d'opéra, et que cela risque de forcer les grandes compagnies à devoir faire preuve d'un peu plus de créativité dans leur programmation. À Amsterdam, à Bruxelles, les compagnies ont compris qu'il est dans leur intérêt de présenter des œuvres contemporaines, mais c'est surtout dans les festivals que ça bouge le plus. Pour le moment, nous prenons le risque de la création, mais nous constituons ainsi un répertoire, et nous ne pouvons qu'espérer que de grandes compagnies seront un jour intéressées à reprendre certaines de ces œuvres. »
Afin de poursuivre son incessant travail de développement de nouvelles formes d'opéra, Pauline Vaillancourt doit s'entourer d'interprètes capables de certaines prouesses vocales qui ne sont pas forcément enseignées dans les institutions d'où sortent habituellement les chanteurs. En effet, la formation des chanteurs est restée très traditionnelle et c'est pourquoi Pauline Vaillancourt met sur pied depuis quelques années des ateliers de formation professionnelle pour chanteurs, afin de transmettre les différentes techniques qui sont souvent utilisées dans les nouvelles formes d'opéra. Mais l'ingrédient magique pour former une voix à de nouvelles techniques de chant, c'est avant tout l'intérêt du chanteur pour ce type de répertoire. « Il faut de l'amour, de la curiosité et de la persévérance, pour avoir envie de travailler davantage. Forcément, parce qu'il faut apprendre de nouvelles partitions qui sont souvent difficiles, il faut pouvoir faire de la scène sans toujours voir le chef, en chantant des airs plus difficiles techniquement… Alors il faut des gens très disponibles. C'est pour répondre à ce besoin d'un complément de formation que nous offrons des ateliers où l'accent est mis sur le travail du corps et sur le mouvement, sur l'exploration de l'extended voice et sur la découverte des nouvelles technologies.
Pauline Vaillancourt a reçu le prix Albert-Tessier 2019 des Prix du Québec.
This page is also available in / Cette page est également disponible en:

English (Anglais)