This page is also available in / Cette page est également disponible en:

English (Anglais)
Montréal
Festival et concours international de guitare classique de Montréal
29 avril au 1er mai, www.guitaremontreal.com
Vendredi à 20h, allez assister au concert du célèbre Duo Amadeus à la salle de spectacle DB Clarke de l'Université Concordia, lequel sera présenté aux côtés des prestations de l'Orchestre de guitares de la Société de Guitare de Montréal et du gagnant du concours 2015, Steve Cowan. Samedi à 20h, l'Orchestre de Marguerite-De Lajemmerais donnera un concert qui sera suivi de la prestation du gagnant du concours de la relève de l'année passée. L'après-midi du dimanche clôturera le festival avec les finales internationales du concours. Pendant la fin de semaine, les amoureux de la guitare pourront admirer les travaux de luthiers et les produits de vendeurs à Concordia et ne voudront surtout pas rater la conférence Postures et maux du guitariste du Dr Éric Legault le samedi après-midi.
Festival Classica
29 mai au 5 juin, www.festivalclassica.com
Le Festival Classica offre une programmation d'une variété impressionnante qui répond à tous les goûts. On y retrouve de la musique baroque, romantique et vocale aussi bien que de la musique du monde et des concerts pour enfants. On pourra également assister à des prestations étonnantes, comme celle de l'ensemble Art Crush Show qui interprétera Music For Heart and Breath, une œuvre de musique expérimentale qui doit être jouée en synchronisation avec les respirations et les battements de cœur des interprètes. Ne manquez surtout pas le Trio Canoë (Jean-François Normand, Marina Thibeault et Philip Chiu) qui interprétera la musique de chambre de Mozart le 3 juin, ou encore la glorieuse présentation de la Petite messe solennelle de Rossini le 2 juin.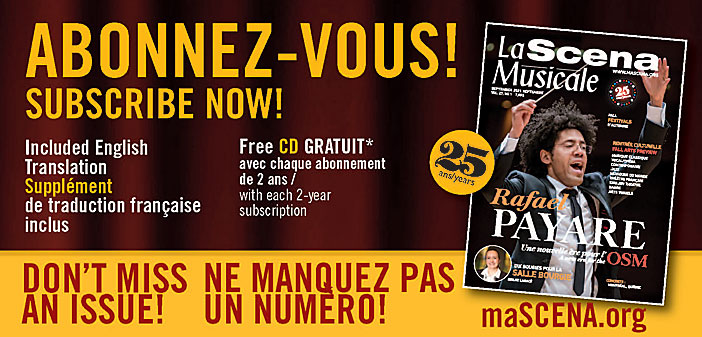 Printemps numérique
21 mars au 21 juin, www.printempsnumerique.info
Ce printemps, découvrez la créativité technologique de Montréal dans plus de 150 lieux parmi lesquels se trouvent la Cinémathèque québécoise, la Société des arts technologiques (SAT) et plusieurs universités. Le 7 avril, Akousma présentera Électrochoc No 6 : Bédard/Dufort au Conservatoire de Montréal. Plus tard, l'Université de Montréal présente la Série Ultrasons dédiée à la musique numérique, électroacoustique et vidéo du 26 au 28 avril. Les rats de bibliothèque et les fans de réalité virtuelle ne rateront à aucun prix l'activité offerte actuellement, La bibliothèque la nuit, fruit de la collaboration entre la BAnQ et Ex-machina de Robert Lepage. Visitez banq.qc.ca pour réserver votre billet à l'avance. De son côté, le Centre Phi accueillera sa propre exposition virtuelle, le Jardin de réalité virtuelle, jusqu'au 15 avril.
Festival TransAmériques
26 mai au 8 juin, www.fta.qc.ca
Les cinq grands spectacles du Festival TransAmériques présentent de la danse, du théâtre et même de l'opéra. Outre ceux-ci, une panoplie d'autres événements méritent le détour, comme des cours de maître, des expositions, des projections de films et même des partysgratuits ! Ne manquez pas le scandaleux vaudeville de Christoph Masthaler, Une île flottante (26, 27 et 28 mai), la prestation de l'œuvre Mille batailles de la chorégraphe Louise Lecavalier (31 mai, 1er et 2 juin) et le spectacle Gala du chorégraphe français Jérôme Bel.
Festival Accès Asie
5 au 29 mai, www.accesasie.com
Le Festival Accès Asie présente des artistes issus de disciplines diverses qui interpréteront le vaste continent hétérogène qu'est l'Asie ! La remarquable exposition La Mongolie, Pays de l'éternel ciel bleu du photographe Bayar Balgantseren, qui oppose les vies nomade et urbaine en Mongolie, sera présentée au Monument-National jusqu'au 8 mai. Le 6 mai, le guitariste Jérôme Ducharme et la flûtiste Yuki Isami rendront hommage au compositeur Toru Takemitsu à la Maison des Jeunesses musicales du Canada. La musique et la danse de l'Afghanistan, du Tadjikistan, de l'Ouzbékistan et de l'Iran seront à l'honneur durant la semaine de clôture. De plus, le troisième concours de danse du Moyen-Orient prendra place à La Sala Rossa le 19 mai et présentera des artistes dans six catégories de danses originaires du Moyen-Orient.
MUTEK
1er au 5 juin, www.mutek.org
MUTEK Montréal revient au Musée d'art contemporain pour sa 17e édition. Ce festival de cinq jours propose des œuvres de musique électroacoustique et d'art audiovisuel d'artistes locaux et internationaux qui présenteront plusieurs premières et projets spéciaux. Visitez le site web pour en savoir plus et avoir accès à des échantillons d'œuvres. Il s'agit d'un festival très hétéroclite et imprévisible. Osez satisfaire votre curiosité !
Traduction : An-Laurence Higgins
Toronto
21C Music Festival
May 25-29, www.rcmusic.ca/21c
The 21C Music Festival features over 21 premieres of cool, exciting new works. On May 25 at Koerner Hall, don't miss the Kronos Quartet with special guest Tanya Tagaq premiering works by Nicole Lizée, Mark Applebaum, Franghiz Ali-Zadeh, and two highly anticipated works by Tagaq, commissioned by the Kronos Quartet. If that's not hip enough for you, catch acclaimed ambient composer Jherek Bischoff in concert with hypnotic experimental trio Dawn of Midi and cello-piano duo The Visit on May 28 to hear "sounds from the Middle East, progressive rock, and classical chamber music." Continuum Contemporary Music highlights Japanese composers, including a commission from composer Hiroki Tsurumoto, on May 26. May 29, James Ehnes and Andrew Armstrong mix old favourites (Handel and Beethoven) with local premieres.
Sing! The Toronto Vocal Arts Festival
May 4-15, www.singtoronto.com
Sing! celebrates vocal music ranging from madrigals to barbershop quartets, passing by choral music, jazz, R&B, and pop — and in fact you can hear the whole gamut from female a capella group Duly Noted on May 7. Big names include The Nylons' final Toronto show on May 14 at the Jane Mallett Theatre, where up-and-coming a capella vocal troupe Naturally 7 perform the day before. Sing ! swings on May 10 at Jazz Bistro with a capella groups The O'Pears, The Watch, FreePlay Duo, 4Skör, and Retrocity. On May 7, the Canadian Men's Chorus ends its season in concert with ASLAN Boys Choir, and on May 7 and 8, free concerts will be held all day at Trinity Square in the Distillery District.
This page is also available in / Cette page est également disponible en:

English (Anglais)