This page is also available in / Cette page est également disponible en:

English (Anglais)
Chants Libres est né en 1991, à une époque où l'opéra contemporain n'avait pas bonne presse au Québec. Nombre de chanteurs redoutaient d'abîmer leur organe au contact de nouvelles pratiques, tandis que le théâtre musical éclipsait les voix lyriques. Cela n'a pas empêché la soprano Pauline Vaillancourt de fonder une compagnie lyrique de création qui, trente ans plus tard, s'est taillé une place de choix dans l'univers de la musique contemporaine. Retour sur trois décennies de Chants Libres au Québec.
Un retard à combler
Plus de 400 personnes ont défilé lors de la Nuit blanche, le 29 février 2020, pour apprécier le programme présenté par Chants Libres et ses partenaires, retraçant plusieurs pièces maîtresses du répertoire de la compagnie. « À cette époque, les compositeurs n'avaient pas de tribune en ce qui a trait à l'opéra. La danse et le théâtre avaient évolué avec leur temps, mais l'opéra était resté figé dans une forme traditionnelle statique. Il y avait beaucoup de retard à rattraper. », précise la directrice artistique et metteure en scène Pauline Vaillancourt. Réunissant des créateurs de diverses disciplines et réaffirmant ainsi le caractère total de l'opéra, Chant Libres est devenu un outil de premier ordre pour les créateurs et les interprètes, tout en redonnant à l'opéra une place sur la scène des musiques actuelles. Parmi les compositeurs qui figurent au répertoire de la compagnie qui compte dix-sept créations à ce jour, on retrouve de nombreux Canadiens (Gilles Tremblay, Serge Provost, Bruce Mather) mais également des sommités internationales (Giacinto Scelsi, Zad Moultaka). Les créations surprennent, attirent, interrogent, séduisent… Chose sûre, le retard de l'opéra contemporain a désormais été comblé.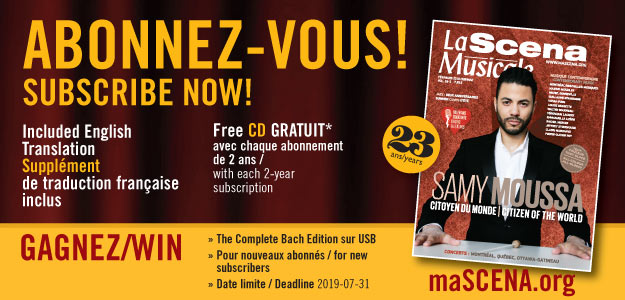 Qui dit art total dit chanteur total
« J'ai toujours été très exigeante envers moi-même; aussi, je suis exigeante avec les interprètes ». La prise de risque a toujours fait partie du travail de Pauline Vaillancourt, depuis ses premières expérimentations d'interprète dans le théâtre musical en Europe jusqu'à son rôle de metteure en scène où elle pousse les chanteurs et chanteuses à se dépasser. Cette volonté de repousser ses limites correspond également à la hausse d'exigence du public à l'égard de la scène : ainsi, cette « mise en danger » permet selon Pauline Vaillancourt de mieux capter l'attention et l'émotion des spectateurs. « Même si nous repoussons les limites, nous respectons toujours l'instrument vocal. Il y a différents types de chanteurs, certains plus lyriques, d'autres plus expérimentaux. Pour un compositeur, ce sont des outils différents à partir desquels il peut travailler. » Le travail du corps et du mouvement fait partie intégrante du rôle d'interprète, différence fondamentale avec l'opéra traditionnel. Les possibilités infinies du corps, largement exploitées par la danse contemporaine, trouvent également un écho dans les productions de Chants Libres et permettent au corps de résonner différemment à l'intérieur de l'œuvre. C'est là un outil de plus pour enrichir la compréhension de l'opéra ou lui donner une signification supplémentaire.
Nouvelles technologies : outil supplémentaire ou indispensable ?
Si les outils à la disposition des compositeurs se sont élargis, il en est de même pour les metteurs en scène et scénographes. En trente ans, la dénomination de « nouvelles technologies » a beaucoup évolué et il est rare de voir aujourd'hui un opéra, même traditionnel, qui n'utilise aucun artifice technologique. Comment trouver un équilibre dans l'utilisation de ces technologies ? « Pour ma part, j'ai toujours aimé travailler avec des artistes visuels, car ils déstabilisent notre vision des choses. En créant des environnements insolites, ils nous poussent à repenser notre propre travail. » Ce travail visuel est intimement relié à la démarche créatrice de Pauline Vaillancourt, mais en matière d'artifice technologique, ils restent des outils à employer seulement en cas de nécessité, « s'ils sont utiles pour faire passer une émotion ».
Chants Libres en trois créations marquantes
L'opéra performance Chants du capricorne est créé en 1995, sur une musique de Giacinto Scelsi. Mise en scène du sacré et de l'immémorial, explorant la thématique du retour sur soi et du dépouillement, il constitue un tournant pour Chants Libres : « Si l'opéra nous a ouverts à une nouvelle période exploratoire, il a également été un tournant du point de vue personnel, car je m'y suis mise en scène. C'est la première fois que j'ai pris autant de risques dans un rôle, avec une partition très difficile écrite en quarts de ton. » Cet opéra a fait l'objet d'une tournée internationale. Vingt ans plus tard, il a été repris avec la mezzo-soprano Marie-Annick Béliveau dans le rôle principal, remportant un prix Opus.
L'opéra féerie L'eau qui danse, la pomme qui chante et l'oiseau qui dit la vérité de Gilles Tremblay, sur un livret du poète Pierre Morency, est la rencontre de deux voix majeures du paysage artistique québécois. Cette incursion dans l'imaginaire, aux confins du conte et de la fable, fait l'objet d'un traitement scénique stupéfiant qui charme le public lors de sa création au Monument-National en 2009. C'est l'une des dernières partitions de Gilles Tremblay, son seul opéra et l'un des plus beaux souvenirs de Pauline Vaillancourt.
The trials of Patricia Isasa, de Kristin Norderval et Naomi Wallace, créé en 2016, marque également un tournant pour la compagnie, celui qui associe le nom de Chants Libres à des créations socialement engagées. L'opéra retrace l'histoire vraie de l'architecte argentine et militante des droits de la personne Patricia Isasa, enlevée, emprisonnée et torturée par la junte militaire en Argentine dans les années 1970. L'opéra remporte deux prix Opus en 2016.
Chants Libres fête ses trente ans cette année et devait initialement présenter son prochain opéra L'orangeraie le 8 octobre 2020. En raison de la crise actuelle, la création sera reportée à l'automne 2021. Nous souhaitons encore bien des années de création, d'expérimentation et de succès à Chants Libres.
This page is also available in / Cette page est également disponible en:

English (Anglais)