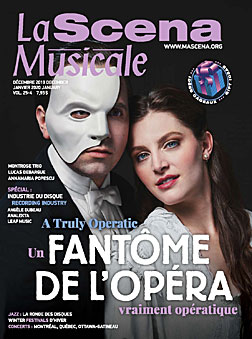 This page is also available in / Cette page est également disponible en:

English (Anglais)
Inévitablement l'un des vecteurs de sens au cinéma, la musique passe parfois à l'avant-plan d'un film tout en conservant son rôle de soutien souhaité. Un exemple noble bien que complexe d'un film qui porte au moins en partie sur la musique tout en en offrant passablement est The Song of Names, projeté pour la première fois en septembre au Festival international du film de Toronto.
Réalisée par François Girard, cette production canado-hongroise ressemble quelque peu par sa palette de couleurs terreuses, ses perspectives multiples et son panorama de cadres historiques au film Le Violon rouge (1998) du même réalisateur. Un violon est même au cœur de l'intrigue, en l'occurrence un Gagliano plutôt qu'un Stradivarius.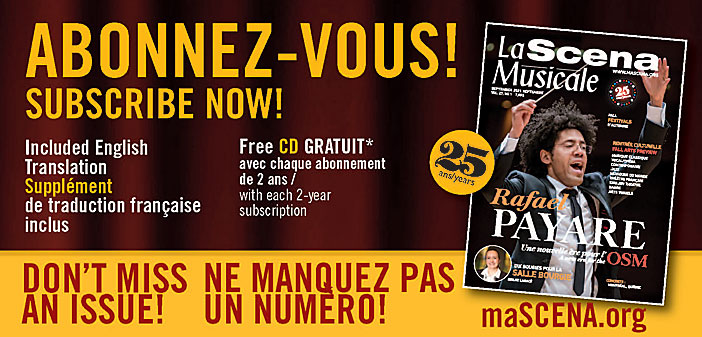 Le véritable centre de gravité, toutefois, est Dovidl Eli Rapoport, un violoniste adolescent doué qui est envoyé de Varsovie en Angleterre juste avant le début de la Seconde Guerre mondiale. Il se développe (en dépit de la retenue de son professeur, Carl Flesch, un personnage historique réel) et réussit bien à l'école alors qu'il loge chez un imprésario bienveillant, Gilbert Simmonds. Il noue également un rapport fraternel, bien qu'hostile au départ, avec Martin, le fils de Simmonds, un pianiste modérément compétent que Dovidl appelle affectueusement « Mottl » et avec l'aide duquel il arrive (de manière peu plausible) à s'éduquer comme musicien.
Il est risqué d'en dire aussi long sur l'intrigue, puisque The Song of Names (basé sur le roman du même nom du critique britannique Norman Lebrecht paru en 2002) est structuré comme une énigme comprenant de nombreux fils narratifs et alterne constamment entre retours en arrière et ellipses. La reconstitution de l'histoire dans l'esprit requiert un considérable effort intellectuel et une acceptation occasionnelle de l'invraisemblable.
La séquence d'ouverture est révélatrice. Le jeune prodige néglige de se présenter à ses débuts très attendus à Londres dans un concert orchestral que Simmonds, une figure respectée, a organisé et payé et dont il a fait la promotion. Il va sans dire que sa disparition pique la curiosité de la presse et ébranle énormément la famille adoptive de Dovidl. Simmonds meurt quelques mois plus tard – en partie, croit Martin, en raison de cette humiliation et de l'inquiétude et de la perte financière qu'elle a amenées à son père.
Ce n'est pourtant que des années plus tard que Martin, juge à un concours où il est entouré de médiocrités, se souvient de Dovidl à la vue d'un des candidats et décide de se lancer dans une recherche à travers le monde de son ami disparu. « Pourquoi perds-tu ton temps avec lui ? » lui demande sa femme, dont l'exaspération semble tout droit venue d'un répertoire de procédés dramatiques servant à créer de la tension.
La recherche conduit effectivement le spectateur (et l'auditeur) à des endroits intéressants. L'un d'eux est un atelier de violon à New York. Un autre est le monument commémoratif de Treblinka, affreusement solitaire, non loin de Varsovie. Il devient graduellement plus clair au cours du film que le sort inconnu de la famille Rapoport – qui pourrait ou non avoir survécu à l'Holocauste – est la source des changements d'humeur de Dovidl et de certains épisodes consternants, notamment une scène effrayante dans une synagogue, en présence de Martin, où le jeune violoniste renonce rituellement à sa foi.
Il y a également des images de raids aériens, qui semblent intriguer les garçons plus qu'ils ne les effraient. Dans une scène d'anthologie dans un abri, Dovidl se livre à un duel de violon avec un prodige rival un peu plus âgé que lui, au grand plaisir de la foule. Bon nombre des meilleures scènes, plus tard dans le film, explorent le monde du judaïsme orthodoxe.
Il n'est pas étonnant de découvrir que Howard Shore, un Canadien amplement reconnu, produit avec brio de la musique expressive (dont l'œuvre semi-liturgique du titre) à saveur modale appropriée. Je ne puis pourtant dire que j'aie assisté à la naissance d'un morceau de concert tiré de Song of Names pour violon et orchestre pouvant rivaliser avec ceux du Violon rouge (composé par John Corigliano) ou La Liste de Schindler (de John Williams).
Il y a aussi, bien entendu, des œuvres du répertoire, notamment les Caprices no 9 et no 24 de Paganini et le Thème original varié op. 15 de Wieniawski. Ray Chen, le virtuose taïwanais bien connu, en est l'interprète. Des membres de l'Orchestre Métropolitain ont enregistré la musique originale de Shore sous la direction du compositeur pendant trois jours en juin dernier à l'église du Très-Saint-Nom-de-Jésus à Montréal. Il n'est pas prévu que la bande sonore du film comprenne le Concerto pour violon no 1 de Bruch, puisque dans le montage du film, ce concerto provient d'une prestation de Chen avec le London Philharmonic sous la direction de Robert Trevino
figurant dans l'album The Golden Age publié l'an dernier par Decca. À noter que dans le film, Dovidl décrit son interprétation de ce cheval de bataille autrefois populaire comme « de la merde ». On peut croire que Chen ne serait pas du même avis.
Le caractère sympathique de Dovidl – particulièrement durant sa jeunesse, alors qu'il est joué par Luke Doyle, un véritable prodige britannique – a beaucoup à voir avec l'attrait du film. Clive Owen (à qui on a dû enseigner les doigtés appropriés) apporte de la profondeur au Dovidl adulte. Tim Roth est relativement flegmatique en Martin adulte (non que le scénariste Jeffrey Caine lui ait donné beaucoup de personnalité avec laquelle travailler). Seules quelques rares traces d'humour sont permises dans ce scénario dramatique. On a aussi droit à une explosion de violence et de vulgarité d'un réalisme douteux dans une voiture.
Le film n'est pas parfait. Néanmoins, il traite avec sensibilité des thèmes classiques de la célébrité et de la famille et apporte une contribution honorable à la lutte contre ce que Girard a qualifié dans une entrevue d'amnésie historique. La conclusion, qui crée une mosaïque de la musique-titre telle qu'interprétée en trois lieux différents, dont Treblinka, apporte une gravité de circonstance. The Song of Names vaut le détour, et mérite une écoute. La sortie en salles est prévue en décembre.
Traduction par Alain Cavenne
This page is also available in / Cette page est également disponible en:

English (Anglais)