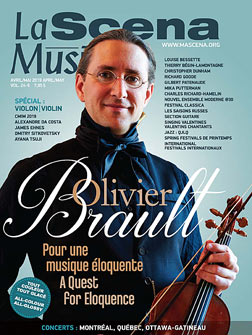 Orchestre Nouvelle Génération (ONG) concludes its eighth season with two concerts that will expand the thematic and artistic collaborations of this Montreal ensemble, whose passionate and creative performances attract an ever-growing audience. On April 18, Delightfully Tragic will feature works by Beethoven, Wagner, Janáček and Prokofiev inspired by great tragic love stories. On June 8, Visions Fugitives – Choreographed Paintings will invite the public to enter the whimsical world of painter Natasha Turovsky, where realism and surrealism merge with the fantastic miniatures of Prokofiev, Bach, Brahms, Britten, Stravinsky and Shostakovich.
Delightfully Tragic will feature Elvira Misbakhova in Prokofiev's Suite from Romeo and Juliet as arranged for viola and strings. A founding member of ONG and Kleztory, the internationally renowned Montreal klezmer group, Misbakhova is a gifted soloist and chamber music player, distinguished in both classical and klezmer music. She is assistant principal violist of the Orchestre Métropolitain, the Orchestre symphonique de Trois-Rivières and the Orchestre symphonique de Longueuil.
Inspired by the imagery of Prokofiev's miniatures and other musical gems, Visions Fugitives – Choreographed Paintings will unveil a series of vignettes, at times lyrical and nostalgic, at times teasing and mischievous, illustrated by Turovsky's original paintings and drawings animated by Svetlana Migdissova. Since 1995, Turovsky has presented over 40 exhibitions, notably in Barcelona, Cleveland, Boston, New York, Sarasota, Montreal and Hong Kong. Her works can be found in collections in the United States, Canada, the UK, Spain, France, Russia, New Zealand and China. Visions Fugitives is the latest in a series of audacious productions exploring the mutual influences of painting and classical music.
At the core of ONG are 11 young virtuosos from Quebec, Armenia, Belarus, Russia, Moldova, Uzbekistan and Ukraine, whose origins reflect the cultural diversity of Quebec society. Under the artistic direction of Turovsky, their concerts, performed without conductor, attribute a more prominent role to musicians by creating intimate performances that are closer to the audience. Since its foundation, ONG has collaborated with celebrated artists and musicians, notably the Kletzory ensemble; violinists Dmitri Berlinsky and Alexandre Trostiansky; pianists Dang Thai Son, Matt Herskowitz, Serhiy Salov and Wonny Song; trumpet Paul Merkelo; mezzo-soprano Olesya
Petrova; actors and directors Igor Ovadis ,Vitali Makarov, and Maria Monakhova; singer Natalie Choquette; DJs Urubu, Syncope, Psychoticminds, and Tengraphs; and tap dancer Max Pollak.
The Orchestre Nouvelle Génération's performs at Salle Claude-Champagne of the Université de Montréal. www.orchestrenouvellegeneration.com