#_EVENTTYPES placeholder matched
#_EVENTCLASSIFICATIONS placeholder matched
Premium Concert
Directed by Ivars Taurins
Jana Miller, soprano
Krisztina Szabó, mezzo-soprano
Charles Daniels, tenor
William Sharp, baritone
Andrew Mahon, bass-baritone
Tafelmusik Chamber Choir
Turbulent, intense, and tender, a Passion for our times.
Bach's St John Passion shocked the Church fathers in Leipzig at its premiere with its intensity and fervour. It's just that intensity that makes it so relevant in today's highly charged and turbulent times. Harrowing, passionate, and tender by turn, the St John Passion reflects our world as well as Bach's.
If the St Matthew Passion stresses the harmony of the Christian story, the St John refuses to shy away from the darkness inherent in the tale, which makes the final transformation of pain into faith and peace all the more powerful. One of the masterpieces of Western art.
What's interesting about this concert:
Last performed by Tafelmusik in 2015, the St John Passion is part of Tafelmusik's core repertoire, re-interpreted and re-conceived each time it is performed.
A deep expression of Christian faith which is nonetheless suffused with universal symbols of suffering, redemption, peace, and hope, thus truly for everyone.
The St John Passion is one of the touchstones of the baroque, a living monument against which the entire era can be measured, but a work with deep contemporary overtones as well.
Program:
Date/Time
Date(s) - 29/03/2020
3:30 pm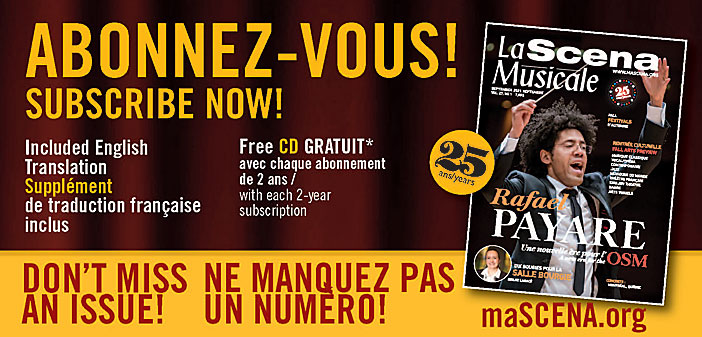 Location
Koerner Hall
Price Range
20$-139$
Event Artists
Tafelmusik, Ivar Taurins, Jana Miller, Krisztina Szabo, Charles Daniels, William Sharp, Andrew Mahon, Tafelmusik Chamber Choir
Phone Number
416-964-6337
Event Website
https://www.tafelmusik.org/concert-calendar/concert/bach-st-john-passion-0
Categories
Types
Performance
Classification of ensemble/soloist
Choir
Opera
Strings