#_EVENTTYPES placeholder matched
#_EVENTCLASSIFICATIONS placeholder matched
Clio et Jonathan, deux jeunes musiciens amoureux de musique
française, proposent un voyage temporel à Paris.
En interprétant des œuvres de différentes époques et styles, le duo nous transporte au cœur de la capitale française et nous fait suivre son évolution au fil du temps.
Clio and Jonathan, two young musicians in love with French music, propose a time travel to Paris.
Interpreting musical works from different times and styles, the duo is taking us in the heart of the French capital and makes us follow her evolution au fil du temps.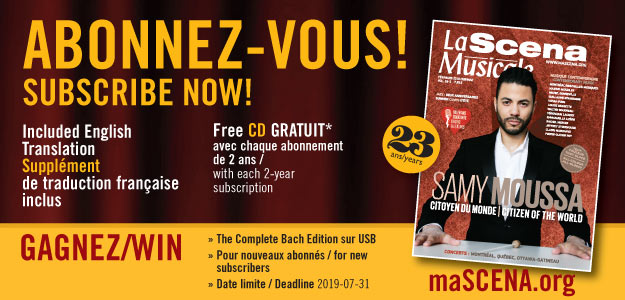 Duo Aster
Clio Theodoridis, Saxophone
Jonathan Nemtanu, piano
Programme:
Sonate en Ut#
1.Très modéré, expressif
2.Noel
3.Fileuse
4.Nocturne et Rondel
F. DECRUCK
Sonate en La Majeure
1. Allegretto ben moderato
4.Allegretto poco mosso
C. FRANCK
Barricades Mistérieuses
F. COUPERIN
Ocres Rouges
Alexis CIESLA
Beau Soir
Claude DEBUSSY
Contribution volontaire | Freewill Donation
{Suggéré/Suggested 10$+}
Date/Time
Date(s) - 15/06/2019
4:30 pm
Location
Christ Church Cathedral
Price Range
Freewill Offerings
Event Artists
Duo Aster
Phone Number
No Information
Event Facebook
https://www.facebook.com/events/790230601343816/
Categories
Types
Performance
Classification of ensemble/soloist
Strings