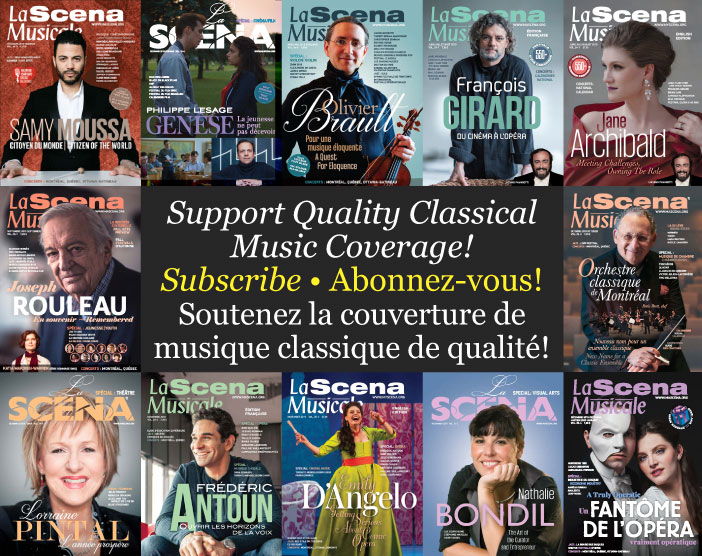 This page is also available in / Cette page est également disponible en:

Francais (French)
#_EVENTTYPES placeholder matched
Performance
World Premiere
#_EVENTCLASSIFICATIONS placeholder matched
Date/Time
Date(s) - 04/02/2019
8:00 pm - 10:30 pm
Location
La Sala Rossa
Price Range
$12
Event Artists
Daniel Áñez, piano; Noam Bierstone, vocalizing percussion; Geneviève D'Ortun, saxophone; Lori Freedman, clarinet; Émilie Girard-Charest, cello; Geneviève Liboiron, violin; Jean René, viola; Jeff Stonehouse, flute; James O'Callaghan, sound/stage direction; Sarah Albu, vocalist; Elizabeth Lima, vocalist.
Phone Number
No Information
Event Website
http://www.nohaybanda.ca/nhb10.html
Event Facebook
https://www.facebook.com/events/1909220712711719/
C'est avec grand plaisir que nous vous invitons au premier concert de 2019 de NO HAY BANDA, une série de performances expérimentales présentées avec l'appui de Suoni Per Il Popolo, le lundi 4 février 2019.
Pour ce concert, nous avons l'immense plaisir d'accueillir le compositeur Steven Takasugi, une des figures les importantes de la musique électroacoustique avant-gardiste aujourd'hui, pour la création canadienne de Sideshow, une œuvre de théâtre musicale pour huit musiciens, amplification, et bande. La pièce, qui dure d'une heure, est inspirée par les sideshows sombres des parcs d'attractions de Coney Island au début du 20e siècle. Sideshow est une méditation sur la virtuosité, les spectacles anormaux, le divertissement, le spectacle, les affaires et les sacrifices que l'on fait pour survivre dans le monde.
Nous sommes également très heureux de présenter RIOT POUSSE en première partie, un nouveau projet mené par les artistes vocales et interprètes montréalaises Sarah Albu et Elizabeth Lima. RIOT POUSSE est un opéra miniature inspiré de riot grrrl, le mouvement punk féministe underground qui a émergé sur la côte ouest américaine au début des années 1990. La pièce propose une collection sombre, provoquante et humoristique de scènes et de réflexions sur le fait d'être des corps sonores féminins dans un paysage urbain contemporain.
Ce concert est possible grâce au soutien du Conseil des arts et des lettres du Québec et du Conseil des arts et des lettres du Québec.
/////
We are very excited to invite you to the first 2019 show of NO HAY BANDA's season of experimental music performances, presented with the support of Suoni Per Il Popolo, on Monday February 4, 2019.
We have the great pleasure of hosting composer Steven Takasugi, one of the leading figures of experimental electroacoustic music, for the Canadian premiere of Sideshow, an hour-long work for chamber octet, electronic amplification and playback. Based on the dark sideshows of Coney Island's amusement parks in the early part of the 20th century, Sideshow is a work of music theatre that is framed in a chamber music performance suggesting a circus sideshow, or freak show. The work is a meditation on virtuosity, freak shows, entertainment, spectacle, business, and the sacrifices one makes to survive in the world.
We are also thrilled to present RIOT POUSSE, a new project by Montreal-based vocalists and performers Sarah Albu and Elizabeth Lima. RIOT POUSSE is a miniature DIY experimental riot grrrl-inspired opera, proposing a dark, trashy and humorous collection of scenes and reflections on being female bodies and soundmakers in a contemporary cityscape. RIOT POUSSE takes us through the performers' morning routines, vulnerable moments of love and loss, musings on birth control and reproductive health and other stories in cabaret-style song and dance numbers mixed with experimental gesture-based theatre and electronic noise, relating strange occurrences, all based on true or almost-true stories.
This concert is made possible thanks to the financial support of the Conseil des arts et des lettres du Québec and the Conseils de arts de Montréal.
Categories
Types
Performance
World Premiere
Classification of ensemble/soloist
Band
Strings
This page is also available in / Cette page est également disponible en:

Francais (French)