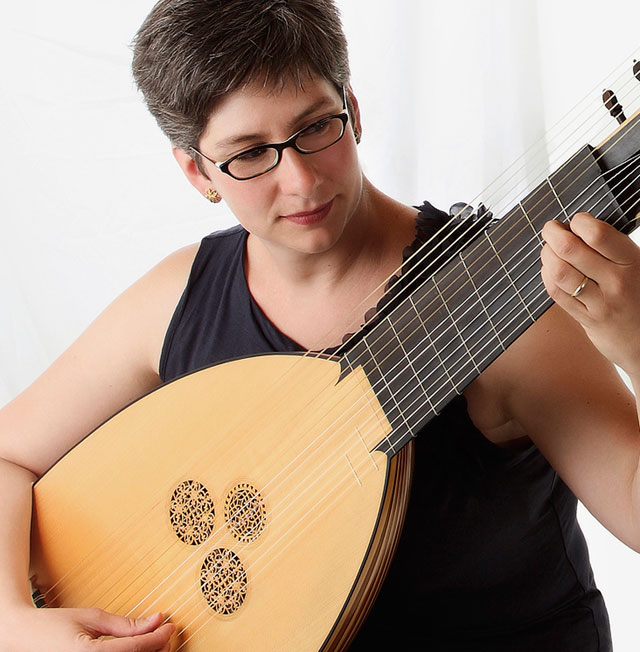 Lute players, or lutenists, were the rock stars of the Renaissance, playing in Europe's grandest halls as the celebrated guests of kings and queens. Although most modern-day lutenists keep a lower profile, they are still very passionate about their instrument and its music. "The lute has such an amazing history and repertoire," says Montréal-based lutenist Madeline Owen. "It invites you to discover history, art, literature, and other worlds beyond the concert stage."
Owen is the creator of the interactive children's concert Le luth, ami des rois / Lute, Friend of Kings, the latest in the Jeunesses Musicales du Canada (JMC)'s extensive catalogue of children's concerts. It will have its world premiere on April 3 as part of the JMC's Semaine de la musique. The concert will feature lute music from the past and present, and will delve into the history of the lute through stories and group activities.
Owen began her career as a classical guitarist, but switched to lute as a young adult. "As guitarists, we were often exposed to the Elizabethan lute repertoire, and that music always spoke to me," she says. She also appreciated that lute gave her more opportunity to interact and perform with other musicians. After more than 20 years playing the lute, Owen is excited about sharing her knowledge.
Concertgoers can expect a fun and varied experience from Le luth, ami des rois. Owen will use storytelling to introduce the important historical figures who helped shape the lute's development, such as Elizabeth I and Christian IV of Denmark. "The stories I tell about these people are like those you would tell about a friend," she says. Concertgoers will also learn the myth of the lute's creation by the Greek god Apollo, sing canons heard at the French court, and decode scores unearthed from an English castle. Owen will perform works by John Dowland, Francesco di Milano, and Robert de Visée, both on the lute and the theorbo, or bass lute. The concert will end with a special piece by living Canadian composer Konstantin Bozhinov. "The lute is not just a historical instrument," Owen explains. "There are actually more lutenists active today than there were during the Renaissance."
The idea for Le luth, ami des rois came to Owen after she was invited to give a presentation at her daughter's school. Most of the children in her daughter's class had never heard of the lute, but they responded very positively to the instrument. This inspired Owen to expand her presentation and partner with the JMC to bring it to a wider audience. The JMC provided a beautiful set and props, like portraits of kings and queens, which help bring her stories to life.
---
Le luth, ami des rois / Lute, Friend of Kings
Date: April 3, 2016
Location: Jeunesses Musicales du Canada
Target audience: 3-5 years old / 6-10 years old
Maximum audience: 100
Language: French and English
Duration: 40 minutes
La semaine de la musique
Winter break is just around the corner, and what better time to try some new musical activities with your family? From February 27 to March 6, the JMC will run its 12th annual Semaine de la musique. Presented in collaboration with Réseau Accès culture de Montréal, the week will feature more than 60 concerts and workshops for young audiences. Events take place at Montréal's Maisons de la culture, as well as libraries and performance halls across the city and the surrounding area.
Concerts and workshops are designed to promote classical and other genres of music in an engaging and theatrical way. Workshops include:
•  Do-it-yourself Music: Learn how to make a musical instrument out of recycled materials
•  The Rhythm-Box: Discover your sense of rhythm and play instruments from around the world
•  My Music has a Comic Strip: Create a soundtrack for your own comic strips and draw them into the score
•  Body Beats: Discover the rich world of body percussion and the various musical styles associated with it
•  Your Story set to Music: Create a musical story to learn how music can convey emotions, ideas, and feelings
Admission is free for most activities, so register now! Consult the concerts and workshops schedule at www.jmccanada.ca. 514-845-4108.