With its popular, catchy tunes, Gioachino Rossini's The Barber of Seville is a perennial favourite comic opera. It was given a vibrant interpretation by the Canadian Opera Company, complemented by a stellar cast of both Canadian and international artists.
Figaro is Seville's famous barber and jack of all trades, who boasts special skills helping lonely hearts pursue their love interests. Count Almaviva is smitten by the young Rosina, who is strictly guarded by the old doctor Bartolo, who schemes to marry Rosina himself to claim her family fortune. Almaviva enlists Figaro's help to woo Rosina, and after a series of disguises and misfired plots, Bartolo is outwitted and the lovers triumph.
What you missed?
The production was anchored by solid singing from the leads. Making his COC debut, Italian baritone Vito Priante made a captivating entrance with the famous "Largo al factotum." He had all the elements of the perfect Figaro— suave and cunning, with impeccable diction and a mighty baritone voice. Also making his COC debut was Argentina's Santiago Ballerini in the role of Count Almaviva. Although his bel canto was a bit shaky at times, and his serenade to Rosina could have upped a notch in volume and passion, he proved himself a versatile tenor, and was at his best in his disguised roles as a drunk soldier and the music teacher Don Alonso, injecting much colour into those characters. Italian baritone Renato Girolami shone in his reprisal of Bartolo which he sang in the 2015 COC production. He was a convincing actor with a powerful voice and commanding presence, and his falsettos brought on roaring laughter. American bass-baritone Brandon Cedel was a solid Don Basilio with an orotund voice that befits his character.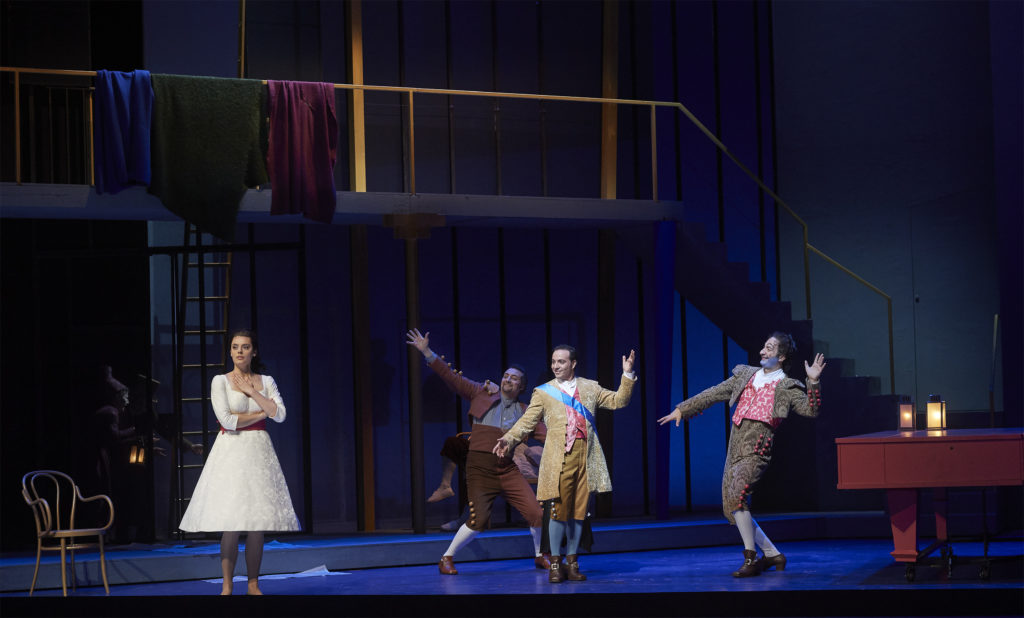 The female cast featured two Canadian mezzos, both past first prize winners of the COC Centre Stage Competition and COC Ensemble Studio members. Emily D'Angelo was a natural Rosina, her rich voice accompanied an engaging portrayal of a Rosina who was both vivacious and mischievous. Her "Una voce poco fa" was controlled yet effortless, and it is no coincidence that she sang this aria as part of her audition for the COC Ensemble Studio. Current Ensemble Studio member Simona Genga had a smaller role as Rosina's maid Berta, but her one aria in which she lamented that she will die an old maid was memorable. She is a true talent to watch for.
The opening overture was a fine showcase of the COC orchestra, especially in good form under the baton of Italian conductor Speranza Scappucci, making her Canadian debut and also her conducting debut of Barber. Scappucci was graceful and energetic at the same time, and displayed focused attention to detail.
This was an overall top notch production of Barber with great comedic effects, and a good night of fun and laughter was had by all.
A COC co-production with Houston Grand Opera, Opéra National de Bordeaux and Opera Australia. At the Four Seasons Centre for the Performing Arts in Toronto until February 7. www.coc.ca
| | |
| --- | --- |
| Figaro | Vito Priante |
| Rosina | Emily D'Angelo |
| Almaviva | Santiago Ballerini |
| Bartolo | Renato Girolami |
| Basilio | Brandon Cedel |
| Berta | Simona Genga |
| Fiorello | Joel Allison |
| Officer | Vartan Gabrielian |
| Conductor | Speranza Scappucci |
| Director | Joan Font |
| Set & Costume Designer | Joan Guillén |
| Lighting Designer | Albert Faura |
| Choreographer | Xevi Dorca |
| Price Family Chorus Master | Sandra Horst |