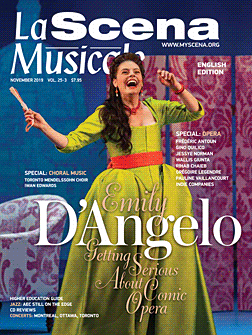 This page is also available in / Cette page est également disponible en:

Francais (French)
He remembers that, in the staging of Bartók's Bluebeard's Castle by Robert Lepage, when the women emerge from a bath covered in blood, teenage girls sitting close to the stage reacted very strongly. Oh, my God! "They were like in the cinema! Young people are more open-minded than their elders when it comes to contemporary opera productions," says Grégoire Legendre, administrative and artistic director of the Opéra de Québec, who has announced his retirement. "A lot of people are very enthusiastic after a performance."
Most of the world's opera houses face hardships owing to the aging and contraction of their clientele, a trend also reflected in their financial statements. On his arrival at the Opéra de Québec, Legendre was tasked with expanding the audience. An endeavour he has achieved brilliantly. "In Quebec, music has been somewhat neglected by the education system."
For cultural institutions, one generation has been virtually lost. "Young people must be exposed at an early age. When I myself was in elementary school, everyone learned music theory. Now, we must instead rely upon school 'leaders,' usually teachers, to organize special outings for their students."

Legendre's daring has surprised people. Not everyone agreed with the idea of an opera festival in Quebec City in 2011: naysayers said it would be the failure of the Opéra de Québec, the small city could not support so many productions, it was going to kill the company, etc. On the contrary, the festival has become a must-see event for many, attracting tourists who would not have come for a single production and highlighting Quebec City as an opera city. "The festival is known internationally. After the festival, media outlets started calling us and asking for interviews."
During his many years at the helm of the Opéra de Québec, Legendre has worked with a wide variety of artists. Among these are filmmakers, including François Girard and Robert Lepage. Both staging and acting are very different in cinema than in theatre. For the staging of an opera, do filmmakers take a distinctive approach?
"Yes, they pay more attention to the visuals, and transitions between scenes are easier when video projections are possible," Legendre responds. "We must not forget that, unlike theatre, operas are usually produced in very large halls, with the audience seated at some distance, and video broadcasting is becoming more and more widespread. Other than that, the difference lies in the timing: in opera, the actors must respect the general rhythm, while in the theatre, they have more freedom in their rejoinders. On the other hand, theatre directors sometimes have difficulty dealing with choruses and what to do with them on the stage. François Girard is very good at that."
Legendre is preparing to hand over his role. He has often been asked to share his fondest memories of the Opéra de Québec or of the Festival d'Opéra de Québec. There are many. But he will tell me that it was the production of Thomas Adès' The Tempest, directed by Robert Lepage, that touched him most deeply. Might he also have regrets?
"I would have liked to present Richard Strauss's Der Rosenkavalier and Poulenc's Dialogues des carmélites to Quebec City audiences. In both cases, however, it would have required an enormous amount of resources. For Strauss, we would probably would have had to fill certain roles internationally, but for Poulenc, we could easily have found all our people in Quebec."
For him, one of the greatest pleasures is to encourage regional talents who then sometimes find themselves in important roles on international stages, like mezzo-soprano Julie Boulianne, tenor Frédéric Antoun, or soprano Marianne Fiset, who has just delivered a very beautiful performance as Violetta.
He has announced his departure and the arrival of his successor, though he is staying on until the end of 2020. Time enough for a production of La Chauve-souris by Johann Strauss in the spring and a festival the following summer. And after that? "I am 69 years old. I will first take some time to rest, then travel a bit." What about a return to singing or the cello? "Not singing. It takes a serious training and I stopped that about 15 years ago. But yes, I will undoubtedly take out my cello…"
This page is also available in / Cette page est également disponible en:

Francais (French)