This page is also available in / Cette page est également disponible en:

Francais (French)
"Forget You," "Sweet Surrender," "Just a Feeling." If you guessed these song titles were plucked from this week's Top Forty list, then Lewis Furey would be pleased. Violin soloist with the Montreal Symphony Orchestra by age eleven, favourite collaborator over the decades of the city's leading poets, artists, filmmakers, dancers, notably mentor Leonard Cohen and his wife, film star Carole Laure, at age sixty-seven the songwriting icon will now sing and play seventeen of Johannes Brahms' lieder in concert – and the song titles, translated into English, sound like the set list of the latest pop band.
"I'm all for classical music living and being appreciated by more and more people," says Furey. "I think doing this is a way of saying: 'You like popular songs? Listen to these. Play them if you can. Get a guitar version with just the chords and the melody and sing them.'"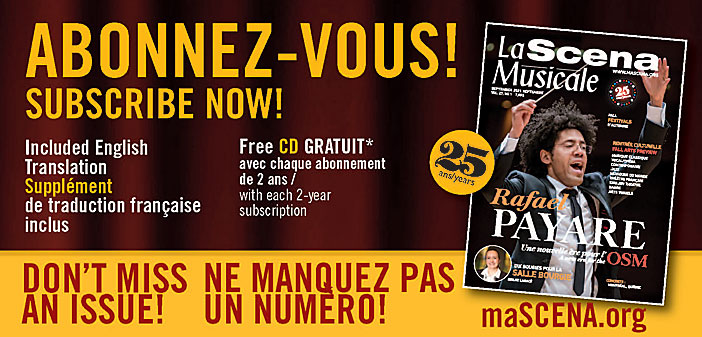 Discovering the lieder
Furey loved playing Brahms on the violin from an early age, especially his sonatas and Double Concerto for violin and cello. But after studying at Juilliard, he turned to theatre and pop music. He studied literature at McGill University, wrote poetry and set it to music. In those days, he listened repeatedly to Motown, Leonard Bernstein's West Side Story, George Gershwin's Porgy and Bess, and Kurt Weill's The Threepenny Opera. By his twenties he was a popular singer and actor. Since then, he has staged Starmania, adapted country and western hits, and written the award-winning scores of over twenty films with equal verve.
In a career full of surprising twists and turns, the latest stop is back to Brahms. Years ago, he listened to some Brahms lieder on YouTube, but he found it hard to connect to them. Then something clicked when he bought the scores and started to play the songs himself: "Right away, I loved them." Brahms's two hundred songs for solo voice and piano "are really an amazing canon of song, from all his life. He wrote his first songs at eighteen, and he wrote them until he died at sixty-three. So it's an incredible voyage, a bit like Beethoven's String Quartets. You find them from his youth to his death. They're very personal writings that describe a life."
"The thing that I find inspirational as a songwriter or as a life lessons is, when you do something that you love, to keep doing it, and keep being creative at it," Furey adds. "And do it all your life."
Having spent a lot of time in the Laurentian Mountains all his life, Furey is especially drawn to the natural settings that Brahms fuses to the inner emotions described by the songs. This marriage of melody and lyric fascinates Furey, from "the birds and the animals, the wind in the trees, a rainy day in autumn, a gusty snowstorm, spring arriving and the snow melting, the water rushing over the rocks" to the sounds of our "inner landscapes."
"Every song is a lesson in songwriting," he believes. "If I were teaching pop songwriting, I would certainly include Brahms lieder in the curriculum. They're short, concise. His bass lines are so solid. He keeps it simple. And the piano and voice are equal."
Furey started arranging Brahms lieder in 2000, translating the original German into English lyrics and transposing them into the keys most comfortable for his vocal range. In 2008, his adaptation of "Nicht mehr zu dir zu gehen" (Op. 32, No. 2 – "Forget You") was set to dance by his daughter Clara Furey. In 2011, he published a book of his songs, including the scores of several of his newly adapted lieder.
A nineteenth-century pop star
At the world premiere of these adaptations in November, Furey will play the piano accompaniment himself as he sings. He'll probably use a microphone and close the piano lid to project over the piano. The microphone also allows for subtleties of interpretation: the ability to whisper, to use his natural voice.
"This is what singer songwriters do. And I imagine that Brahms did that, so I feel a real communion with him. I can see him checking the songs and singing them as well as he could. I keep imagining Clara Schumann sitting at home, reading through the songs, singing them, talking about them with Robert," says Furey.
It's easy to forget that lieder were the pop songs of their day. Brahms released the lieder in the rhythm of a pop musician releasing records. Around every two years, there were ten new songs.
"And the excitement!" Furey exclaims. "They'd run into the music shops, buy the scores, bring them home, and sing them. 'Wow! Did you hear this one?' they would ask their friends. People like me. They weren't people like Dietrich Fischer-Dieskau. They weren't performing those songs in concert halls. The lied weren't meant for concert halls. They were meant for home listening."
Would Brahms have made today's Top Forty pop music charts? "If he was here today, who knows what he would be writing?"
Translating Brahms for today
Examine Brahms's lieder and you'll find the familiar arcs of human emotion: desire, longing, regret, pleasure. "They're very much like contemporary songs in that way," Furey believes. The predecessors of today's pop lyrics are the poems set to music in the nineteenth-century Romantic lieder. "All of a sudden, people were talking about things you couldn't talk about before. Before, nobody would write a song about 'she left me and I'm dying of desire.' It just wasn't said aloud. You would have to go to Arab music to find songs about sex, desire, and lust. They're like the songs that people are writing today."
To capture the emotional core of the songs, Furey will sing them in English. "It's not just being able to sing the words but knowing the culture and the meaning of the words. To appreciate them I had to know the songs by heart. Then I could appreciate the subtleties of Brahms's interpretation and the sounds he produced. They can deliver from the very first listen something that connects immediately." The German lyrics are "immortal" for Furey, but "it's much more difficult for a classical singer to do that if people don't know the material, can't understand the words."
Although he was careful to retain any musical play on the lyrics (ex. "the wave rising"), Furey modernized them as he translated them, even inserting references to twentieth-century pop; a lover waiting at the door transforms into a lover waiting by the phone.
Musicians must "create the piece when they perform it," Furey believes.
"Without creativity there's no art."
November 1, 10, and 11 at the Théâtre Outremont, Montreal.
» www.theatreoutremont.ca, www.lewisfurey.com
This page is also available in / Cette page est également disponible en:

Francais (French)