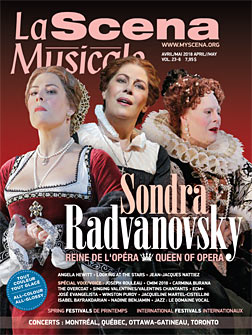 This page is also available in / Cette page est également disponible en:

Francais (French)
Get down, get casual, get classical – consider this the cultural mantra for the city of Saint-Lambert this spring from May 25 through June 16, as the eighth annual edition of Festival Classica rolls out with a dazzling and eclectic array of rhythms and sonorities. The festival title promises everything "from Schubert to the Stones." Yes, that's Franz Schubert; and yes, that's the Rolling Stones.
Talk about something for everyone.
Founder and artistic director Marc Boucher is proud of the annual event's enormous popularity and dizzying growth over a relatively short span. The festival was conceived in no less august a setting than the Palace of Versailles. Attending a concert at the Centre de Musique Baroque in Versailles's Royal Chapel, Boucher saw an analogy between "the proximity of all these small theaters in Versailles and the uninterrupted schedule of concerts" and what he thought could be accomplished amid the density and viability of venues in his native city of Saint-Lambert.
An Opus Award-winning baritone, Boucher pitched the festival idea to community and civic leaders in 2008. Its first incarnation followed in 2011. Since then, Festival Classica has become, as Boucher's puts it, "one of the most important urban festivals dedicated to classical music in North America." This year, it expects to attract some 100,000 music lovers with 60 events ranging from the intimate to the grand and the chamber to the symphonic, including at least six major vocal-music offerings by international artists.
Boucher himself will be performing the bass-baritone roles in two exquisite devotional works performed on a program entitled Sacred Music and Discoveries (June 5, 7 p.m. at the Église Sainte-Famille). The evening couples Mozart's Coronation Mass with the North American premiere of Christ's Resurrection (Christi Auferstehung), a 12-movement oratorio by Sigismund Neukomm, the prolific and unfairly neglected Austrian composer who was a student and champion of Haydn. On the podium will be the renowned French conductor Jean-Claude Malgoire.
As 2018 marks the 100th anniversary of the death of Claude Debussy, Boucher is also planning a concert presentation of Pelléas et Mélisande, "the first time in opera that the orchestra is really a speaking character," in Boucher's view. "It's a unique opera. The music is sumptuous, and the orchestration – gorgeous!"
Boucher has previously performed the high-baritone title role with the Opéra de Montréal, but this time he will take on the bass-baritone role of Golaud. ("The bad guy," he remarks with relish.) French baritone Guillaume Andrieux sings Pelléas and Canadian soprano Samantha Louis-Jean sings Mélisande. The performance, June 8 at 7 p.m. in the Paroisse Saint-Bruno-de-Montarville, will feature the Orchestre de la Francophonie and the La Petite Bande de Montréal vocal ensemble conducted by Jean-Philippe Tremblay.
Other vocal highlights of Festival Classica 2018 include Poetry of the Exiles, with the Studio de musique ancienne de Montréal under Andrew McAnerney performing Renaissance music inspired by the Book of Lamentations (June 3, 4:30 p.m. at St. Lambert United Church), and a program of baroque love duets performed by soprano Suzie LeBlanc and countertenor Daniel Taylor (June 3, 8 p.m. at the Paroisse catholique de Saint-Lambert).
A sure crowd-wowing highlight will be the second annual International Recital Competition of French Art Songs. Welcoming singers of any age or stage of career (registration is still open), the competition itself (June 10, 4 p.m. at Saint-Lambert's St. Andrew's Presbyterian Church) will feature five finalists, each presenting a cycle of five French-language art songs. The final order will depend 50-50 on the votes of a panel of professional judges and the audience.
"If you're chosen for the final competition," Boucher explains, "you are sure to win something. Last year, the [first-prize] winner was a lady from France, along with a pianist friend from Israel. They came together and went home with $15,000."
As for the titular Schubert component of Festival Classica 2018, programs include an inaugural Schubert and Puccini event (May 25, 7:30 p.m. at the Basilique Sainte-Anne-de-Varennes); a performance of Schubert's exquisite Winterreise cycle (June 1, 7 p.m. at the Paroisse catholique de Saint-Lambert) by acclaimed baritone Russell Braun, accompanied by his wife, pianist Carolyn Maule; and a concert titled Schubert and Schumann: Contrasts and Contradictions (June 2, 1 p.m. at St. Andrew's Presbyterian Church), performed by violist Marina Thibeault and pianist Janelle Fung.
The Rolling Stones get a double homage, first with violinist Marc Djokic's You Can't Always Get What You Want show (June 2, 3 p.m. at St. Lambert United Church), which offers the Stones with chamber intimacy; and in the outdoor Classica Rock Stones concert that evening. "All the hits," promises Boucher, "performed by an orchestra, and a rock band, and all the lyrics given to the choir!"
Catering to virtually every musical taste, Festival Classica's city-wide musical feast in and around Saint-Lambert (and there are ten "satellite" concerts in the Longueuil area, Montreal, and the Montérégie region) holds out the beguiling prospect that, at least for a few glorious weeks this spring, you can get what you want.
For information about Festival Classica 2018 go to www.festivalclassica.com.
This page is also available in / Cette page est également disponible en:

Francais (French)