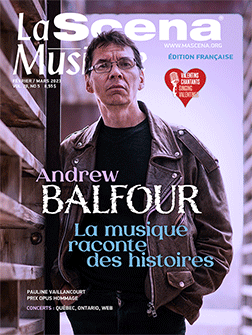 This page is also available in / Cette page est également disponible en:

Francais (French)
Pianist Lukas Geniušas says the difference between the original and second versions of Sergei Rachmaninoff's Piano Sonata No. 1 in D minor is not merely a matter of length. "There's a lot of material which does not appear in the second edition," he explains. "I love this work so much that I wanted to bring the original version to life."
Rachmaninoff performed the first version of his First Sonata, completed in 1908, for musical colleagues in Moscow. Including composer Nikolai Medtner and pianist Konstantin Igumnov, who subsequently premièred the work. The composer made the suggested cuts to the piece without any alterations to the rest of the work. That edited version is the one that is the most widely known, although the work is not as popular as Rachmaninoff's Sonata No. 2 in B-flat minor. Geniušas hopes to change that, and calls his performances of the work this year—in Montreal, Milan, Paris, and at Rachmaninoff's Swiss residence, Villa Senar—in celebration of the composer's 150th birthday.
Geniušas's discography includes works by Beethoven, Brahms, Ravel, Chopin, Stravinsky, Shostakovich, and the complete Preludes of Rachmaninoff. He has played under the baton of acclaimed conductors (including Esa-Pekka Salonen, Rafael Payare, and Tugan Sokhiev), and with equally acclaimed orchestras (including Orchestre de Paris, Philadelphia Orchestra, and the City of Birmingham Symphony Orchestra). Geniušas has also performed and recorded chamber work with violinist Aylen Pritchin and cellist Alexander Buzlov.
This year promises to be a busy one for the 32-year-old Russian-Lithuanian pianist. He and soprano Asmik Grigorian will be touring in support of Dissonance (Alpha Classics), their 2022 album comprised of 19 Rachmaninoff songs. Stops in Vienna, Zürich, Dortmund, Paris, the Festival D'Aix en Provence and the Salzburg Festival are coming up. Sharing "a musical space, in a moment of time, is enormously enriching and makes your musical thinking more advanced and careful," he says.
The value of such focus has been difficult to maintain because of Russia's invasion of Ukraine. As a result, the pianist, who trained in Moscow but lives in Lithuania with his wife, pianist Anna Geniushene, is facing tough questions. "The thought we always tackle now is: 'How relevant is what we do in modern circumstances? In the current situation? In the region where we live?' It is a big, painful thing for us. We are doing something that is innately a part of a peaceful society—peaceful circumstances—and you feel you are out of place—that your activities are not relevant—although that is not true."
Lukas Geniušas in recital, Schubert and Rachmaninoff, Ladies Morning Musical Club, Feb. 12, 2023.
This page is also available in / Cette page est également disponible en:

Francais (French)