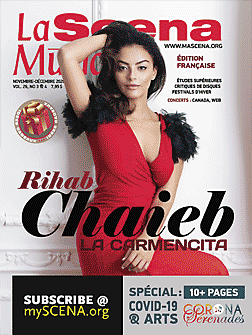 This page is also available in / Cette page est également disponible en:

Francais (French)
In a world shaken by COVID-19, Brott Music has responded with courage and an inventive spirit. "When faced with the possibility of closing its doors this summer, the Brott Music Festival saw the crisis as an opportunity to innovate," says artistic director Boris Brott. "It was felt the show must go on.
"This year, our motto might as well be ad astra per aspera, which translates as 'through hardships to the stars.' We are going to pass through some rocky times trying to reach the outer limits of what we want."
A Successful Summer
Since the pandemic hit, Brott Music has already accomplished much in the face of adversity. This past summer, Brott Music not only ran a highly successful National Academy Orchestra online virtual training program, but also staged a full-scale virtual opera with the BrottOpera emerging artists program.
Testimony from both instructors and participants highlight the success.
Pinchas Zukerman, who reigns as one of today's most sought-after and versatile musicians, says, "I had the pleasure of teaching members of the National Academy Orchestra on July 10. The virtual experience with the young musicians was wonderful. I found that the level of playing was excellent and their enthusiasm remarkable."
In addition to the NAO online program, Brott Music continued its 2020 plans for BrottOpera. The singers participated in the same vital professional development activities those that had been originally scheduled, including training in business, career advice, stage movement, dance, simulated swordfighting and Italian.
The BrottOpera virtual program culminated in a virtual production of Mozart's Don Giovanni on July 30 on the festival's Facebook and YouTube pages.
Soprano Stephanie DeCiantis says of her experience: "Not only did [the festival]decide to do a full opera, but they hired the professionals necessary to really explore this medium. They cut and crafted a well-loved opera, Don Giovanni, into something that stayed true to the original intention of the music, was more accessible online, and something that would appeal to large audiences. I was so happy to be a part of this this summer, this show is innovative, brand new, and most importantly I think it will turn out beautifully."
Performances in Winter 2020
Brott Music continues at full momentum as it prepares to present two operas in November and December 2020: John Estacio's historical opera Filumena, starring soprano Sydney Baedke, tenor Ernesto Ramirez, and baritone Gregory Dahl, as well as a world premiere of Odawa First Nations and Canadian composer Barbara Croall's Hide and Seek with an all-Indigenous cast.
Brott Music will be presenting its annual performance of Handel's Messiah on Dec. 2 at St. Anne's Catholic Church (Ancaster, Ontario). Soprano Shantelle Przybylo, alto Andrea Ludwig, tenor Bud Roach and baritone David Pike will perform with the Arcady chorus.
A limited audience of 50 observing social distancing will be available, health conditions permitting. All performances will be available online at brottmusic.com.
"Triple Prepared" for Summer 2021
"I am hoping that by the time July rolls around we will have found a way to return to a more normal existence," Brott says. "We have been invited to appear live at the Toronto Summer Music Festival, the Festival of the Sound in Parry Sound, and the Collingwood Festival. Our opera will be Mozart's Così fan tutte. The Festival will close with a full
production of The Sound of Music."
Canadian artists between 18 and 30 are
encouraged to apply to the National Academy Orchestra (June 14 to Aug. 15) and BrottOpera (June 14 to Aug. 15). All members receive full tuition and a scholarship.
Says Brott of the ideal candidate: "We are seeking the most accomplished professional musicians recently graduated from university or conservatory programs, who are seeking practical knowledge and experience in areas often not available in educational institutions."
He adds: "I am most looking forward to making live music for an appreciative audience. However, though I am optimistic I am also practical. The safety of our participants and of our audience is paramount."
To be ready for all possible scenarios in 2021, Brott Music has "triple prepared," having explored every possible means of making and sharing music, ranging from online livestreams to outdoor performances for audiences in cars.
All this reinvention has already paid off. Online performances at Brott Music have garnered 1,000 views per performance, and have reached, collectively, audiences in 46 different countries.
"I would like to encourage all music lovers and all musicians to embrace this new world," Brott concludes. "More than ever, we musicians have something special to give the world: optimism, beauty, an international language, a communication between heart and head." www.brottmusic.com
This page is also available in / Cette page est également disponible en:

Francais (French)