Advertisement / Publicité
Banff International String Quartet Competition
Every three years, the mountains around Banff are alive with the sound of string quartets. From Aug. 26 to Sept. 1, 10 young quartets will compete for a lucrative cash prize and a package of career-boosting gigs in North America and Europe, and other opportunities that have launched the successful careers of such groups as the St. Lawrence String Quartet, and more recently, the Jupiter and the Rolston Quartets.
Opera at Banff
Earlier in the summer, June 27 to 29, the Banff Centre is presenting several new operas, including No One's Safe, an immersive operatic murder mystery, presented in collaboration with Toronto's Against the Grain Theatre and the Canadian Opera Company. From July 4 to 6, the Centre offers Silent Light, based on the film Stellet Licht by Carlos Reygadas. Set in a Mexican Mennonite community, the opera follows a pious husband and father, Johan, whose strongly held spiritual obligation to his marriage, family, and community is tested when he falls in love with another woman from his faith.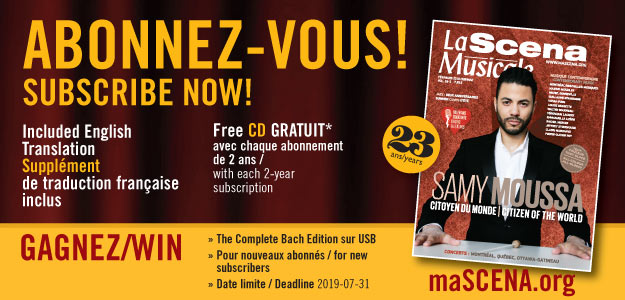 Opera Nuova
A few hundred kilometres north in Edmonton, Opera Nuova Opera and Musical Theatre Festival, in its 21st season, offers its usual array of song recitals and fully staged operas and musicals. The festival runs May 25 to June 30, culminating in productions of Purcell's The Fairy Queen, Britten's A Midsummer Night's Dream and the ever-popular musical, The Secret Garden.
Summer Solstice
From June 11 to 21, the Edmonton Chamber Music Society's Summer Solstice returns with both top-notch professional performances and, for the second year, a five-day chamber music workshop for community players. The featured artists for concerts on June 18, 20 and 21 include pianist Charles Richard-Hamelin, clarinetist James Campbell and violinist Mark Fewer.
Mercury Opera
Last summer, Edmonton's quirky little outfit Mercury Opera put on a performance of Carmen set in the southern Alberta Badlands. This summer they're doing Carmen again, but this time's it's an itinerant production. The shows, running Aug. 1 to 15, will start in a downtown restaurant, and then, for the last three acts, set up in what has become a favorite venue, the legendary strip joint, Chez Pierre Cabaret.
Symphony Under the Sky
The Edmonton Symphony continues a decades-long tradition of offering four outdoor concerts in a river valley park on the Labour Day weekend. Symphony Under the Sky features one serious concert and an assortment of lighter fare under its perennial guest conductor Robert Bernhardt.
Victoria Symphony
Out on the west coast, Victoria Symphony's former conductor Tania Miller returns to lead a program that includes music by Ponchielli, Dvořák, Mascagni, Johann Strauss, Tchaikovsky and Elgar in the beautiful setting of the
Butchart Gardens on July 24 at 8 p.m. And a tradition continues Aug. 4 when the orchestra sets up on a floating
stage in the city's harbour to present the 30th incarnation of its Splash concert, which finishes with Tchaikovsky's 1812 Overture and fireworks.
Salt Spring Chamber
Music Festival
July 21 to 27 are the dates for this year's Salt Spring Chamber Music Festival. Featured performers are pianist Sarah Hagen and violinist David Stewart.
www.saltspringchambermusicfestival.com
Orcas Island Chamber Music Festival
Between Aug. 2 and 17, the Orcas Island Chamber Music Festival, run by renowned Canadian pianist Jon Kimura Parker, offers a wide range of classical repertoire. The final concert includes the world premiere of a string quartet by Pulitzer Prize-winning composer Kevin Puts, performed by the Miró Quartet.
Vancouver Bach Festival
On the eastern shore of the Strait of Georgia, Vancouver Early Music presents its annual Vancouver Bach Festival July 30 to Aug. 9. Highlights include performances of Bach's Brandenburg Concertos, several Bach cantatas, and some of his chamber and keyboard music. The schedule also features a performance of Fauré's Requiem and some Mozart trios. Featured artists include Les Boréades de Montréal, soprano Susie LeBlanc and pianist David Jalbert, the latter playing Shostakovich Preludes and Fugues, which were inspired and influenced by Bach's Well-Tempered Clavier.
Bard on the Beach
This festival is mainly about Shakespeare, but they do offer a bit of opera towards the end of the summer. On August 26 and September 2, you can hear a program of arias sung by emerging artists from the UBC Opera Ensemble, led by Vancouver Opera Chorus director Leslie Dala. There will be excerpts from Verdi's La Traviata and Rigoletto, along with a selection of French opera highlights from Manon, The Tales of Hoffmann, Lakmé and Carmen.
Other festivals
The 14th summer of Music by the Sea in Bamfield, B.C. runs July 20-28. www.musicbythesea.ca
The ninth Vancouver Island Chamber Music Festival takes place June 21 and 22 in Nanaimo. www.ncmusic.ca
The ninth Quadra Island Festival of Chamber Music Festival runs July 23-27.www.quadrafestival.ca