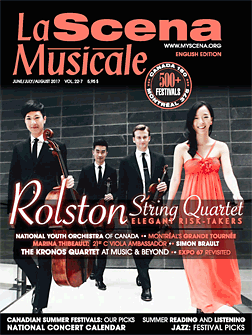 This page is also available in / Cette page est également disponible en:

Francais (French)
The Rolston Quartet are riding the crest of the wave they caught last September, when they won the 12th Banff International String Quartet Competition. Winning that competition has propelled them toward a promising professional career, thanks, in part, to the support they are receiving from the Banff Centre, which runs the triennial international contest.
Barry Shiffman, BISQC's executive director, outlined some of the benefits that come from being a BISQC laureate in an interview from his office at Toronto's Glenn Gould School, where the Rolstons were born in 2013. Three of the four current members – Luri Lee (first violin), Hezekiah Leung (viola) and Jonathan Lo (cello) – were studying at the Gould that year. Fatefully, if Leung hadn't switched from violin to viola midstream in his Gould School studies, he might not have connected with the other two.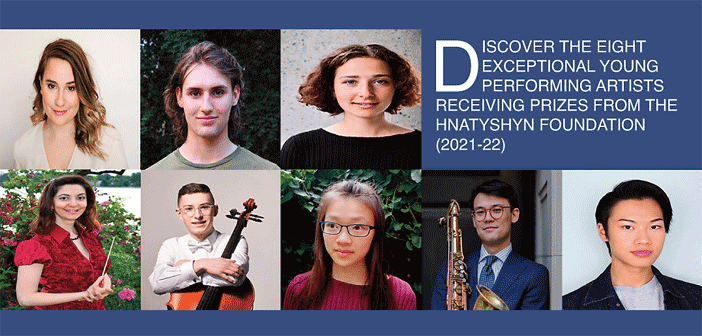 The BISQC first-place prize includes a three-year career-development program with dozens of concerts in Europe and North America. The quartet performed 13 concerts in Germany at the beginning of the year, and Shiffman said at least 35 more appearances were scheduled between now and next year at this time, beginning with three concerts at the Spoleto Festival in Charleston, S.C. at the end of May. They'll play the Montreal Chamber Music Festival June 8, as well as Toronto and Ottawa, and then they are back to Europe for four concerts, one at Haydn Hall in Esterházy Palace, where Joseph Haydn wrote some of his seminal string quartets.
"Our job is to use our contacts and our reputation, and get [the winners]the first opportunity at places, and hope they get reinvited," says Shiffman. BISQC provides subsidies to offset travel costs, guarantees the quartet performance fees, and covers their expenses on the road.
Mentorship at Rice
After their fellowship work in Toronto, the Rolstons, with their original second violin, spent the summer in Banff before heading to Houston's Shepherd School of Music at Rice University for further graduate studies. That school has nurtured several BISQC participants and one other BISQC winner, the Dover Quartet, the 2013 laureates. During the first year at Rice, the group replaced the second violinist with Jeffery Dryda. That change led to the Rolstons' spending a third year in the Masters Quartet residency, from which they graduated in May.
At Rice, the quartet were mentored by three seasoned chamber music players and teachers, James Dunham, Kenneth Goldsmith, and Norman Fischer. The three guided the already-accomplished young musicians in the art of string quartet playing from several perspectives.
Dunham, a former violist with the Sequoia and Cleveland Quartets, said one goal was to help the Rolstons find the tricky balance between displaying their individuality and shaping a unified sound. He gets young players to ask the following questions: "How do you project out without losing the completeness of the ensemble? But if you make it so perfectly together, how can you be inspired? But if you are so inspired, and it's just a mess, would anybody want to hear that?"
Cellist Norman Fischer, an alumnus of the Concord Quartet and a specialist in contemporary music, explains that at Rice University, the Rolstons found a deeper way of listening. They developed "the ability to hear sounds in very specific ways, the ability to hear what's going on with all the players around you to be able to anticipate changes in the music, but also to be able to anticipate changes from one another and to quickly respond. This is really complicated perceptual training."
The Rolstons have not branched out to more contemporary repertoire yet, but Fischer saw their potential in this area from one of their Banff rounds. He called the Rolstons' performance of Zosha Di Castri's Quartet No. 1 "spectacular" and said the creativity they brought to that gnarly contemporary piece they should also bring to their Beethoven and Mendelssohn.
"There's a certain level of creativity where you always have to look at this music from a new, fresh viewpoint, experimenting with what the materials will allow you to do," Fischer explains. "Then it gets very exciting – you see that you could use that same level of creativity with any kind of music."
From the outset, Shiffman, a founding member of the St. Lawrence Quartet, recognized an adventurous spirit in the group. "There's a bit of craziness to them, which I like in a young quartet," he says. "They're risk-takers. They don't play it safe. They have a concept, and they go for it."
Dunham describes the Rolstons' playing as "vivacious," and he concurs with Shiffman: "There's something that just kind of shines with them. They're ready to play on the edge, and they have the skill to balance there," but, Dunham adds, "their classical style has become very elegant."
Goldsmith likens the evolution of the Rolstons over their three years in Houston to the world of sports cars. "They've gone from being a Spider to a Maserati. There's nothing that they can't do."
Their teachers also characterized what each player brings to the ensemble. Luri, Dunham describes as "ear and eye-catching," her music-making "intense and personal."
Goldsmith, a violinist with more than 50 years' experience, says he has seen Lee develop into more than a virtuoso at Rice. "Luri can play anything, and that's her first instinct. Over the three years she was here, she learned to look for colours, for sensitivity."
Dryda, Dunham explains, is "such a great foundation. He makes things feel solid," and Leung provides "a unique voice, which in the viola is so important." Lo, he says, "has developed into a very expressive base to the group."
Searching for Singularity
Finding a place in the world inhabited by the Emerson, the St. Lawrence and the Takács Quartets will require the Rolstons to project a distinct personality. Goldsmith remembers challenging the quartet with a fundamental question in their second year.
"I said, 'You guys don't know who you are. You all play well, but you don't know who you are.'"
Searching for an identity meant playing to their individual strengths while creating a cohesive ensemble sound. Defining the Rolston sound meant choosing one of two paths, Lo says.
"We all feel that we should still have our individuality and our personal inflections and nuances, but in terms of making a unified sound, [our Rice teachers]"have been incredibly helpful."
"Some people think of a string quartet as a 16-string instrument; others see it more as four individuals, with a very distinct identity and characteristics. We lean more toward the latter," Lo said.
Fischer predicted the Rolstons would win at Banff from their first-round performance of Haydn's Op. 77, No. 1 and Janáček's String Quartet No. 2, "Intimate Letters," which he heard on the Banff Centre's streaming website. What gave them the edge, he figures, was their consistency. And they also had that ineffable quality that makes them stand out.
"You're always looking for that X factor, the exceptional thing in the playing that you're not expecting that makes the performance of music at the moment something memorable, and the Rolstons have that capacity."
Shiffman has seen the same reliability in the Rolstons.
"They bring a joyous A game to everything they do. I'm sure at times they're tired and crabby and they don't want to be on the road. But you would never know it. They're as excited to play for you whether it's Carnegie Hall or it's Timmins, Ontario."
Tricks of the Trade
Cultivating a string quartet career takes more than fine playing, though. At Rice and through Banff's guidance, the Rolstons are also learning that running a string quartet is much like running a small business.
"Aspirants think, well, we'll keep rehearsing and then we'll play concerts.…But then you also have to be thinking about marketing, distribution, knowing your target audience, and maintaining relationships with publicists, managers, and sponsors. It's a complicated thing," Fischer explains. Shiffman says he shows the quartet the receipts to teach them how the business works. "It's a very tough business unless you're right at the top." The fees are less than soloist fees and divided by four. He suggested the average fee for a less-recognized quartet might be $6,000 to $9,000 a concert, which has to cover all expenses. At the upper echelon of the business a pay day might be closer to $20,000. Since winning Banff, the group have found managers in Canada, the U.S. and Europe.
The Rolstons have left the life of competitions and grad school. In the fall they are off to Yale as quartet-in-residence, where they will work closely with the Brentano String Quartet and mentor young string players themselves. Among their many concert dates next year, the Rolstons will also make their Carnegie Hall debut in the spring. Part of their BISQC package also includes recording sessions for a CD.
Lo says the ensemble are growing their repertoire. At the Banff festival in September, they will play Reich's Different Trains in a multimedia format, which they'll take to Haydn Hall, and they plan to add Debussy's Quartet in G minor and Ligeti's Quartet No. 1 to their programming.
Once Banff's direct assistance runs out, the real work of establishing themselves in the string quartet market begins, and Dunham forewarns that they may see a trough in demand. However, he expects them to weather any doldrums. Goldsmith is absolutely optimistic about their prospects of making a career for reasons that go beyond technical prowess.
"They are honest. There's no fakery. They're going to have a career. For me, it's a given."
---
Catch the Rolston Quartet at one of their many Canadian tour dates this summer:
June 8 – Montreal Chamber Music Festival
July 9 – Westben Music Festival (Campbellford, ON)
July 24 – Toronto Summer Music Festival
July 27 – Ottawa Chamber Music Festival (with Kishi Bashi)
August 6 – Indian River Festival (Indian River, P.E.I.)
August 9-12 – Tuckamore Chamber Music Festival (St. John's, NFLD)
August 14 – Gananoque Music Festival (Gananoque, ON)
August 18 & 25 – MISQA (Montreal, QC)
August 26 – Leith Summer Festival (Leith, ON)
August 30 to Sep 3 – Banff Centre International String Quartet Festival
For more information, see www.rolstonstringquartet.com.
This page is also available in / Cette page est également disponible en:

Francais (French)