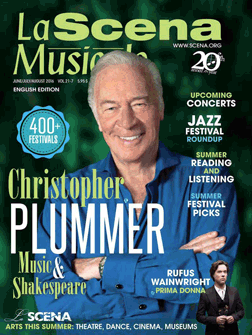 Advertisement / Publicité
This page is also available in / Cette page est également disponible en:

Francais (French)
Joel Ivany's career is in the sweet spot, but that sweet spot is something of a moveable feast.
The Canadian opera director and founder of Toronto's Against the Grain Theatre sells his talent to large outfits such as the Canadian Opera Company, but his own unique venture into the future of opera, as he puts it, sees his productions move from venue to venue and through the repertoire in decidedly unpredictable and irreverent, yet respectful, ways.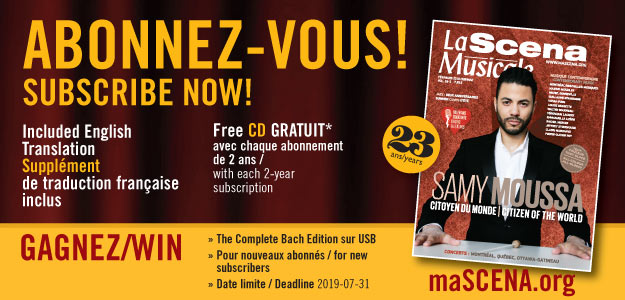 The 35-year-old Ivany knows his way around main stages across Canada, including Vancouver and Edmonton. Most recently, he directed a production of Carmen at the COC, the same production he guided in Vancouver two years ago. But his passion and creative edge abide in the relatively tiny Against the Grain project, whose very name implies a contrarian impulse leading to a place where surprise and risk may await both the business and the audience.
The latest Against the Grain show took Mozart's chestnut Così Fan Tutte and satirically reimagined it as a bachelorette-type game show, performed in an actual TV studio at Toronto's CBC building. Ivany wrote the "translaptation" of Così from the original Italian of Da Ponte's libretto, titling it A Little Too Cozy. Ivany presented its first incarnation at the Banff Centre's appropriately named Opera in the 21st Century program last summer.
He has also "transladapted" a Dora award-winning production of the Marriage of Figaro, conservatively titled Figaro's Wedding. For that show, the audience came to Toronto's historic Burroughes Building as wedding guests. He adapted Don Giovanni, with the far hipper title #UncleJohn, and he's also produced a Bohème in a dive bar.
"There's such an excitement and energy around the smaller-scale production because we strive to find something new with each thing we do, whether it's the space or the actual piece itself. This makes it very immediate and very personal for everyone involved.
"It's the company's ideas and the company's vision, which isn't always the case with a larger production," Ivany says, during the well reviewed run of Cozy in mid-May.
Established opera companies are notorious for doing productions that go against the grain of the tradition, sometimes leaving audiences and critics outraged by the presumptuousness of the directors. Ivany knows the risk of playing with, even subverting, the tradition, but his attitude, he insists, is not a hunt for originality for its own sake.
"I think I can do very new, controversial trashy productions, but to me that's not bringing out the essence of the piece."
He sees himself doing something different. "[Our work] can stir feathers because we're taking something that many people hold sacred and kind of putting it through the ringer a little bit while maintaining respect for it.
"With Cozy, because the story is new, it's telling that [Così] story for the first time. What that says is a very traditional interpretation of this brand new story," he explains.
His debut at the COC this spring wasn't as nerve-wracking as presenting one of his one-of-a-kind productions to his appreciative audience, which grew from a collection of family and friends six years ago, to a curious group of strangers who have accepted his experiments enthusiastically. Besides the art, he also has to keep track of the bar receipts and other practical business concerns, and one of those business concerns is how to find the cash to grow the company.
None of his venues holds much more than a couple hundred seats. His ambition, like his artistic philosophy, isn't aiming to burst the envelope, just to expand it. Against the Grain is in the black, but next season is still in flux, both because being an itinerant company, venue arrangements require negotiation, and because the financial support he needs to plan is also up in the air.
"You kind of come up to these new challenges, and right now, we're at a phase where we're asking how to do what we're doing," he says. "Individual donations are going up. Our foundations are going up. Our government grants are going up, yet we still don't have all three levels of government operating in funding."
On the horizon, Ivany is toying with commissioning an original work, as opposed to a transladaptation; he'll write the libretto. He will also direct Dead Man Walking next spring when Vancouver Opera tries its experiment with a concentrated opera festival, after dropping its traditional three- or four-show season.
Ivany came through the ranks, studying with traditional directing teachers at the University of Toronto and several large companies. He's now secure in his multifaceted career and sure of his vision. He sees Against the Grain as one rushing tributary of the art form, and he wants to help steer opera toward its inevitably changing future.
"I can't help it. … I care so much about this art form that I use as much as I can to engage people in different and new ways. Sometimes it works, and sometimes it doesn't. It's the risk that you take," he adds.
Ivany is co-directing a semi-staged production of Britten's The Rape of Lucretia for the Toronto Summer Music Festival. That one-night-only production on July 22 at the Winter Garden Theatre reflects one of Ivany's long-term goals: to take his style of opera across the country through a series of co-productions. Lucretia is a collaboration between Against the Grain and the Banff Centre, with support from the COC and Toronto Summer Music. The cast of the Banff Centre will perform the roles. "I'm always striving to collaborate with more companies. It would be fantastic to take what we're doing to other cities. Right now it's only Toronto that gets to share this. I think it could work with every city with the support you need to do something bigger." 
» The Rape of Lucretia, Winter Garden Theatre, Toronto, July 22, 7:30 PM. www.torontosummermusic.com
www.joelivany.com
This page is also available in / Cette page est également disponible en:

Francais (French)