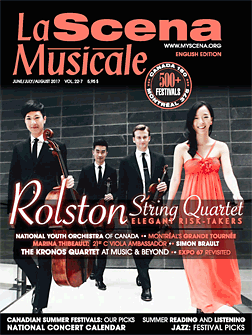 This page is also available in / Cette page est également disponible en:

Francais (French)
Most classical music outfits take a break in the summer, but across the West, numerous festivals offer a warm-weather fix.
The Victoria Summer Music Festival runs July 25 to Aug. 9 at Phillip T. Young Recital Hall on the University of Victoria campus. The festival opens with a concert featuring the Vetta Chamber Ensemble, with Joan Blackman, solo violin, performing Vivaldi's Four Seasons. The ensemble and Joan are then joined by Coast Salish/Sahtu Dene storyteller Rosemary Georgeson for Jeffrey Ryan's Seasons of the Sea, commissioned by Vetta for its thirtieth anniversary in 2016 as a companion piece to the Four Seasons.
The festival will also feature music by Schumann as well as Canadian composer Andrew Staniland. On the last two days. the Dover Quartet, winners of the 2013 Banff International String Quartet Competition will play Schumann's three string quartets as well as Tchaikovsky's first string quartet, among other things. For more info, go to www.vsmf.org.
Music by the Sea in Bamfield, B.C. runs July 22–30. Organizers have recruited 19 musicians, both classical and jazz, who will present an assortment of programs, blending musical styles. Here's how Music by the Sea describes its unconventional approach to programming:
"We are not a normal festival, in the sense that people normally buy tickets for a particular artist on a particular night. Instead, we create a 'company' of individual artists from across the country and the globe, both jazz and classical, who then collaborate to create the program." www.musicbythesea.ca
Vancouver's Music in the Morning presents Summer Music Vancouver July 13 to 15. This will be Barry Shiffman's last summer programming the festival. Vancouver-native Adrian Fung will succeed Shiffman this fall.
Summer Music presents concerts in the morning and evening on two of the three days, starting with a Mendelssohn in the Morning program on July 13 and a Brahms program in the evening. The closing concert on July 15 at the Roundhouse Community Centre Exhibition Hall is entitled Reich at the Roundhouse. The evening features guest artists, including the Attacca Quartet, cellist Adrian Fung of the Afiara Quartet, and the Gryphon Trio's pianist – another native Vancouverite – Jamie Parker. For more information, go to www.musicinthemorning.org.
Alberta audiences have quite a lot to take in over the summer, starting with Opera Nuova's Opera and Music Theatre Festival, running May 20 to June 30. The festival includes a variety of recitals, and culminates in three full productions. This year, Nuova is doing Eugene Onegin and Cunning Little Vixen, as well as the musical Carousel. Nuova is also presenting Gilbert and Sullivan's Patience June 9–11 at Fort Edmonton's Capital Theatre. Visit www.operanuova.ca/festival for more info.
Edmonton Chamber Music Society's Summer Solstice Music Festival returns for its 10th year, June 21–25. The Attacca Quartet are also part of the programming, as are Krzysztof Jablonski, and Canadian artists Timothy Chooi, Robert Uchida Brian Yoon, Marcin Swoboda, and Patricia Tao. Go to www.edmontonchambermusic.org for more information.
In mid-August Pop Goes the Opera presents Pagliacci at the Fringe!, Aug. 17 to 27. And the Labour Day long weekend always includes the Edmonton Symphony's outdoor Symphony Under the Sky (weather permitting). The four concerts – Aug. 31 to Sept. 3 – cover a broad spectrum of music, including one evening of standard classical fare, usually featuring an up-and-coming soloist. For more info, go to www.edmontonsymphony.com.
Calgary Opera returns this summer with a full-scale Opera in the Village. Last year the summer programming was less ambitious due to outdoor venue issues. The new venue is in Enmax Park. The programming is always light for this summer program. This year the company is presenting Rodgers & Hammerstein's South Pacific.
Calgary Opera has a well-reputed opera-singing development program, and this summer emerging opera alumni are also doing a production of Cinderella, adapted by Rob Herriot from operas by Rossini and Massenet. Opera in the Village runs Aug. 10–13 and 17–20. For more information, visit www.calgaryopera.com/17-18.
The Banff Centre is introducing a mini-string quartet festival Sept. 1–3, the year after its last Banff International String Quartet Competition. The Centre is bringing back three winning quartets from pervious competitions: last year's winners, the Rolston Quartet, and the Jupiter and Dover Quartets. The festival includes six concerts and several masterclasses. For more info, go to www.banffcentre.ca/banff-centre-international-string-quartet-festival.
And finally, the Agassiz Chamber Music Festival, June 9–16, offers a broad array of classical fare, culminating in the world premiere of a Manitoba Arts Council-commissioned work by T. Patrick Carrabré entitled 100,000 Lakes for piano and string quartet. The work celebrates Canada's 150 birthday. All concerts are at Eckhardt-Gramatté Hall, University of Winnipeg. For ticket information, visit www.agassizfestival.com/concerts-and-tickets.
---
Banff Summer Arts
Banff, June 7 to September 7
The Banff Centre is a unique learning organization situated in the stunning Canadian Rockies. Every summer, the Banff center is host to an eclectic array of performances, talks, and exhibitions. This summer's programming has many highlights. On July 4, the JACK Quartet joins forces with the wind section of the International Contemporary Ensemble (ICE) to present new works by Canadian composers Erin Gee and Sabrina Schroeder. On July 6 and 8, the festival presents Kopernikus, a chamber opera by Claude Vivier. On July 11, the Miró Quartet will perform works by Schubert and Beethoven and the Imani Winds will offer performances of Stravinsky and Ligeti. Emerging artists from Banff's International Workshop in Jazz and Creative Music will share the stage with their internationally-acclaimed mentors from August 10 to 26. For more information, visit www.banffcentre.ca.
Clear Lake Chamber Music Festival
Brandon, July 12 to 16
The 12th Clear Lake Chamber Music Festival will take place from July 12 to 16 in Brandon, Manitoba. It promises to be an inspired event! On July 12, father and son (and festival artistic directors!) Daniel and Alexander Tselyakov will kick the festival off with a shared piano recital. A recital on July 13 features chamber masterworks by Bartók and Brahms. There will even be a Sunset Jazz Cruise July 15 on the festival's namesake lake in Riding Mountain National Park. The festival's Grand Finale on July 16 features works by Beethoven, Britten, Ravel, and Cameron Wilson. www.clearlakefestival.ca
    — Orphée Russell
This page is also available in / Cette page est également disponible en:

Francais (French)