Banff, ALTA. – One morning of the Banff International String Quartet Competition is reserved for a short, new commissioned piece, which means the audience has the unique and unnatural experience of hearing a world premiere performed 10 times over a couple of hours. These works have generally displayed contemporary compositional notions, which many of the elderly, traditional chamber-music crowd assembled to follow the BISQC drama over a week in the beautiful Rocky Mountains find strange and disruptive.
In 2010, Ana Sokolović's five-minute Commedia del'Arte, commissioned by the CBC and the Banff Centre, was, like most "test" pieces, a clever but abstruse miniature which, among other things, called for the players to apply a pencil to their strings. Vivian Fung's 2013 12-minute String Quartet No. 1 was determined to suppress anyone's urge to whistle any of it on the way out of the hall. Zosha Di Castri's 12-minute String Quartet No. 1, I would venture to say, alienated the majority of those who sat through its many renditions.
The chosen composer for this year's Canadian round was Matthew Whittall's String Quartet No. 2 (Bright Ferment). Whittall's unpretentious program notes describe his goal accurately. He threw a bunch of ideas and styles together over nine minutes and came out with a piece that tested the 10 quartets technically less than past challenges have. But the consensus from a small sample of listeners after they had heard five of the ensembles showed the Whittall was something they could listen to.
The quartets played the friendly minimalist opening bars in various ways, some playing them with an even-tempered attitude, some going at them with more zest or aggression. The collection displayed occasional long, soloistic, lyrical lines for violin or cello; big, abrasive full-ensemble chords; skittish little half-thoughts and short bits of pizzicato; among other nods to various styles.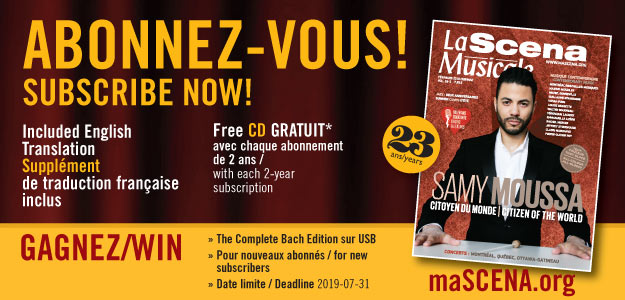 A few groups succeeded in giving the piece the feeling of a path to some musical goal, but who knows if that was the way to play it? If there were a prize for best ending to a new mandatory Canadian piece for BISQC, it would go to the Ruisi Quartet (U.K.). In fact, they probably got the most out of Bright Ferment, although the renditions from Viano, Ulysses, and Elmire also had their own ideas about what Whittall may have been aiming for. I'll pick Elmire for the R. S. Williams & Sons Co. $3,000 prize for their garage-band attitude.
The BISQC is live streamed. Archived performances are also available. The Final Round goes on Sept. 1, 2019.
Links: