This page is also available in / Cette page est également disponible en:

Francais (French)
After last year's successful Beethoven 32 piano marathon, the Maison de la musique Sorel-Tracy will soon stage its next coup, entirely devoted to Chopin. This newest event, held in partnership with Caisses populaires Desjardins, will take place on the weekend of March 30 and 31 at the Salle Georges-Codling in the heart of the Sorel district. Nineteen pianists, including the ringleader Richard Raymond, will share duties in playing the complete works for solo piano by the legendary Polish composer and keyboard virtuoso. The task at hand was nothing less than daunting for its organizers, who were called on to ensure quality from an artistic point of view and satisfaction of audience needs. To appreciate the evolution of the composer's music, the pieces will be performed in historical sequence. The two-day program will be divided into six blocks, each one introduced by musicologist Georges Nicholson, prefaced by an initial word of welcome by Andrée Champagne.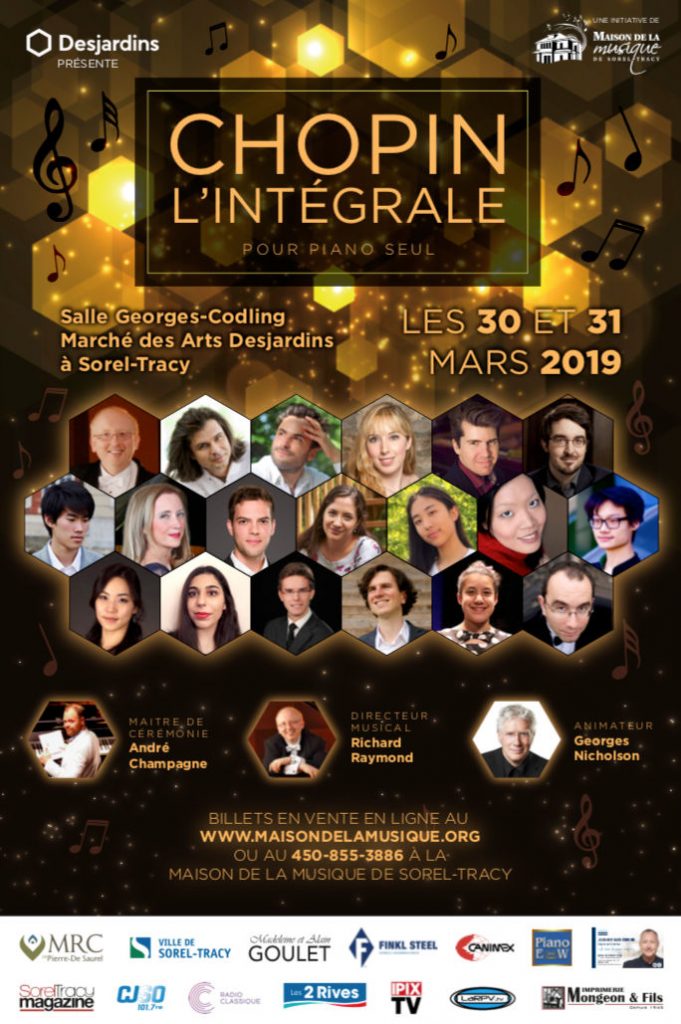 A Unique Event for One and All
According to Rachel Doyon, the venue's artistic director, every angle has been covered. "On Saturday," as she points out, "concertgoers will be provided with lunch boxes over the whole day, even in the evening. On Sunday, they will have the opportunity of having brunch with the performers. Because we are right in the old town, there are plenty of restaurants around. Parking is easy, too, and there is no lack of accommodations."
With a good pair of ears and an attentive mind, listeners will surely be spoiled by the offerings. One thing Doyon firmly believes in is the educational purpose of the event. For her, it's a golden opportunity for students to experience all of this music played in such a short time frame. How could one go wrong with such varied and consummate players as Richard Raymond, Charles Richard-Hamelin, Jean-Philippe Sylvestre, Janelle Fung, Michelle Nam and Philippe Prud'homme? Thanks to Canimex, 50 tickets at discount rates are being offered to students.
As much as music lovers will regale in the works of the great Polish romantic, they should take some time off as well and soak up a few sights around town. What's more, the room will be laid out in an Italian style, with tables amid the chairs, creating a more relaxed atmosphere over the long haul. Would there be a better opportunity than this to escape into a musical bubble and replenish the self with two solid days of Chopin, deftly performed by a first-rate team of piano virtuosos? At such a reasonable price, it would be almost unthinkable to give it a pass. VIP ticket holders should take note that they will get preferential sitting, almost within reach of the players. Reserve now!
A Locus of Classical Music
The Maison de la musique de Sorel will mark its seventh year of operations this coming April. From its previous vocation as a convent for nuns of the Saint-Joseph de Saint-Hyacinthe order, the building was turned into a music salon that now operates year-round. It offers a diversified program ranging from the classics, chanson française and jazz. It has furthered its purpose by promoting music awareness in the community. Among others, there are programs to interest the young in musical instruments and to have them participate in choirs, the latter under the direction of soprano Louise Marcotte. Ditto the Violon Académie project, geared towards improving the playing standards of string players. Further activities are cultivated at music camps staffed by first-rate instructors like pianists Richard Raymond and Hugues Cloutier and the improvising violinist Helmut Lipsky. Activities also extend beyond its walls thanks to field trips, with musicians performing at events held in venues ranging from churches to health facilities. If we dream a little, this flurry of activities may well lead one day to the birth of a local symphony orchestra…
At this writing, Rachel Doyon has plenty on her plate: the Chopin event, of course, but also the coming Pierre Saurel festival/music competition aimed at promoting new talents on a yearly basis. The future is nothing less than bright:
"The provincial government arts funding body, the CALQ, has awarded us a grant to network music salons in Quebec and create a kind of new scene for classical music. We are still in search mode for regional partners willing to present leading performers in the field."
The time is ripe indeed to move musical activities beyond the Montreal hub, and to allow for the staging of quality concerts in Quebec's regions. Rachel Doyon and her team at the Maison de la musique de Sorel-Tracy can pride themselves in what they have accomplished and the recognition given to them is well-deserved. Case in point: the Beethoven 32 event of 2018 is now in the running for best concert of the year at the upcoming Opus award ceremony. And by the look of it, the Chopin marathon has the makings of an another success story.
Translation by Marc Chénard
Chopin: L'intégrale pour piano seul will take place on March 30 and 31 at the Maison de la musique de Sorel-Tracy. Go to: www.maisondelamusique.org
This page is also available in / Cette page est également disponible en:

Francais (French)