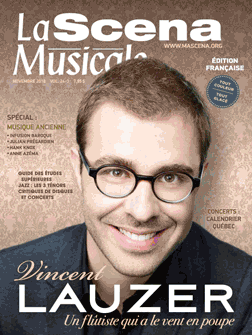 This page is also available in / Cette page est également disponible en:

Francais (French)
Flûte Alors! was born in 1999, the fruit of a student exchange with some Berlin musicians, organized by recorder players Matthias Maute and Sophie Larivière. It underwent various transformations over the years, gradually becoming more and more professional, before ending up as the present quartet of Vincent Lauzer, Marie-Laurence Primeau, Alexa Raine-Wright and Caroline Tremblay.
In 2011, the quartet issued their first album, Kaléidoscope, comprising Baroque and contemporary works. It set out their mission, which is to make the recorder better known through concerts covering medieval, Baroque, Renaissance and contemporary music – as well as jazz, which was the subject matter of their second album, Bach'n'Jazz (2017). It's an eclectic repertoire complemented by arrangements of the great classics for recorder quartets to give them a fresh look.
Of course, making the recorder more widely known involves extensive touring: Since 2011, Flûte Alors! have performed with Jeunesses Musicales, Debut Atlantic and Prairie Debut. What's more, this year they celebrate their tenth Montreal season, which starts on November 10 with songs and madrigals of the 16th century featuring soprano Hélène Brunet. There will be five concerts in all, culminating on April 13 with an audience-chosen concert! Always on the lookout for new ideas to bring the recorder to more people, these four talented musicians embody a new generation of explorers of sound. While the public is more open than ever to early music and less familiar instruments, this quartet is always ready to give a nudge in the right direction. Listen to them and see what you think!
Flûte Alors! presents Recorders On The Run programmed by Jeunesses Musicales, November 4 in the foyer of Salle Wilfrid-Pelletier in Montreal, and April 14, 2019 at the National Arts Centre in Ottawa. www.flutealors.com
This page is also available in / Cette page est également disponible en:

Francais (French)