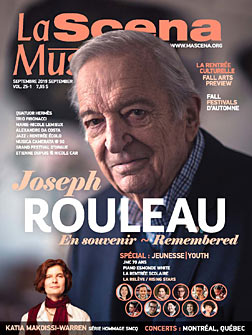 This page is also available in / Cette page est également disponible en:

Francais (French)
The perseverance of Orpheus
The best-known musician of antiquity will attempt several more descents into the underworld this year to bring back his beloved Eurydice. The epic story of this accomplished lyricist will start quite far from Montreal. At the prestigious Teatro Colón in Buenos Aires, the Theatre of Early Music will present Gluck's Orpheus and Eurydice from Nov. 8 to 12 with Daniel Taylor in the principal role. Closer to home, countertenor Philippe Jaroussky and soprano Amanda Forsythe bring one of the most famous myths of music back to life with the Boston Early Music Festival Chamber Ensemble on Nov. 19. La Storia di Orfeo will present airs borrowed from three Italian masters of the 17th century: an amalgam of emotions in Bourgie Hall that shouldn't be missed.
On Feb. 29 at the Notre-Dame-de-Bon-Secours Chapel, the Flûte Alors! quartet and the viol consort of Les Voix Humaines will present Eolo e Orfeo, an anthology of Italian Renaissance works with lutenist Sylvain Bergeron and harpist Antoine Malette-Chénier. Finally, on May 1, 2020 at Bourgie Hall, Clavecin en Concert and Arte Musica will present The Descent of Orpheus to the Underworld, a chamber opera by Marc-Antoine Charpentier, with Philippe Gagné and Jacqueline Woodley in the principal roles, with musical direction by Luc Beauséjour and staging by Marie-Nathalie Lacoursière. A masterpiece that is rarely played owing to its unfinished state, this opera leaves the spectator with the job of imagining the two lovers finally reaching the surface together!
www.mbam.qc.ca/salle-bourgie
www.flutealors.com
Bach Forever
Increasing in audacity and ingenuity every year, the Montreal Bach Festival partners with major music ensembles to present varied and colourful concerts showcasing the emblematic figure of Eisenach. On Sept. 28, Jonathan Cohen and Les Violons du Roy and bring together an exceptional cast to present three Magnificats rather than one at the Maison symphonique. In November, the organ will take the spotlight with recitals by Vincent Boucher (Nov. 3), Olivier Vernet (Nov. 10), Dexter Kennedy (Nov. 17), and Shin-Young Lee (Nov. 24): a lineup of renowned organists who will make the great organs of Montreal resound. AKAMUS, the well-known chamber orchestra from Berlin, will be visiting for the official opening concert of the festival on Nov. 22 and 23 at Saint-Léon Church in Westmount, with the Brandenburg Concertos the first night and Orchestral Suites the second. Two young prodigies not to be missed: pianist Aaron Pilsan with The Well-Tempered Clavier on Nov. 30 and cellist Christian-Pierre La Marca in a program blending Bach's suites, Spanish music and a contemporary work by French composer Thierry Escaich. On Dec. 3 and 4 at the Maison symphonique, the OSM under Kent Nagano will present the Christmas Oratorio with Marie-Sophie Pollak, Wiebke Lehmkuhl and Philippe Sly.
Harpsichord on parade
The Clavecin en concert organization will present a varied season to reveal the many facets of the instrument. Artistic director and harpsichordist Luc Beauséjour will take part in Year 6 of the complete sacred cantatas of Bach with the Fondation Arte Musica at a concert at Bourgie Hall on Oct. 27. Not to be missed, the arrival of French harpsichordist Olivier Baumont, who will deliver a few of the most beautiful pages written for the instrument on Feb. 7, 2020. On another note, for the fourth consecutive year, Jean Rondeau will be performing at Bourgie Hall. He will present nothing less than the Goldberg Variations in a recital on Nov. 26, so it's best to book your seats quickly! Finally, the small town of Saint-Camille will host organist and harpsichordist Jean-Willy Kunz and recorder virtuoso Vincent Lauzer at a country dinner and show featuring the music of Bach on Sept. 28 as part of the Concerts de la Chapelle.
www.clavecinenconcert.com
www.lesconcertsdelachapelle.com
Other early music highlights
Les Violons du Roy will present Handel's Messiah under the baton of Bernard Labadie from Dec. 11 to 13 in Québec City and Montréal. Not to be missed in February 2020, Maurice Steger, a true legend of the recorder, will visit to perform a program as virtuosic as it is colourful.
Arion Baroque Orchestra will put the great composers in the spotlight: Telemann, Bach, Mozart, and Handel will be well served by distinguished guests, including conductors Andrea Marcon, Alexis Kossenko, and Boris Begelman as well as soloists Robin Johannsen, Carlos Mena and Nuria Rial.
Les Boréades, the ensemble directed by Francis Colpron, will present a florid season, as usual, revisiting the Baroque repertoire with charm, passion, and a hint of humour, showcasing Rameau and Bach this year.
A bulwark of medieval music, the Ensemble Scholastica will captivate us once again with its thematic concerts rooted in history (medieval sacred music from the Kingdom of Bohemia on Nov. 17) or territory (liturgical chants of the Hospitalières of Ville-Marie on April 10).
The Société de musique ancienne de Montréal won't be outdone, highlighting the great polyphonists (Sept. 29), the sacred music of Italy in celebration of its 45th anniversary (Nov. 3), as well as saucy songs from the time of Rabelais (Feb. 2). Happy concertgoing!
This page is also available in / Cette page est également disponible en:

Francais (French)