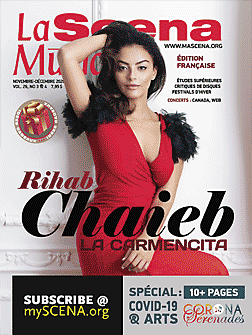 This page is also available in / Cette page est également disponible en:

Francais (French)
Twenty-four people in masks. Twenty-five if you count the leader; 29 if you include the string quartet. Unknown location. Sounds mysterious. In fact, Hope & Refuge, a concert by the Elora Singers, will be available online for all to see and hear starting Nov. 14.
The title is suited to both our troubled times and a program including Layton's Letter to Canadians, a tribute to the late NDP leader by Jeff Enns, a member of the bass section.
"It is optimistic and hopeful music," says Mark Vuorinen, artistic director and conductor of the Ontario-based choir. "The piece is a setting of those wonderful words [Layton] said shortly before his passing. Optimism is better than fear. Hope is better than duality.
"It seems to speak to so many things that are going on in the world right now, related to the pandemic and maybe politically too. This was an opportunity to present a concert that would bring our audience together."
Recorded on Oct. 24, the event also brought together the 24 professional choristers, most under 40, for the first time since February. All but two had participated in remote remixes for the online version of the annual Elora Festival in July. But the choir had given no performances in situ.
"This is a very tight group of singers," said Elora managing director Laura Adlers. "It was emotional for them to gather and sing again."
Also a little odd, since everyone was wearing a mask. Common as this practice is at the supermarket, it is not often thought to be compatible with the art of singing.
"There's an adjustment," Vuroinen said. "You have to work a little bit harder at certain aspects of singing. Singers hear themselves differently, too, because the sound is reflected back at them. Diction becomes an ongoing pursuit.
"But as I listen to the sound [from the session], if you were to close your eyes, I am not sure that you would instinctively know, 'Oh, those singers have masks on.' It was nice and clear, which was a great surprise."
To make articulation easier, most choristers used a plastic insert to maintain a comfortable distance between their
mouths and the surface of the mask. Some bought masks specifically designed for singing.
It helped that the concert was recorded in a deconsecrated church in Hamilton with resonant acoustics. The name and exact location are undisclosed.
"There is nothing illegal about it," Adlers assures us, "but the diocese doesn't want to draw attention to it, because they can't rent it to many people."
With pews removed, the spacious facility also permitted singers to maintain a generous 10 feet of social distance.
"We are being extra cautious," Adlers adds. Temperatures taken, hands disinfected. Sessions are limited to 45 minutes.
Hope & Refuge will be followed by three concerts in December, all with a Christmas theme. One assembles highlights from Handel's Messiah.
Meaning we get the Hallelujah Chorus with masks?
"There is a visual dissonance there," Vourinen concedes. "But the music goes beyond the visuals.
"Messiah is a joyful piece but there is darkness as well. That is the beauty of Messiah. Handel takes us through that darkness and brings us out on the other side. That is part of this experience as well."
This page is also available in / Cette page est également disponible en:

Francais (French)