This page is also available in / Cette page est également disponible en:

Francais (French)
The year 2017 will be remembered as a great one for Yannick Nézet-Séguin and his Orchestre Métropolitain — even in 2018. Their seven-concert whirlwind tour of Europe, starting in the Dortmund Konzerthaus on Nov. 26 and ending in the Paris Philharmonie on Dec. 3, has been nominated for a Grand Prix by the Conseil des arts de Montréal. The winner will be announced in March.
As I noted in a dispatch from Paris, the tour was a success on every level: "Audiences were charmed by the newcomers. Playing standards were high. Above all, the tour was an apotheosis for an ensemble that has long done yeoman's work in the suburbs of Montreal and the pit of Salle Wilfrid Pelletier. These musicians could cross the ocean and sound every inch an orchestra that belonged in the best halls in Europe."
How could it happen? Part of the explanation was the sheer excitement of appearing in famous cities, part the full confidence of the players in their conductor, a confidence that was reciprocated. When asked how long we could expect him to remain with the band that gave him his start, Nézet-Séguin turned the tables:
"The way I see this growing and developing, if I can tour these great halls with my orchestra, record for Deutsche Grammophon and ATMA, and have the orchestra deliver, to even greater heights, in every concert, why would I leave?"
Cologne, November 30
The lobby of the Cologne Philharmonie. CDs arrayed on a table. Subscribers to the Internationale Orchester series looking them over with quiet curiosity.
"This is excellent," said I, tapping on the Orchestre Métropolitain's ATMA recording of Debussy's La Mer, arguably the biggest hit on the playlist of a six-city whirlwind tour of Europe. "Of course!" a middle-aged woman responded, almost with indignation. "Yannick!"
Of course: Yannick. Germans are on a first-name basis with the conductor whose surname is Nézet-Séguin, as are the Dutch, who heard him lead the OM a week earlier in the matchlessly resonant Royal Concertgebouw in Amsterdam.
Whether the Concertgebouw represented the peak of the tour remains to be heard – Rotterdam, Hamburg and two concerts in Paris beckon – but the conductor seemed to feel a new plateau had been reached.
"An evening like tonight shows what it means for a conductor to have a relationship with an orchestra for so long," Nézet-Seguin, music director since 2000, said at a post-concert press scrum.
"And it is a matter also of stability. Many of the musicians are founders of the orchestra 37 years ago. Being together, you make better music."
Naturally the acoustics of this famous 1888 edifice help – "amplified by history," as Stéphane Tétreault, the soloist in Elgar's Cello Concerto, commented succinctly. But great music does not make itself. Coarse playing will be heard as such. Noncommittal soft playing never leaves the stage.
"It is something physical that becomes metaphysical," Nézet-Séguin said about the high-definition pianissimi he elicited (and was granted) in Debussy, Elgar and Ravel's Concerto for the Left Hand. "Now I think we have reached this level with the Métropolitain."
Nézet-Séguin's faith in the musicians could be measured by his decision to dispense with a baton in La Mer. Part of his rationale was to force the close listening that the Concertgebouw demands. Was the Amsterdam performance a touch more ecstatic in its evocation of sunrise and sea spray? "I had way more fun at the Concertgebouw," one veteran string principal said. "More animated," added an extra in the brass.
To these ears, both were exquisite. Debussy asks unreasonably for 16 cellos divided four ways in the first movement. In Cologne and Amsterdam we heard how eight disciplined players in a nautical frame of mind can do just fine.
Four fine horns were also much appreciated at the quiet start of the coda, which the conductor brought organically to a stirring climax. No less magical was the end of the second movement, a tapestry of wind and percussion threads woven with delicate harps. The pulse of the finale was irresistible. Everyone thinks of colour in this music, but rhythm is what brings the seascape to life.
An ovation in both cities ensued. As did an appreciative speech in English from the stage. Then, as an encore, Elgar's Nimrod, wonderfully soft-spoken except where it must release its pent-up emotions in late Victorian splendour.
Every concert on this tour except the last two begins with music from Quebec, either Pierre Mercure's Kaléidoscope of 1948 (this was the opening salvo in Dortmund) or Exil intérieur (2012) by the former OM composer-in-residence Éric Champagne. I was seated too close to the stage of the Cologne Philharmonie (a wraparound amphitheatre of 1988) to have fond thoughts about this 16-minute potpourri of consonant and dissonant impulses, which reaches at least 10 resounding fortissimo conclusions before well and truly coming to an end. The earsplitting fanfares and gratuitous woodwind solos were easier to take in Amsterdam. But it must be reported that both crowds gave the anti-minimalist manifesto a hearty welcome.
After Champagne came caviar, in the form of Ravel's Concerto for the Left Hand. There could be no misty beginning in the acoustically vivid Cologne Philharmonie, although the contrabassoon line was, lyrically speaking, right on. Alexandre Tharaud sounded more sustained in the Concertgebouw (where the piano itself seemed to be in better condition). But this Frenchman with a fondness for Quebec struggled in the opening minutes to create the majestic effect that this astonishing masterpiece demands as a birthright. On both nights he used the score.
No such crutch for Tétreault, who combined expressive phrasing and plangent tone to create a personal interpretation of a work that requires nothing less. The 24-year-old was styled a "daredevil" by Concertgebouw general manager Simon Reinink after the performance for his wide dynamic range. Rhythms also were remarkably free, and touches of portamento, where appropriate, were provided.
None of this sounded appliquée. Indeed, Tétreault's instinct for applying and withholding vibrato was so natural that it took an act of critical effort to notice it. "You play even better, rather than being intimidated," Nézet-Séguin told the cellist, referring to the all the ghosts occupying the Concertgebouw. "And this is the sign of the greats." The OM accompaniment was suitably warmhearted.
Happily, the Paris Philharmonie performance of the Cello Concerto was broadcast on Mezzo Live HD. (Go to www.mezzolivehd.tv for information.) Come to think of it, an old-fashioned stereo recording might be nice. Of course, Tétreault records for Analekta, Nézet-Séguin for ATMA. Perhaps we could create a hybrid label: A & A.
Not that this was a concert of concertos, even if the initial tour concept as formulated in Paris was notably heavy on soloists. The takeaway in Dortmund, Cologne and Amsterdam was of a very good orchestra playing in harmony with its conductor.
"The atmosphere is relaxed but at a high level," principal horn Louis-Philippe Marsolais said over breakfast in Amsterdam. "He (Nézet-Séguin) expects the best, but he knows he will not get this by picking on you."
"When he's there, he calms everyone down," concurred principal trombone Patrice Richer, a veteran of 1999 who joined when Joseph Rescigno was music director. "He just has faith in everyone, no matter who it is. He makes people feel better and play better."
As for the Concertgebouw gig, it could be called a dream come true, except that few OM musicians ever supposed that their journeys would extend farther than Toronto, let alone overseas.
"We have heard so much about this hall," Richer said. "It is part of everyone's upbringing. You go to school and think, 'I'd love to play there.'
"And now we are here. Never in a million years did I think this would happen."
Passing notes: The OM musicians arrived in Rotterdam a day early to attend a reception given in City Hall by the mayor, Ahmed Aboutaleb, who said kind words about Nézet-Séguin while reminding everyone of the role Canada played in the wartime liberation of the Netherlands.
Also on hand were members of the Rotterdam Philharmonic, of which YNS is the outgoing chief conductor. Soloists in Rotterdam are contralto Marie-Nicole Lemieux in Berlioz's Les nuits d'été and Jean-Guihen Queyras in Saint-Saëns's Cello Concerto No. 1. Orchestral numbers are Pierre Mercure's Kaléidoscope and Elgar's Enigma Variations.
Soprano and conductor Barbara Hannigan was in the crowd in the Concertgebouw, to meet up with Yannick and her sister Sheila Hannigan, who plays in the cello section.
Wisecrack of the tour: After a rehearsal of the Elgar Cello Concerto in Dortmund that went rather well: "Just think of what he could do with a better instrument." Tétreault uses the superb 1707 "Countess of Stainlein, Ex-Paganini" Stradivarius on loan from Jacqueline Desmarais, who is also credited with making the OM tour of Europe possible.
Making his priorities clear: Nézet-Séguin in an interview for the Concertgebouw in-house magazine: "Montreal is the city where my whole family lives, my parents, my sisters. My partner plays viola in this orchestra. It is really the place where my roots lie. The four or five programs per year do not cost me a lot of time."
The most memorable quotation was turned into the headline: "Montreal is where my cats live."
Hamburg, Dec. 2
"Suche Karte." Seeking ticket. This is always a good sign, quite literally, in German-speaking lands, where it is common to advertise your unhappy condition with two words writ large on a piece of cardboard.
Sure enough, a visit to the box office of the Elbphilharmonie confirmed that the fifth installment  of the Orchestre Métropolitain's tour of Europe was quite sold out. Eight thousand requests, 2,100 seats. Suche Karte.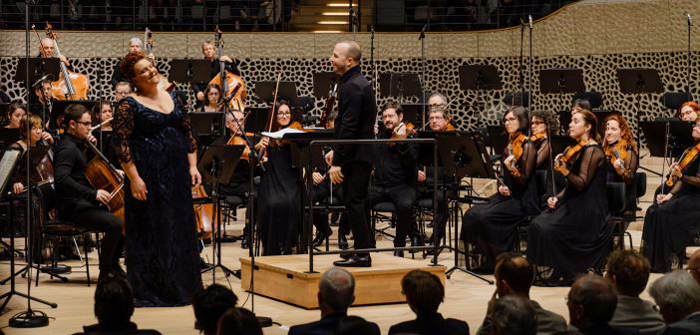 The huge demand cannot be reconciled with the usual explanations. Soloists Marie-Nicole Lemieux and Jean-Guihen Queyras are reputable enough, but hardly the stuff of a sellout.
Yannick Nézet-Séguin is recognized everywhere. Still, Hamburg is not his town. Indeed, the closest thing this city has to a resident North American maestro is Hamburg State Opera Generalmusikdirektor Kent Nagano.
And the repertoire? Pierre Mercure, Berlioz, Saint-Saëns and Elgar: this is not a menu made with the hambourgeois in mind.
Clearly there was something about the romance of a little-known Canadian orchestra making its big-time overseas debut that captured the imagination of the Hamburg public.
"For 37 years this orchestra stayed in Canada," YNS told the crowd after a manifestly excellent performance of Elgar's Enigma Variations. "Now it is outside Canada for the first time."
This ignited a burst of applause. We even got a shout of "Thank you" after the encore, Ravel's Pavane pour une infante défunte, played with songful woodwinds and the softest strings imaginable.
There was a fair amount to be thankful for, including the setting, the breathtaking Elbphilharmonie, a 110-metre-high fantasy of curved-glass panels sitting improbably on top of the brickwork remains of a 1963 waterfront warehouse.
It is remarkable inside as well. Escher-esque staircases lead up and up to a room of terraced seating at various levels, including some that are rather Alpine. There is a parterre but the concept is distinctly of music in the round.
As for the design, it is not so much futuristic as retro modern. There are curves that would not have been out of place at Expo 67. Surfaces, perhaps inevitably, are off-white, and embossed with shell-like indentations in the interest of diffusing the sound.
Which was superb. Balance was excellent in Berlioz's Les nuits d'été (Lemieux, less inclined than usual to linger) and Saint-Saëns's Cello Concerto No. 1 (Queyras, vital and incisive). Both got the bravo treatment. Alas, the Canadian starter, Mercure's Kaléidoscope, did not receive the curtain call it deserved.
As ever, the main orchestral number made the strongest impression. Elgar explores a wide range of colours and dynamic levels, and the OM players were equal to all of them. Anyone doubting this orchestra's chops got quite a correction from the dazzling fortissimo semiquavers of Variation XI (these supposedly representing a bulldog tumbling down a riverbank to take a swim).
Still, it was the sure projection of the composer's full-hearted and unmistakably British frame of mind that made this performance so impressive. Everyone talks about Nimrod but the highlight of highlights was Variation V, subtitled "R.P.A." It would be hard to imagine warmer strings or more amible, chatty woodwinds. Nézet-Séguin understands this music, and the players, ipso facto, understand it too.
Paris, Dec. 4
Ever seen a conductor cry on stage? I mean, other than Leonard Bernstein?
We can add to this exclusive list the name of Yannick Nézet-Séguin, who was seen wiping his eyes discreetly on Sunday after Elgar's Enigma Variations, a performance that marked the official conclusion of a six-city, seven-concert European tour by the Orchestre Métropolitain.
There would be an encore: Ravel's Pavane pour une infante défunte, done in the supplest tones imaginable. We must resist the temptation to deem the last thing heard as the best. But goodness, what a sound.
And what an ovation from the Parisians, who packed both concerts, which was given in connection with a "Week-end Montréal" (as it was styled in the program) and next door to the "Le Québec à la Villette" festival (La Villette being the former meat-packing district where the curvy and hypermodern Philharmonie concert hall was opened in 2015).
All of which makes it rather curious that the Phiharmonie de Paris did not see fit to include a composition from Quebec as part of either program. Every hall in Germany and Holland agreed to a made-in-Canada starter. Nézet-Séguin managed to sneak in the last few minutes of Eric Champagne's Exil intérieur as an encore on Saturday, which means it was part of the Mezzo Live HD and Radio Classique broadcasts.
Nézet-Séguin called the Parisians "nos cousins" in a heartfelt address from the stage on Sunday. The night before he drew attention to the presence of Elgar on the program (the Cello Concerto with Stéphane Tétreault) as an expression of Canada's British heritage. As in the music making, the diplomatic balance was exact.
The tour, of course, was about the universal language and how well this orchestra speaks it. Performing was at a high level from start to finish. Contralto Marie-Nicole Lemieux, very much a singing actress, gave her most inspired performance of Berlioz's Les nuits d'été in front of a crowd that actually understood the words.
Not that comprehension prevented a good deal of coughing between songs, which in turn provoked much shushing from the conservatives in the audience and even a shout of "Silence!" after Le spectre de la rose. Maybe all that talk of "mon tombeau" puts some people in an uneasy mood.
Still, they gave Lemieux a hearty cheer and responded no less enthusiastically to the leonine Jean-Guihen Queyras in Saint-Saëns's Cello Concerto No. 1. This Montreal-born Frenchman, speaking from the stage, made reference to his Quebec roots and the emotions evoked by the tour before playing Henri Dutilleux's elliptical Trois Strophes sur le nom de Paul Sacher as a solo encore.
Elgar's distinctly non-French Enigma Variations went as well as ever. It is measure of the expressive flexibility of the orchestra that each performance sheds extra light on one variation or other. This time I was especially taken by the charm of the Allegretto that precedes Nimrod.
The highlight on Saturday was Tétreault's Elgar, delivered as always with deep expression and speaking tone. Varied phrasing in the finale offered a microcosm of what makes this 24-year-old so special.
OK, back to Paris. Alexandre Tharaud was not the ideal interpreter of Ravel's Concerto for the Left Hand but he produced a confident cadenza (and got enough applause to give a left-hand prelude by Scriabin as an encore). The orchestral buildup from the lower depths was evocative. As a platform for the OM itself this concerto was an excellent choice.
As was Debussy's La Mer, even if the Saturday account (preserved for posterity by Mezzo) was more rigid and less pictorial in the first movement than it had been in Cologne and Amsterdam. I wonder if the long pause YNS decreed before the start put the musicians in mind of all those cameras. Happily, the performance set sail in the second movement and Nézet-Séguin in the finale demonstrated again his penchant for creating irresistible momentum.
The tour was a success on every level. Audiences were charmed by the newcomers. Playing standards were high. Above all the tour was an apotheosis for an ensemble that has long done yeoman's work in the suburbs of Montreal and the pit of Salle Wilfrid Pelletier. These musicians could cross the ocean and sound every inch an orchestra that belonged in the best halls in Europe.
That Nézet-Séguin dispensed with his baton so often said something about both the intimacy of his bond with the OM and the likelihood of its permanence. Possibly his relatively modest workload in Montreal – starting in 2020 he will juggle the OM with the Metropolitan Opera as well as the Philadelphia Orchestra – is part of the happy equation. YNS is the ultimate known commodity but also an international creative force whose every arrival seems special.
"There is a real camaraderie in this orchestra," said trombonist Michael Wilson, one of a few founding members of the 37-year-old OM, at a post-tour celebration. "There are no feuds, no butting heads. And Yannick is part of this. He is a genuinely warm human being."
Wilson probably speaks for all in feeling a combination of gratitude and astonishment that the orchestra that began as an ensemble dedicated to the island of Montreal now has a European tour and a cycle of Bruckner Symphonies behind it.
The moral of the story? "If you hang around long enough, good things happen."
And the winner is: A matter of opinion. All six concert halls on this tour were of high quality, although a touch of hardness might put De Doelen in Rotterdam, a 1966 facility with a vast interior, at the bottom of the standings.
Principal clarinet Simon Aldrich gives top honours to the Amsterdam Concertgebouw of 1888. "There is a bloom there that you do not find in the other halls.," he said, while admitting that the prestige of the place is hard to factor out of any subjective judgment.
His No. 2 was the Paris Philharmonie – said to be Nézet-Séguin's favourite – followed closely by its namesake in Hamburg, opened early this year. I would reverse that order while keeping them close. One could very well propose a three-way tie with the Dortmund Konzerthaus (2002). The Cologne Philharmonie (1988) is very good if you are not sitting too close. Anyway, a game of inches.
Teamwork: Tightly organized with only one free day in the midst of a seven-concert schedule, the tour was relatively snafu-free. One foot injury in the second violins and one passport left in an instrument case were not too hard to resolve.
"I'm very proud of my team," said Jean Dupré, the orchestra's CEO, who made his debut at the Paris Philharmonie (specifically, the Grande salle Pierre Boulez) by giving a bouquet to the maestro, which YNS held aloft like an Olympic torch.
It was a gesture the former head of the Canadian Olympic Committee could appreciate. "If you get all the basics right," Dupré added, "you make it possible for people to do their best."
Public profile: The Hamburg public was the dressiest by far and demographically the most diverse. It was presumably the younger patrons who were clapping between songs in Les nuits d'été and their elders who were shushing them.
Elsewhere in Germany and Holland, hair inclined to grey and white (disregarding the dye jobs). There was a good mix in Paris, of formal folks and scarf-wearing arty types who look like they smoke Gauloises even if they in fact abstain. In both Hamburg and Paris the new facilities have created a surge of public interest.
VIP watch: Former Quebec premier Jean Charest was present on Saturday. On Sunday, the French-trained American pianist Nicholas Angelich was seated in the row in front of me.
This page is also available in / Cette page est également disponible en:

Francais (French)