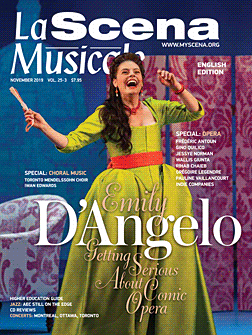 Denis Mastromonaco, 45, had just finished a rehearsal of Rachmaninoff's Symphonic Dances with the MSO, the resident orchestra of the sixth-largest city in Canada.
"We are typically about 95, 98 members," he explained. "It's a healthy-sized orchestra."
The conductor was speaking about the Mississauga Symphony Orchestra, an ensemble that concluded its 2018-19 season with Mahler's Second Symphony ("Resurrection") and is looking forward to presenting a fully-staged production of Verdi's La Traviata on Jan. 25 and 28.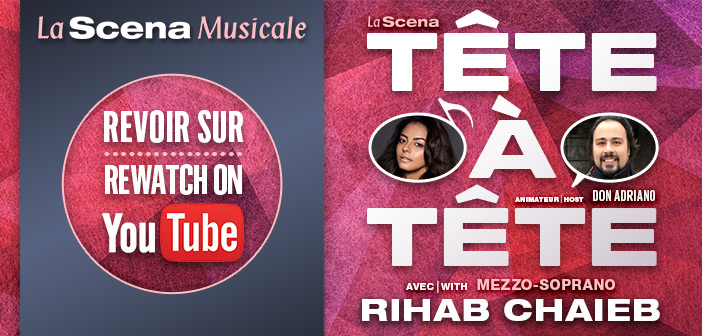 Other works Mastromonaco has led during his seven years as music director are Beethoven's Ninth Symphony, Bruckner's Fourth, Nielsen's Fourth ("Inextinguishable") and Vaughan Williams's A London Symphony. Not bad for a municipality which, however dynamic in economic terms, is not exactly famous for its cultural infrastructure.
The MSO builds these eye-popping programs on the strength of a professional core of 14 players – the string, woodwind, brass and percussion principals – and an enthusiastic community component, with extra professionals hired as required. Most pros are from nearby Toronto but the principal second violin is from Mississauga.
As, of course, are most of the remarkably loyal listeners. The MSO receives support from Mississauga and Ontario, but box office and earned revenues make up 50 percent of the MSO's budget of about $700,000, a percentage of which most orchestras can only dream. About $100,000 comes from an annual book sale.
One attraction for Mississauga music lovers is Hammerson Hall in the 1997 Living Arts Centre. Compared with the school auditoriums and churches that many community orchestras settle for, this is acoustical heaven.
Repertoire is not confined to the biggies on the Masterworks series. After the Rachmaninoff program on Nov. 16, the MSO will present a pair of Christmas concerts, one (on Dec. 14) a sequence of highlights from Handel's Messiah, another (on Dec. 15) a program of familiar seasonal fare. Among the populist offerings after La Traviata are a Star Wars night (April 25) and the ultimate tribute to democracy, Music by Request (March 28).
The varied programing has attracted not one audience but a few. "If you consider a classical audience, you think of the 50-and-older end," Mastromonaco said. "But we have also attracted a younger audience, because of the variety of concerts."
There are ticket-buyers from Brampton to the north and Etobicoke to the east. The MSO also supports an adjunct youth orchestra of 170 members. At least once a year – this year, for A Merry Little Christmas – the masses gather for a concert comprising almost 270 musicians.
Mastromonaco arrived in Mississauga by a circuitous route. A native of Toronto, he was raised partly in Argentina in a family of Italian extraction. After earning his bachelor's degree at the University of Toronto in 1997, he pursued graduate studies at SUNY, the Salzburg Mozarteum, the Vienna Conservatory and the Accademia Musicale Chigiana in Siena. He speaks Spanish and Italian as well as English. "And French by default, being Canadian."
His stay in Siena got him into opera, an interest he has transferred to Mississauga with productions of Bizet's Carmen, Puccini's La Bohème and now, La Traviata.
Fully-staged operas do not come naturally to symphony orchestras. "As far as we know, the MSO is the only Canadian orchestra currently successfully producing traditional opera annually," says MSO executive director Eileen Keown. The MSO must hire a production staff and build the performance from the ground up.
Period settings are preferred. "We don't update it or modernize it," Mastromonaco says. "Because for the audience here, keeping in mind it is Mississauga, opera is something still fairly new to them. I wouldn't alter an opera when they haven't seen the original."
Opera programming has been such a success that Mastromonaco no longer holds auditions. "There has been such an influx and we get so many requests from people who would love to sing for us," he says.
The Violetta in January is Cristina Pisani, a Mississauga resident. The Alfredo, Keith Klassen, is a U of T graduate. "Just fantastic" is how he describes these Canadians. The rest of the cast is settled but not signed at press time.
Not many organizations in North American can claim to be both the only orchestra and the only opera company in town while operating a big youth orchestra and presenting pops programming. "We provide something for the community that they can't get anywhere else in Mississauga," Mastromonaco says. "I hope over the coming years, we can push the cultural identity of the city a little further along."