This page is also available in / Cette page est également disponible en:

Francais (French)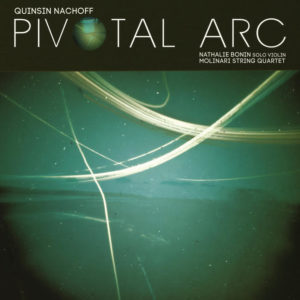 Quinsin Nachoff
Pivotal Arc
Whirlwind Recordings WR4761
Classical and jazz are seldom found on the same dance floor. The Toronto-born New Yorker Quinsin Nachoff has managed a viable synthesis with his Violin Concerto, a work of long gestation played with strength and affection by Nathalie Bonin, a McGill alumna who has since returned to her native California. A tart solo starts in no-man's land before drums and offbeat wind comments enter the room, presenting their jazz credentials. A fairly steady (and slightly tango-ish) beat keeps things more or less classical and a splendidly lyrical second theme for the violin after the five-minute mark reminds the sidemen to watch their manners. The second movement is slower, with a balladic trumpet solo and an extended cadenza; the finale livelier.The three-movement work suggests a classical blueprint but the harmonic wandering stamps the music-making as essentially jazzy. And while a classical concerto would treat the orchestra more or less as a unit, this combo of about 10 (led by J.C. Sanford) is more like a squad of rival soloists, each apt to strike out on his own. Given the generous 46-minute length of the piece, they have their opportunities. Nachoff's entirely notated four-movement String Quartet, much tighter at 15 minutes, is written in an intense semitonal style adorned with glissandi and other extended techniques. A focused performance by the Quatuor Molinari adds to the feeling of tough engagement in a modernist classical vein. In Pivotal Arc, the 15-minute title track, drum solos bring us back to jazzland, but with much fanciful (and even mellow) wind writing, eventually brought uptempo around the eight-minute mark by a sleek tenor solo from the composer. It all ends with a grandfatherly discourse from the double bass, bow in hand. Jazz-classical fusion, he seems to say, is not a fiction we thought it was. Not all will agree. The jazz and classical crowds are distinct, but high production values make this album recorded in Montreal both intriguing and easy to enjoy.
For more on Quinsin Nachoff, read here.
This page is also available in / Cette page est également disponible en:

Francais (French)