This page is also available in / Cette page est également disponible en:

Francais (French)
"One hundred percent positive" is how Isolde Lagacé, general and artistic director of Bourgie Hall, describes the reaction of the performers she contacted with offers of something they had not experienced for months – work.
One hundred percent astounding is not a bad way to describe the surprise announcement by this Sherbrooke Street concert facility that it will be presenting 39 concerts between Sept. 16 (the New Orford Quartet) and Nov. 18 (the second of a pair of appearances by mezzo-soprano Stéphanie Pothier and the Quatuor Molinari).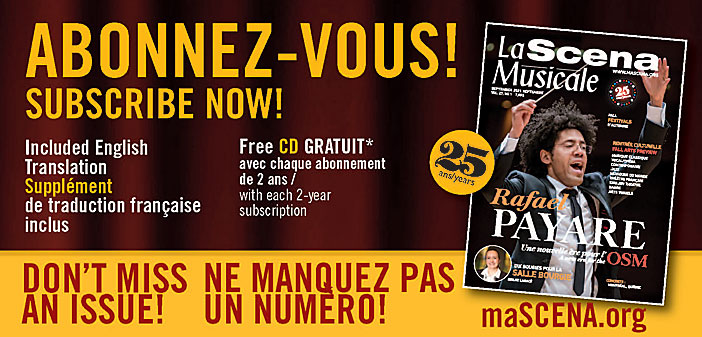 Yes, those dates are in 2020. COVID-19 be damned.

"Musicians want to perform," Lagacé said. "They want to be on stage. Musicians want to share their art with the public. That's what they're trained for, that's what they long for, that's what they've done all their lives."
And connecting musicians with music-lovers has been the calling of this 462-seat affiliate of the Montreal Museum of Fine Arts since 2011. There was no way Lagacé would settle for silence as a celebration of the 10th anniversary season of this popular reincarnation of Erskine and American Church.
Rest assured that Lagacé, a veteran of the Montreal music scene, is not indifferent to the ravages of the pandemic. She caught COVID-19 herself, probably just a few days before March 12, the last day Bourgie Hall was open to the public.
"I was sick for weeks, I was really sick," she recalls. "It was really long and painful."
As a natural extrovert who was frequently in a position of welcoming performers from abroad, Lagacé was more at risk than your average arts executive. 
"I was thinking, this is a dangerous job," she said, recalling her state of mind in the early days of the pandemic. "Everybody talks to me, everybody shakes my hand, everybody kisses me."
Lagacé believes it was such an expression of bonhomie by a European that led to her illness. Then in June her father Bernard Lagacé, one of Canada's most famous organists, also contracted COVID-19, in a seniors' residence. Remarkably, at age 90, he recovered.
Despite these personal encounters with the disease, Lagacé believes that careful adherence to health norms – especially as numbers continue their marked if occasionally bumpy decline in Quebec – will result in a safe experience for musicians and listeners alike.
"I want things to work well," she says. "I'm not going to put people on stage so they get sick, or people in the hall."
Precautions include a limit of 11 performers on stage and 130 in the audience. Seats will be distanced. People must wear masks to and from their seats. There will be no intermissions and no congregating in the lobby.
"Let me tell you that it's less dangerous than going shopping at Costco," Lagacé says. "I'm sure of that."
Because the programs are shorter, many will be repeated. The New Orfords perform Beethoven's Quartet Op. 59 No. 3 and Jacques Hétu's Quartet No. 2 on two consecutive nights. Les Violons du Roy, or at least a subset of this Quebec City ensemble, give a baroque program under harpsichordist Luc Beauséjour (with Marie Bégin, violin, and Mélisande McNabney, harpsichord, as soloists on Oct. 9 and 10.
Louis Lortie resumes his Beethoven-year sonata cycle on Oct. 14, performing Op. 14 No. 2, Op. 28 "Pastorale" and Op. 31 No. 1 in the afternoon and evening. There will be six further double bills, ending on Nov. 15 with the celebrated final threesome of Op. 109, Op. 110 and Op. 111. Public spaces will be cleaned between recitals, in keeping with provincial protocols.
A performance on Sept. 24 by David Jalbert of the rarely heard solo-piano version of Haydn's Seven Last Words of Christ is one of a few concerts given in collaboration with the ATMA label. Another pianist, Charles Richard-Hamelin, plays Chopin's Preludes on Oct. 6, 7, 26 and 27, along with Brahms or Medtner, depending on the date. 
On Oct. 4, mezzo-soprano Michèle Losier mixes Schumann's Frauenliebe und Leben cycle with lieder by Debussy, Duparc and Massenet in a recital given in conjunction with the MMFA show Paris in the Days of Post-Impressionism. Olivier Godin is the pianist.
Another thematic evening linked to this exhibition is a program of Debussy, Ravel, Poulenc and Nadia Boulanger given by Chang2, an acclaimed cello and piano duo from Toronto. This concert on Sept. 23 sold out so quickly Lagacé was able to add another.
"Sales are way beyond my expectations," she said. "I was afraid that people would be a bit nervous. I was afraid people would wait. But people are buying, buying, buying."
There is considerable variety in the lineup, even if the Bourgie Bach cantata cycle has been suspended owing to restrictions on the number of performers. There are jazz, baroque and world programs. Stick&Bow, a marimba and cello duo, give a family-friendly Halloween program on Oct. 31.
The Molinari concerts in November, dedicated to the sculptress Camille Claudel, have a multimedia component. Online viewers can experience them on the Livetoune platform for a fee of $15.
What all these events have in common is staffing by Canadian artists, a result of the difficult quarantine measures imposed on international artists but also a happy throwback to the all-Canadian Bourgie Hall inaugural season. 
"I look at this and say we are blessed," Lagacé says. "That we can make that kind of programming with people from here. It's amazing when you think about it."
Another measure of the depth of local talent is the summer cycle of Beethoven Symphonies (minus No. 9) by the Orchestre Métropolitain under Yannick Nézet-Séguin. Bourgie Hall now has international exposure as a performance hall/recording studio for the Deutsche Grammophon online platform DG Stage. 
There was no live audience for this. Has Bourgie Hall found a new vocation as a recording facility? The first Beethoven concert was remarkably free of urban noise. 
Maybe during the summer. "As soon as I start my season, all year long I have too many concerts," Lagacé says.
On Aug. 27 the hall will unveil 17 further 2020 concerts from Nov. 19 to Dec. 20. All this while many orchestras and companies in Canada have written off the rest of the year and hesitate to commit themselves to 2021.  
Lagacé remembers well the discussions with her peers early in the pandemic.
"They were telling me, if we cannot put 80 percent of the people in the hall, if we cannot have a bar, if we cannot proceed the way we normally do, we are not interested in doing it, because our public won't like it. We need 'atmosphere.' We need people in the hall, we need the bar, we need this, we need that. 
"I realized my public is different. I had magnificent concerts. A recital by [French harpsichordist] Violaine Cochard, with about 100 people in the hall, was one of the best concerts of the year. And the bar was closed. 
"OK, I prefer a full hall, of course, it's more fun. But really what I prefer is great music and great musicians who are happy to be on stage. Because with of the kind of music I present, this is the kind of public I have."
For information on Bourgie Hall events, go to www.mbam.qc.ca.
This page is also available in / Cette page est également disponible en:

Francais (French)