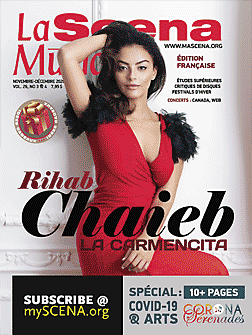 This page is also available in / Cette page est également disponible en:

Francais (French)
User Ratings (

2

Votes)

3.3
Reena Esmail: This Love Between Us:
Prayers for Unity
Barbara Croall: Giishkaapkag
The Elora Singers/Mark Vourinen
TESR 001
Total time: 54:06
This recording by the two-dozen strong Elora Singers under Mark Vourinen clearly aligns with the contemporary emphasis on cultural diversity. The longer work, by the Indian-American ­composer Reena Esmail, incorporates multiple languages and attempts to survey the world's major religions in seven movements – in Indian and Western musical styles. A tall order. The score (involving an orchestra of more than 20, ­including sitar and tabla) is most convincing in the "Hinduism" section, in which soloists alternate long legato lines in Hindi and English. Choral writing honours Western practice more in the breach than the observance. Many are the open intervals and sudden modulations; repetition abounds. A greater success is Giishkaapkag ("Where the rock is cut through") by the Odawa First Nations composer Barbara Croall. Rocks here are portrayed as crucibles of the souls of missing and murdered Indigenous women. Souls emerge through vocalizations that are integrated with nature imagery. The results are entirely ­organic. Indeed, extended choral techniques sound more primeval than modern. Despite the context, the score achieves a quiet affirmation of life, not least through the evocative obbligatos of the papigwan (traditional cedar flute) as ­performed by the composer. Not easy from a ­technical standpoint – the Elora Singers are clearly pros – this impressive work deserves swift and wide dissemination.
This page is also available in / Cette page est également disponible en:

Francais (French)