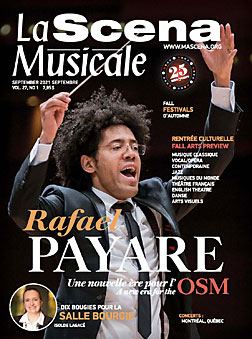 This page is also available in / Cette page est également disponible en:

Francais (French)
Debussy: Violin Sonata. Szymanowski:
Mythes Op. 30. Franck: Violin Sonata
Marie Bégin, violin. Samuel Blanchette-Gagnon, piano
ATMA Classique ACD2 2850
★★★★✩
Non vibrato is well established as the modern default condition of early-music tone production. In this recording violinist Marie Bégin, concertmaster of the Saguenay-Lac-St-Jean Symphony Orchestra, applies a streamlined sound to works from the late 19th and early 20th century, including Franck's Sonata of 1886, which might be regarded by many as a locus classicus for plush and resonant sonority.
Remarkably, Bégin's linear style (aided by a Carlo Bergonzi instrument on loan from Canimex) enhances rather than suppresses expression in the songfully moderate first movement. She gives full value also to the Allegro molto and enlivens Debussy's quirky Sonata with nimble dynamics. That pianist Samuel Blanchette-Gagnon is on the same wavelength is clear from the delicate rubato he applies to the opening statements of each score. Szymanowski's three Mythes Op. 30 are uneven works, although the third piece, Dryads et Pan, projects a vivid feeling of narrative, in part with high harmonics. Fauré's Après un rêve and Debussy's Beau soir, built-in encores, extend this desirable program, closely recorded at the Domaine Forget, to a substantial 73 minutes.
This page is also available in / Cette page est également disponible en:

Francais (French)