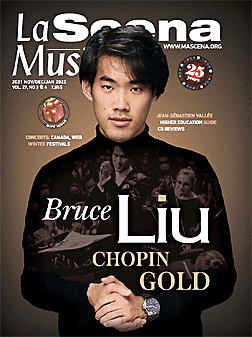 This page is also available in / Cette page est également disponible en:

Francais (French)
Dmitri Klebanov: String Quartets
Nos. 4 and 5; Piano Trio No. 2
ARC Ensemble (Erika Raum and Marie Bérard, violins; Steven Dann, viola; Thomas Wiebe, cello; Kevin Ahfat, piano)
Chandos 20231 – ★★★★★
Dmitri Klebanov (1907-1987) was born and died in Kharkiv, the second city of Ukraine, where he was employed steadily enough at the local conservatory. He might seem a questionable candidate for the ARC Ensemble's "Music in Exile" series on Chandos. In his substantial booklet note, ARC artistic director Simon Wynberg argues that Klebanov's was a case of "internal exile" in the face of Stalinist censorship. At any rate, his music is eminently worth rescuing from its long exile from the active repertoire. Not that anyone would fail to recognize the opening of the Quartet No. 4 (1946) as Mykola Leontovych's Shchedryk ("Little Swallow"), a piece known to Christmas shoppers everywhere as Carol of the Bells. This delightful potpourri of Ukrainiana includes a tune used to grand effect in Tchaikovsky's Symphony No. 2. There are deeper musical rewards to be had, however, in the Piano Trio No. 2  of 1958, a deftly drawn piece that brings to mind Ravel in its refined but freewheeling first movement. There is a lush tune at the three-minute mark reminiscent of Amazing Grace; after a catchy Scherzo, the solemn Adagio explores various shades of grey before lightening up obligingly near the end. The dramatic finale, tinged with melancholy, also reaches a calmly positive conclusion as the piano floats lyrically on a sea of strings. More rhapsodic than architectural, this piece rewards repeated listening. 
The Quartet No. 5 (1965) is written in an more acerbic idiom related to Shostakovich; best is the first movement, the unassuming opening theme of which turns engagingly frantic in the development. Whether the music is lyrical or dissonant, dense or spare, the ARC players (all connected to the Royal Conservatory of Music in Toronto) make it quite clear with their supple work that permanent string quartets and piano trios do not enjoy exclusive rights to high praise in this repertoire. If justice prevails, these premiere recordings will lead to a broader re-examination of Klebanov, a composer with much to offer. 
This page is also available in / Cette page est également disponible en:

Francais (French)