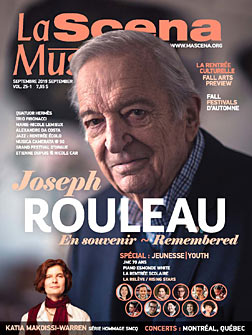 This page is also available in / Cette page est également disponible en:

Francais (French)
Carter Johnson, technically a resident of Vancouver, was in Montana, on his way to New York. The cellphone connection was spotty.
"It's a lot cheaper to drive," the 22-year-old said, with his wife Hannah at the wheel. "If we were to ship this stuff, it would be way too expensive."
Their two-year-old son Preston would be flying in with his grandmother. "Too much driving for him," Johnson explains.
The road trip marked a new chapter in the career of this pianist, who last year won both the grand prize in the OSM Manulife Competition and first prize in the Stepping Stone division of the Canimex Canadian Music Competition. This fall he starts a program at the storied Juilliard School under the tutelage of Matti Raekallio.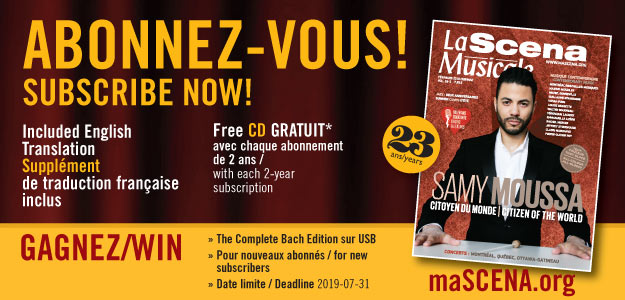 A high priority will be finding an upright piano. As a family man, Carter often practises at home. His wife is a teacher. Johnson himself holds an ARCT diploma in piano pedagogy as well as performance. Not to mention a Bachelor of Music degree from the University of British Columbia, where he studied with Mark Anderson.
Johnson even has a diploma in speech and drama. Shakespeare was something of a specialty, although the more practical value of this training is confidence in speaking to audiences.
Johnson's evolution as a musician – he started at age 5 with Shelley Roberts – has taken some interesting turns. In his early teens he gravitated toward contemporary music, often winning prizes in the Canadian repertoire component of competitions. In 2015 he won the prize for the best performance of the imposed piece, Volées, carillons d'oiseaux by Michel Gonneville.
Then at age 17 came the Bach experience under Michelle Mares. "It was revolutionary for me," he said. "I felt I understood the Baroque spirit, especially in the dance forms."
At UBC he added Brahms, Schumann and Schubert to his diet. Curiously, the only Beethoven Sonata in Johnson's active repertoire is Op. 101, which he played in his graduate recital.
No less curiously, as a Bach-loving Canadian, Johnson is a cautious fan of Glenn Gould. He names Vladimir Horowitz as his favourite. Even when this pianist makes a debatable artistic choice, he is convincing. "Any artist who can do that for me is at the very top," Johnson says.
Not many of Johnson's peers are married, let alone parents.
"I'm sure I practice a little less," he confessed. "But on the other hand, in my first lesson after I got married, my teacher said, 'Oh, marriage has been good to you. In searching the depth of your soul and interpreting this music, you have this great resource.'"
"I didn't know that had happened. But I believe him."
Good news: another child is on the way.
This page is also available in / Cette page est également disponible en:

Francais (French)