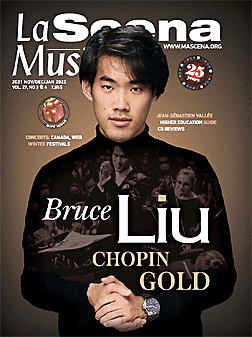 This page is also available in / Cette page est également disponible en:

Francais (French)
The Société de musique contemporaine du Québec (SMCQ), a pillar in the Canadian contemporary music scène,  will celebrate its 55th year with Merveilleuses utopies and Célébration! on Dec. 14 and 15 in Salle Pierre-Mercure. Turning toward both the past and the future, the SMCQ will pay tribute to the musical legacy of the artists who marked the history of the organization while inviting the public to discover some of the new faces of contemporary creation.
In Merveilleuses utopies, presented in a diptych format, the Orchestre philharmonique des musiciens de Montréal (OPMEM) will perform some daring pieces for large ensemble by Canadian composers, while Célébration! will let the audience relive the very first SMCQ program.
Wonderful utopias come to life
It would be difficult to celebrate a heritage as vast as SMCQ's, but Walter Boudreau's response is to honour it by an array of large-scale works requiring time and resources to develop. These "musical utopias" will come alive on Dec. 14 with the event Merveilleuses utopies.With OPMEM's Philippe Ménard conducting, the evening will start with Keiko Devaux's À perte de vue… (2018), followed by André Hamel's L'absurde travail (1988), a piece unearthed for the occasion that was written more than 30 years ago. Canadian composer Steven Gellman's Universe Symphony (1986) closes this large-scale concert.
Back to the roots
For the public to dive deeply into the organization's history, what could be better than reviving – 55 years later – SMCQ's very first concert? This bold idea has the Ensemble de la SMCQ, conducted by Jean-Michaël Lavoie, the ensemble SIXTRUM and invited guests re-creating a program of works by such pioneers as Serge Garant, R. Murray Schafer, Bruce Mather and Pierre Boulez. In addition, there will be a composition from the Montreal composer Petar-Kresimir Klanac.
55 Years of Creativity and Daring

When asked about the organization's role in the advent of new music, composer and artistic director Walter Boudreau unequivocally affirms that the SMCQ was the firecracker that set it all off. The first Canadian organization dedicated to contemporary music was born during the period of major social and political reforms of the Quiet Revolution. The desire to make local talents heard inspired such artists as Wilfrid Pelletier, Jean Papineau-Couture, Maryvonne Kendergi and Serge Garant to establish the SMCQ in 1966. From a few annual concerts to the masterful Symphonie du millénaire (2000), the SMCQ greatly enhanced Quebec's new-music scene by participating in the creation, recording and international distribution of hundreds of original works.
www.smcq.qc.ca
The SMCQ will perform

Merveilleuses utopies

Dec. 14 at 7 :30 pm and

Célébration!

 on Dec. 15 in Salle

Pierre-Mercure.
This page is also available in / Cette page est également disponible en:

Francais (French)