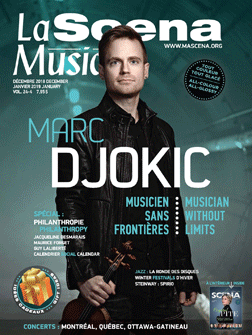 Advertisement / Publicité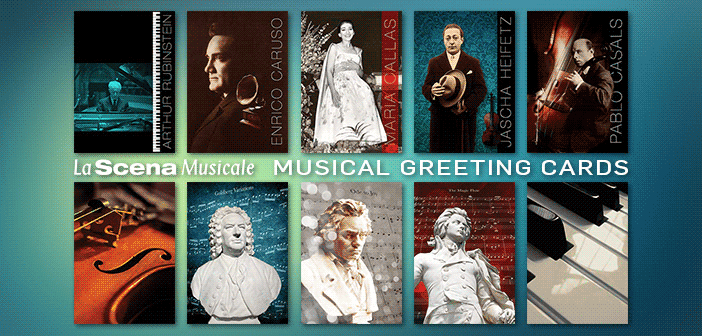 This page is also available in / Cette page est également disponible en:

Francais (French)
Montreal, city of a hundred steeples." Legend has it that the expression was inspired by Mark Twain, who, passing through Montreal in 1881, was stunned by the number of churches in the city. In fact, the church has had a profound influence on Quebec society from the beginning, contributing to the political, social and cultural life of Montreal. Today, as part of Montreal's urban heritage, churches are seeing their vocation expanded to become centres of cultural dissemination. The following churches are essential places that offer the public varied musical programming throughout the year.
St. Joseph's Oratory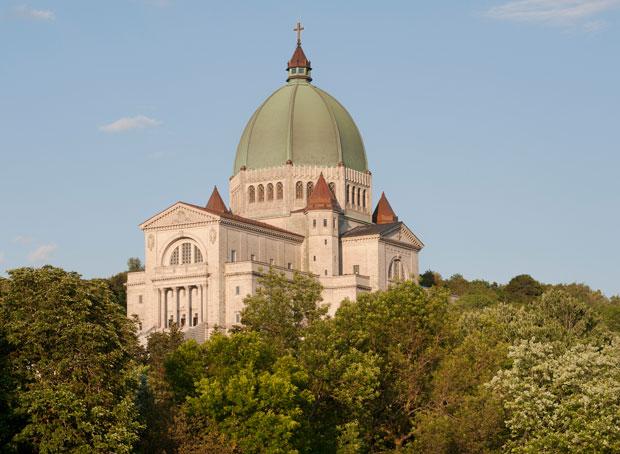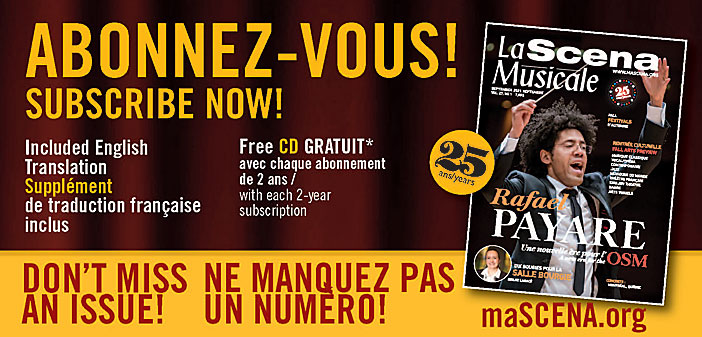 Located on the slopes of Mount Royal, St. Joseph's Oratory is one of Montreal's most iconic heritage sites. Known for its impressive dome, which stands nearly 97 metres high, the oratory each year welcomes more than two million visitors, who are attracted by the beauty of its neo-Renaissance architecture. The basilica, the main building of the complex, houses an organ by the German master Rudolf von Beckerath. Composed of 5811 pipes spread over 118 ranks, the organ is one of the largest of its kind in the world. In addition to the music traditionally presented as part of the Christian liturgy, the Oratory truly opened to music in 1956 when Father Brault founded the choir of Les Petits Chanteurs du Mont-Royal. The Montreal Bach Festival also presents many concerts every year that honour the organ repertoire of the great German composer. On Dec. 2, organist Vincent Boucher and musicologist Gilles Cantagrel present a concert dedicated to the works of J. S. Bach and Dieterich Buxtehude. The organist will also participate in a Christmas concert on Dec. 16 with Les Petits Chanteurs du Mont-Royal. The complete program of Christmas masses and concerts is available on the Oratory website. www.saint-joseph.org
The Basilica was founded by the Society of Priests of Saint-Sulpice. The first church was finished in 1682. Lack of funding prevented the realization of the plans: the church quickly became too small to accommodate the crowds of the faithful. Finally it was demolished to be rebuilt in 1829. Inspired by Notre Dame de Paris, the interior has rich and colorful ornamentation characteristic of neo-Gothic style. Like St. Joseph's Oratory, Notre-Dame Basilica has its own professional choral ensemble, which accompanies masses and other special events. The basilica also hosts the Grand Organs Festival, attracting prestigious local and guest organists for 15 years. In addition to recurring concerts, there is a varied musical program that gives pride of place to orchestras and choral ensembles. The basilica hosted the Philharmonic Society of the New World on Nov. 10 for a masterful performance of Mozart's Requiem under the direction of Michel Brousseau. The show Aura, presented almost daily in December, allows a spectator to discover the many concealed artworks of the basilica through an experience in sound and light. The year is not complete without the traditional Christmas mass with organ and choir. www.basiliquenotredame.ca
St. James United Church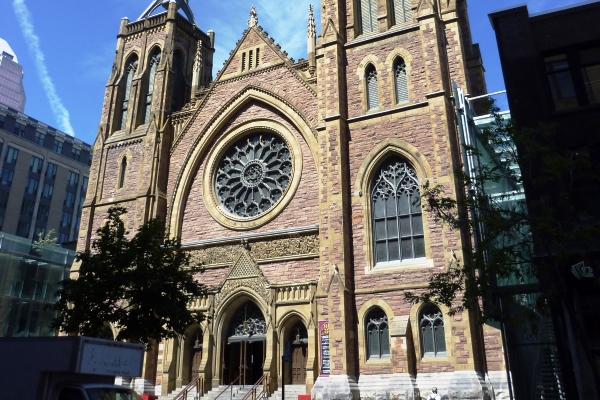 An important place of worship for Protestants in Quebec, St. James United Church was invisible to Montrealers for most of its existence. Completed in 1889, the facade of the church was completely covered in 1927 when a commercial building was planted in front of the church. Nearly eight decades later, its facade was finally revealed once again and restored to the delight of the faithful and of visitors. Like any self-respecting church, it has since its beginnings had an organ that has attracted many renowned organists over the years. Multiple spaces of various sizes allow for concerts and special events, including the sanctuary, which can accommodate 1,220. Fans of the Bach Cello Suites will be able to attend a live broadcast of a Dec. 7 recital by Yo-Yo Ma in the Maison symphonique as organized by the Montreal Bach Festival. This event will be followed on Dec. 9 by the Airs d'apéro concert, an intimate rendezvous with Baroque music, opera arias and Christmas tunes as performed by the trio of soprano Sylvie Provost, baritone (and St. James co-director of music) Norman Robert and pianist Denis Chartrand. www.stjamesmontreal.ca
Christ Church Cathedral

Another important church in Montreal, Christ Church Cathedral also features an abundant musical program, including frequent weekly services and the Oasis Musicale that pleases music lovers every Saturday with free concerts. Not to be missed are clarinet quintets by Neukomm and Weber on Dec. 1. Traditional choral concerts will be back on Dec. 15 as four solo singers and an organist invite the public to join them in Handel's Messiah. The cathedral has its own choir of about 30 amateur and professional choristers. In addition to accompanying masses, the ensemble specializes in the choral repertoire of the 16th and 17th centuries while giving great importance to the music of Canadian composers of the 20th century. www.montrealcathedral.ca
This page is also available in / Cette page est également disponible en:

Francais (French)