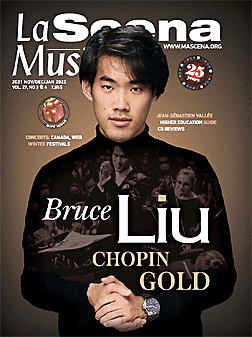 This page is also available in / Cette page est également disponible en:

Francais (French)
New Jewish Music Vol. 3 – Azrieli Music Prizes
Krisztina Szabó, mezzo-soprano.
Nouvel Ensemble Moderne/Lorraine Vaillancourt
Analekta AN 2 9263
★★★★☆
The Azrieli Foundation and the Nouvel Ensemble Moderne (NEM) are joining forces again to deliver the crème de la crème of creativity in new Jewish music.
Released on Analekta, New Jewish Music, Vol. 3 – Azrieli Music Prizes presents the works of the 2020 Azrieli Music Prize winners. Familiar with Jewish music or not, anyone listening to these three premieres will be transported to a fascinating musical crossroads where tradition and modernity resonate.
Masterfully conducted by Lorraine Vaillancourt, the NEM delivers here nuanced and contoured performances of works that are, one supposes, quite demanding. The struggle starts with Kadosh Kadosh and Cursed (2020), a tumultuous tribute by Israeli composer Yitzhak Yedid to his Jerusalem roots. The 24 musical tableaux making up the work build a dazzling mosaic of Jewish and Arab influences whose dramatic power is released gradually.
Another highlight, Estro Poetico-armonico III (2020) by the Dutchman Yotam Haber, is the latest instalment in a series of works inspired by the syncretic approach of the baroque composer Benedetto Marcello. Haber here continues his exploration of Jewish tradition, this time juxtaposing recordings of cantillations and various liturgical and poetic texts carried by the sublime voice of Krisztina Szabó (mezzo-soprano).
Canadian composer Keiko Devaux then presents Arras (2020), a musical canvas with shimmering colors and rich textures impressively rendered by the NEM. The album closes with a moving performance by soprano Sharon Azrieli of Dissidence (1955), a major work by the late Pierre Mercure.
This page is also available in / Cette page est également disponible en:

Francais (French)