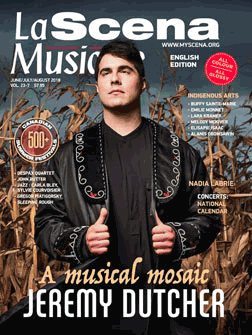 This page is also available in / Cette page est également disponible en:

Francais (French)
Well-established in Quebec's cultural landscape for 30 years, the Carrefour mondial de l'accordéon invites musicians and music fans to gather in Montmagny and celebrate the rich heritage of the instrument. Although it's often associated with the Parisian musette waltz, the accordion has spread across Europe and the Americas to become an integral part of many music traditions. Its 200-year history has seen several developments that have produced an extensive range of instruments with diverse characteristics. With the aim of preserving this heritage and inspiring the development of the practice, the Carrefour will gather more that 40 musicians from different geographic and musical horizons from Aug. 30 to Sept. 4.
The 2018 program features artists from around a dozen different countries performing a wide variety of music genres, from Quebec's folk and traditional music to easy-listening tunes, from world music to jazz. Festivalgoers will enjoy the sounds of France's Pascal Lamige, America's Corey Pesaturo, Italy's Andrea Di Giacomo, and Russia's Vladimir Sidorov. Some ensembles will also make appearances, such as the Columbian Antonio Rivas Trio, the Russian duo Roman Jbanov and Alexei Birioukov, and the French duo Sylvie Pullès and Maxime Cayron. Several Quebec accordionists will also be on the program, including the renowned Denis Pépin, who will perform alongside Jean-Claude Petit.
Beyond the concerts, the Carrefour mondial de l'accordéon organizes accordion workshops together with the École internationale de musique de Montmagny. These two associations are also members of the organization that oversees the Musée de l'accordéon de Montmagny. Through this partnership, these institutions embody the three elements of a global strategy: promoting the accordion and its diverse repertoires, creating a local and international community that brings audiences and musicians together, and encouraging its advancement and supporting innovation. The organizers have successfully created, within a single weekend, a unique place of meeting and exchange open to all, where musicians and music lovers are united by their shared passion for the accordion.
The festival's team is already looking toward the next edition, which will take place in winter 2019. The Carrefour mondial de l'accordéon will be a biennial event from then on. Program, ticket and location information will soon be available on the event's website.
Translated by Isabel Garriga
www.accordeonmontmagny.com
This page is also available in / Cette page est également disponible en:

Francais (French)