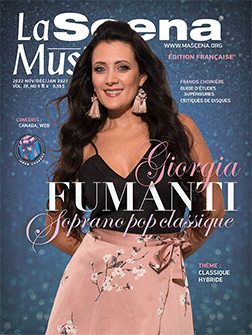 This page is also available in / Cette page est également disponible en:

Francais (French)
Known for its unique productions and recognizable artistic signature, La Nef will present Tout tourne in February 2023—a seemingly improbable encounter between contemporary minimalist music and virtuosic baroque music.
Indeed, who could believe that the latter—abundant, ornate and contrasting—could be coupled with the pared-down esthetics of contemporary music? This is the nature of the challenge taken up by two of the most important musicians of Quebec's baroque scene: recorder player Vincent Lauzer and harpsichordist Dorothéa Ventura, with special guest contemporary dancer François Richard.
"The basic idea is to evoke the unceasing cycles of life," they explain. So much baroque music has been written with this ethos: grounds, chaconas or folia, all of which feature a repetitive bass motive, the ostinato. A popular 16th– to 18th-century technique, the ostinato allows the upper parts to shine, displaying high levels of virtuosity. Sensorily, this repetition can evoke a whirlwind of emotions that suspend, excite, deceive, and hypnotize. "I saw a direct link (between this and) the repetitive qualities of minimalist music," said Lauzer, who conceived the project. A seasoned performer of baroque music, he also devotes himself to contemporary Canadian repertoire for the recorder. This marriage of styles was thus an obvious choice for the artists, whose instruments lend themselves to these two worlds. Interspersed between the four movements of Generic Music (1983) by Canadian composer Peter Hannan—the centrepiece of the program—are baroque works by Purcelll, Schmelzer and Matteis. "It's the kind of musical mix that is totally in keeping with La Nef's mission," Dorothéa Ventura explained. A singer and dancer as well as a harpsichordist, she has always been interested in artistic versatility, and the crossing of styles and disciplines. "Mystères | Geste polyphonique" comes to mind—a project she created with La Nef in 2015, for 10 singers in motion.
For Tout tourne, La Nef will be joined by dancer François Richard, who offered a breathtaking performance of Andrea Peña's UNTITLED I + III. "Through performance, improvisation and movements that both reinforce the musical framework and create a second reading, his presence contributes to the creation of a fresco—a metaphor of life which, although marked by particular moments, is but cycles, loops and perpetual returns," said Ventura.
A first iteration of the work was performed in July 2022 at the Lamèque ­International Baroque Music Festival, at the invitation of artistic director Vincent Lauzer.  
The entire tour will be presented on Feb. 14 and 15 at the Maison de la culture Maisonneuve, in a staging revisited by Claire Gignac, artistic director of La Nef.  
In the meantime, La Nef will perform Long Way Home at the Maison de la culture Ahuntsic on Nov. 25. The concert features ­hybrid instrumental compositions by Andrew Wells-Oberegger, exploring Nordic and ­Middle Eastern sound worlds, as performed by six instrumentalists from various musical backgrounds.  
This page is also available in / Cette page est également disponible en:

Francais (French)