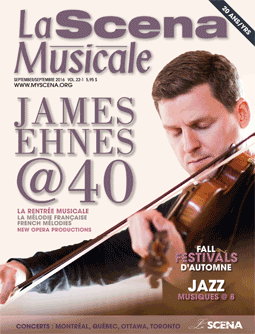 This page is also available in / Cette page est également disponible en:

Francais (French)
As always, the new season in Montreal offers a rich array of concerts as well as new and contemporary musical experiences. Whether you love digital art or sound installations, instrumental or mixed music, the creative community has concerts and festivals to satisfy everyone. Have your calendars ready!
---
This year the Société de musique contemporaine du Québec (SMCQ) celebrates its 50th season with the kind of programming that has been its hallmark since its foundation.
The 2016-17 season begins with a free concert on September 30. Entitled Broadway Boogie-Woogie, it's a tribute to the Mondrian painting of the same name, which influenced Andriessen's masterpiece De Materie. The SMCQ ensemble, conducted by Walter Boudreau, will play an excerpt from De Materie, as well as works by Pierre Mercure, Jean Papineau-Couture and Conlon Nancarrow. Before the concert there will be an interactive workshop at 6 pm. The second concert takes place on October 7 and features saxophone quartet Saxologie with works by Claude Vivier, Philippe Leroux, Gilles Tremblay and John Rea, the subject of an SMCQ tribute last season. The 2017 Montréal/New Music festival, running February 23 to March 4, is entitled Back to the Future and follows the same lines as the regular season. Not to be missed! For more information, go to www.smcq.qc.ca.
The Nouvel Ensemble Moderne (NEM), conducted by Lorraine Vaillancourt, has some tempting treats in store, beginning with the premiere of a new work by violinist Malcolm Goldenstein, performed by the composer. Several concerts are lined up, one featuring the young composer William Kuo, a student at the Conservatoire de Montréal. And don't miss the public rehearsals that take place regularly at Université de Montréal. To find out more, go to www.lenem.ca.
The Ensemble contemporain de Montréal (ECM+) conducted by Véronique Lacroix launches its premiere-rich new season on October 27 at the Conservatoire de Montréal. The new works are by Taylor Brook, Symon Henry, Sabrina Schroeder and Adam Scime. After Montreal, ECM+ will tour the country, including British Columbia, Alberta and Ontario. Make it a date! www.ecm.qc.ca.
This year, the renowned Bozzini Quartet is playing a number of European concerts, but will appear at Montreal's Segal Centre on March 5, 2017 with trumpeter and composer Jacques Kuba Séguin. The concert is entitled Litania Projeckt in reference to the Bozzini/Séguin collaboration album. June will see the likely return of the Performer's Kitchen and Composer's Kitchen, master classes given by the quartet to musicians wishing to forge careers in contemporary music as performers or composers. It promises to be an amazing experience whether you're a participant or a spectator. To find out more, visit www.quatuorbozzini.ca.
For digital music addicts, the next 12 months offer a plethora of events. The Akousma Festival runs this fall from October 19 to 22, showcasing bold new works in electronic and digital music. The festival always hosts a variety of conferences, and also has a regular season of concerts. Tickets available in September — keep an eye on www.akousma.ca. The Festival Ultrasons is a chance to discover quality digital music by students and faculty at Université de Montréal. It takes place in winter and spring, the second half coinciding with the Montreal Digital Spring. If digital art and music appeal to you, then Mutek is essential. This large-scale Montreal festival hosts artists from all over the world. The 18th edition takes place August 23 to 27, 2017. www.mutek.org.
Productions Supermusique, directed by Joane Hétu and Danielle Palardy Roger, aims to make and showcase new and improvised music. Each year, it helps create a number of works and offers student workshops, including improvisation. They celebrated one of their feature performers last season: talented and fiery saxophonist, improviser and composer Jean Derome. Unmissable! www.supermusique.qc.ca
Keep an eye on the Vivier and Gesù programs as well as the Montréal Contemporary Music Lab and the student concerts at the Conservatory and universities.
Translation: Cecilia Grayson
This page is also available in / Cette page est également disponible en:

Francais (French)