This page is also available in / Cette page est également disponible en:

Francais (French)
Montreal Museum of Fine Arts
Paris in the Days of Post-Impressionism: Signac and the Indépendants, on display through Nov. 15, presents a private collection of more than 500 works. In 1884, a group of artists lead by Signac founded the Salon des Indépendants, which quickly became a meeting place for notable avant-garde artists, serving as such until World War I. This exhibition brings together representative works of various styles from the period: impressionists (Monet, Morisot), fauvists (Dufy, Friesz, Marquet), symbolists (Gauguin, Redon), nabis (Bonnard, Denis, Lacombe, Sérusier, Ranson, Vallotton), neo-impressionists (Cross, Luce, Pissarro, Seurat, Van Rysselberghe) and other painters who sketched the Paris at the time (Anquetin, Degas, Ibels, Lautrec, Picasso, Steinlen).
The first solo exhibition of the Montreal painter of Haitian origin Manuel Mathieu, titled Survival, runs from Sept. 17 to March 28. Following this is an installation by the Jewish Montrealer Yehouda Chaki, In Search of the Disappeared, from Oct. 7 to March 7.
Riopelle will complete the fall program from Nov. 21 to March 21 with the exhibition Encountering Northern Territories and Indigenous Cultures, presenting a body of work related to Indigenous culture and the North, and accompanied by a scientific publication. www.mbam.qc.ca
Musée national des beaux-arts du Québec
Celebrating the works of Joseph Mallord William Turner (1775-1851), a precursor of impressionism, the exhibition Turner and the Sublime, organized in collaboration with the Tate Modern (London), will make its only Canadian appearance in Quebec City. This exhibition represents a rare opportunity to see 75 paintings and works on paper, as well as his major works Scene in the Derbyshire (1827) and Light and Colour – Goethe's Theory (1843). From Oct. 15 to Jan. 3. www.mnbaq.org
National Gallery of Canada, Ottawa
Extended until Oct. 4, Àbadakone: Feu continuel – Continuous Fire presents works by more than 70 contemporary artists from 40 nations, ethnicities and tribes from 16 countries, including Canada. Organized in collaboration with experts from around the world, the exhibition reflects the vitality and common concerns of Indigenous art globally.
At the same time, Monstrous Beauty in Ancient Print and Drawing (1450-1700), on display until Nov. 15, presents etchings and engravings of various mythical monsters from the Renaissance and Baroque periods and provides an opportunity to see prints by Dürer and other greats of the tradition. www.gallery.ca
Oboro Artist Centre, Montreal
This artists' centre on Berri Street, which aims to promote transcultural encounters through art, offers a 2020-21 season beginning on Sept. 12 with an exhibition that serves to highlight the issues of systemic racism and discrimination and their social ramifications. A Harlem Nocturne, by multidisciplinary artist Deanna Bowen, addresses the hidden histories of black people in Canada, with archival images and documents detailing the stories of her family members.
The exhibition continues with a virtual component in collaboration with feminist art space Ada X. Starting Nov. 14, exhibitions by Roberto Santaguida and Maria Ezcurra will simultaneously be featured in the centre's spaces. www.oboro.net 
Vox, centre de l'image contemporaine, Montreal
Until Oct. 31 Vox is presenting The Musical Years: 1920-2020, which grapples with the relationship and tensions between image and music in audiovisual and cinematographic productions, an issue that dates back to the invention of sound-image synthesis (colour organs, optical theatre, sonchromatoscope, etc). Works by active artists and avant-garde filmmakers are accompanied by musical performances. A series of animated films specially designed for children completes the program. Individual headphones are required. Visitors may bring their own or borrow headphones through Vox. www.centrevox.ca
McCord Museum, Montreal
Serge Chapleau is honored in Chapleau – Profession: Cartoonist, the first major retrospective to retrace, with humour, the 50-year career of the star Quebec caricaturist. It does this while also telling the story of five decades of popular culture and national news. The exhibition includes more than 150 cartoons, sketches and original illustrations. The evolution of the artist, always tinged with political commentary, it is presented in thematic sections: childhood and influences, caricatures for magazines, local politics, national and international. The different incarnations of his iconic television character Gérard D. Laflaque, born in the 1980s, occupy a section unto itself. www.musee-mccord.qc.ca
PHI Centre, Montreal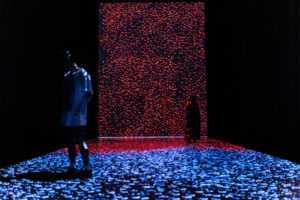 As a site of intersection between art and technology, the PHI Centre presents an exhibition designed specifically to accompany its reopening: Emergences and Convergences. Directly related to our recent experience of isolation and confinement, this first exhibition of the new "Destination PHI" program is a reflection on art, human relationships and our relationship to nature in a post-COVID-19 world. The "ecofuturist" exhibition, which focuses on the effects of confinement on collective consciousness, is now extended to Oct. 25. In response to physical distancing requirements and recommendations, the centre has also inaugurated an adapted viewing mode for its series of virtual reality projections: PHI VR TO GO. Virtual reality helmets can be rented for approximately 48 hours (for home delivery or pick up at the Centre) so as to allow people to view its collection of virtual reality films from home. www.phi-centre.com   
Translation by Eva Stone-Barney
This page is also available in / Cette page est également disponible en:

Francais (French)