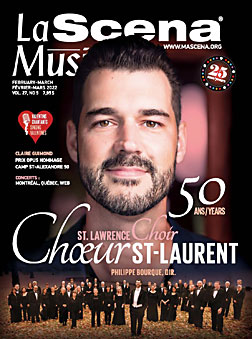 This page is also available in / Cette page est également disponible en:

Francais (French)
Born Emma Lajeunesse, Quebec's first diva rose to fame under the name of Emma Albani, one she borrowed from the state capital of New York. The local clergy of that city viewed her much more favourably than the one of her native province, who thwarted her dream of going to Europe, deeming it too dangerous for pure souls to work in theatres abroad. But her story reveals the level of indifference towards the arts of that time, when artists were denied access to wider recognition.
In 1911, the Liberal government of Quebec premier Lomer Gouin created the Concours Prix d'Europe for the promotion of musical arts, enacting a law passed that year. The prizes were destined for young instrumentalists and singers seeking to pursue their ¬studies in Europe, with more destinations added over time. The creation of this publicly funded scholarship was even a first for a Canadian province. From Day 1, the concours has been administered by the Académie de musique du Québec, AMQ, (est. 1868), the first institution to have set the norms for music education in the province.
When looking back at the 11 decade-history of the event, the times had an important ¬bearing on the careers of its participants and winners. For one, it was commonplace, at least till the early 1960s, for women to forsake their careers if they tied the knot. But times have changed, and for the better, too. Space does not allow us to list past awardees whose brilliant achievements have contributed to the development of our cultural and musical ¬landscapes. (More on that in Cent ans de Prix d'Europe, a historical survey by Jean Laurendeau, published in 2011.)
Things have improved for sure, with many bright lights appearing and dimming over time, but all of them spotlighting our musical and cultural scenes. Musicians returning from abroad do so on the basis of an enduring tradition that provides the necessary support to nurture their talents while furthering the greater cause.
Regardless of the numerous setbacks, ¬online presentations, even the concours' ¬outright cancellation two years ago, the ¬competition will be returning in June for its 110th edition. Contestants will once again have the opportunity to take to the concert stage and allow the best of them to build their ¬careers through studies abroad.
The competition is open to student singers and instrumentalists aged 18-30, and composers aged 18-35. (In addition to the Prix d'Europe, the AMQ awards a range of other stipends ¬totaling $50,000 per annum.) The semi-final rounds will take place at the Chapelle ¬historique du Bon-Pasteur from June 12 to 17, followed the next day at 7:30 p.m. by its gala concert and award ceremonies. A benefit concert for this event, featuring the new star pianist Bruce Liu, will take place Feb. 17, also at the chapelle.
TRANSLATION BY MARC CHÉNARD
This page is also available in / Cette page est également disponible en:

Francais (French)