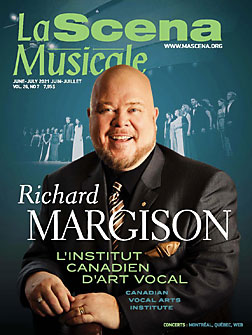 This page is also available in / Cette page est également disponible en:

Francais (French)
Name: Yosra Abid

Voice Type: Soprano

From: Tunisia

Teachers: Hristina Hadjieva and Julie Gebhart

Education: Music Institute in Tunis 
In 2017, soprano Yosra Abid successfully completed her undergraduate studies in music and musicology with a closing recital, for which she received an honourable mention and personal congratulations from the examiners.
Prior to that, Yosra began a three-year apprenticeship in 2014 with baritone Ivan Konsulov, choir director of the Bachakademie in Stuttgart, while taking lessons with Christof Buescher, Benedikt Holtbern and Lucas Grimm that same year; further instruction ensued with conductor Vladimir Sheiko in 2016 and, a year later, with Polish countertenor Robert Nakoneczny. Since then, she has taken online masterclasses with Rihab Chaieb and Beatrice Benzi. Other teachers include Hristina Hadjieva and Julie Gebhart, with additional guidance provided by her voice coach Carrie Ann Matheson.
In 2019 Yosra netted top honours at the competition of the Arabic broadcasters union in the vocal and instrumental categories. That same year, she applied to participate at the Concorso Lirico Internazionale di Portofino in Italy and was one few to be accepted among a field of 200.
Among her operatic roles are Papagena in Mozart's The Magic Flute and Barbarina in Le Nozze di Figaro, as well as Olympia in Offenbach's Hoffmann's Tales.
Who are your top 10 singers in your voice category? 
Joan Sutherland
Montserrat Caballé
Lucia Popp
Ingeborg Hallstein
Sumi Jo
June Anderson
Edita Gruberová
Natalie Dessay
Diana Damrau
Lisette Oropesa
All these magnificent singers are blessed with amazing technical abilities, but each has a trademark, be it in the uniqueness of their sound or ways of approaching the music.
What about operas? What are your 10 favourites?
La Traviata and Rigoletto by Verdi
Le Nozze di Figaro by Mozart
Il Barbiere di Siviglia by Rossini
Lakmé by Delibes
La fille du régiment by Donizetti
Manon by Massenet
Carmen by Bizet
La Bohème by Puccini
Die Fledermaus by Strauss
All these operas have had a lasting effect on me, from a musical standpoint for sure, but also for their stories that have touched me in one way or another, some for their tender or humourous sides, others for the poignancy of the drama.
Do you come from a musical family?
Absolutely. My father, Jamel Abid, is a grand master of the Qanun. He has taught master classes worldwide, from Denmark to Germany, Greece to Algeria, Iran to Palestine and more. My mother teaches music, while my older sister is both a pianist and a doctor in music.
When did you start your musical training?
I started with guitar lessons at 7.
What brought you to study opera?
I loved imitating opera singers from my earliest age. After high school I decided to enroll at the Music Institute in Tunis in order to learn the craft of singing and to finally achieve my goal of making it my career.
Where did you study and with whom?
First in Tunis, then I went on to attend a number of master classes with various instructors and vocal coaches in other countries, like Poland, Italy, Canada and Belgium.
How did you keep your voice in shape during the pandemic?
I tried not to put too much pressure on myself and be smart enough to give my voice a rest.
Looking ahead, what are you most hopeful about?
I would like to participate in international competitions, like the one here in Montreal scheduled for next year, and to simply promote the cause of song throughout the world.
What repertoire are you studying at this time?
The one for coloraturas, for instance: Marie in Donizetti's La fille du regiment or Adele in Strauss's Die Fledermaus.
What are you most looking forward to during your stay at the ICAV?
First, to get to know the teaching staff and vocal coaches, and to benefit from their knowledge; second, to share my experience with those of other students from all corners of the world.
Any favourite dishes?
I have a certain fondness for Asian cuisine, because I really relish that combination of sweet and salty flavours.
If you landed on a desert island and could listen to only one piece of music, which one would it be and why?
Der Hölle Rache by Mozart, because I never tire of listening to it.
Which do you prefer: a powerful voice or one with more subtle shadings in dynamics and timbre?
The latter.
What is of particular concern to you in pursuing a career?
I fear the chances of breaking into the world of music are getting slimmer for vocalists like me, of North African origin, in part because of our inability to travel, or simply because countries slant their choices in favour of homegrown talent.
What makes a singer great?
Total honesty towards his or her love of song as well as the audience.
How do you see your voice evolving over the next decade?
I would like to take on more lyrical roles, such as Juliet in Gounod's Roméo et Juliette, or Marguerite in his Faust, or Violetta in Verdi's La Traviata.
What is or are your weak spots in singing and how do you plan to address these?
A lack of experience – the reason for that being the limited means offered to me in my country. That is why I have taken master classes in the past, and now those offered by ICAV.
What are your best assets as a singer?
An ability to interpret things in a musical way. At least that is what my teachers tell me!
Do you follow a specific routine before going on stage?
No. I just try to focus and get into the skin of the character.
What do you think of the following statement made by tenor Franco Bonisolli in an interview: "Opera is big, pop is sexy"?
Nowadays, slimness is a criterion of selection in auditions – alas, maybe the first one for certain houses. And this is particularly true for women. It's a sad state of affairs, but on the flip side there are plenty of name singers who take aim at this reality with a view of putting a stop to this. Kathryn Lewek is one of them.
What do you think of passaggio?
Touchy subject, especially for my tenor colleagues. I'll let them address that.
What do you think of the upper register? Which singer, in your view, masters this and why?
It is a fact that high notes lend a particular charm to opera, but one ought not use these as means to evaluate the worth of singers, or works for that matter. The beauty of singing rests first and foremost in the timbral quality, or of the melodic line, the nuances within them, and how they are interpreted. Take a song recital or a Liederabend: no one denies their success because the compositions rarely include notes in that register.
Lisette Oropesa is the one I admire most for her mastery of that range. Even though she is not really a coloratura, and that she explores a wide range of repertoires, styles, eras and composers, her technique remains flawless in all registers, from lowest to highest.
What makes a good music teacher?
A good voice teacher is one who impresses you not only with the love of song, but a sense of self-love, including love for your own voice. As you know, our life's work is a balancing act of sorts from a psychological point of view, and we are regularly subjected to periods of self-doubt. That is where a teacher can lend his or her support, and situations like that are by no means rare.
What is your take on competitions?
An excellent platform for young singers to get themselves known.
Translated by Marc Chénard
This page is also available in / Cette page est également disponible en:

Francais (French)