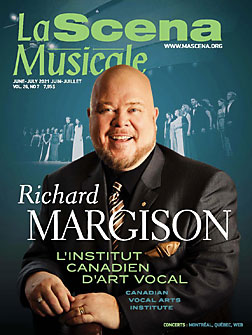 This page is also available in / Cette page est également disponible en:

Francais (French)
Name: Queen Hezumuryango

Voice Type: mezzo-soprano

From: Burundi

Teachers: Rosemarie Landry and Catherine Sévigny

Education: Université de Montréal
Queen Hezumuryango is a mezzo-soprano whose experience and passion for music cover a range of styles, from opera to recitals and musicals. Among her credits are Huntsman in John Blow's Venus and Adonis, Third Wood Sprite in Dvořák's Rusalka and Venus in Offenbach's Orphée aux Enfers. She will soon begin her doctoral program at the Université de Montréal, her dissertation addressing the contribution of Black composers to classical music. She wishes to acknowledge the invaluable support of her teachers, friends and family in her pursuits.
When did you first start making music?
My parents enrolled me in children's choir when I was 7, and from there I participated in singing competitions on an annual basis.
What made you decide to pursue studies in opera?
At first, I wanted to pursue a career in musicals, but fell in love with opera after taking part in a production of Emmanuel Chabrier's L'Étoile at Université de Montréal.
Where have you studied and with whom?
I studied at the Université de Montréal with Rosemarie Landry and Catherine Sévigny.
How did you stay in shape vocally during the pandemic?
To maintain my voice, I had to keep myself in shape both physically and mentally. I took time to explore new interests throughout the pandemic, from gardening to long-distance running. Each new undertaking allowed me to gain another perspective on things, which in turn only enhanced my singing.
Are the any artists in particular that impress you, singers, musicians or others?
There is a statement from RuPaul that inspires me, one where he explains how the confidence and sense of daring felt by an artist on stage are drawn from his or her daily experiences.
What makes a great singer in your mind?
A great singer needs be flexible enough to offer a rightful interpretation of a part while giving it a distinct character.
What are you best assets as a singer?
I believe it is the perseverance I have in pursuing this trade, as well as my inquisitive nature and obsessive desire to allow me to further my practice and skills as an interpreter.
Do you follow a certain routine to warm up before going on stage?
I do a little breathing exercise first and, if possible, I squat some, as this gives me increased body awareness.
What makes a good voice teacher?
A good teacher has to be both honest with him or herself and students alike. Patience is required, too, and a need to let a student think for him or herself.
Translated by Marc Chénard
This page is also available in / Cette page est également disponible en:

Francais (French)