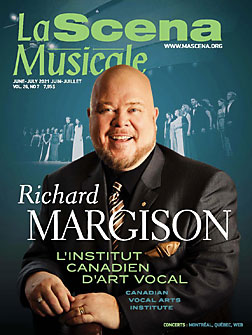 This page is also available in / Cette page est également disponible en:

Francais (French)
Name: Maud Lewden

Voice Type: soprano

From: France

Teachers: Rosemarie Landry and Richard Margison

Education: Université de Montréal
A native of Bordeaux, France, Maud Lewden is a soprano who earned her undergraduate diploma in her hometown before moving to Montreal to get a master's in vocal performance at the Université de Montréal. She is currently a pupil of Rosemarie Landry and Richard Margison.
From 2018 to 2021, she took part in productions staged by  the Atelier d'Opéra at U of M under the direction of Robin Wheeler. She has benefited from the guidance of several keynote instructors like Marie-Nathalie Lacoursière, Luc Beauséjour, Jean-François Rivest, Alain Gauthier and Anthony Manoli.
At this writing, Maud has performed several operatic roles in both Canada and Great Britain, including Ilia in a Montreal production of Mozart's Idomeneo, Procris in a London production of Elisabeth Jacquet de La Guerre's Céphale et Procris and Susanna in Mozart's Le nozze di Figaro, staged in Hastings.
Name your top 10 singers in your voice category.
It is not my habit to compare my voice to those of other performers. (Maybe I don't quite get your question, but I will try anyway.) I like to listen to Diana Damrau a lot, and have a lot of her repertoire at hand. I believe I share those same clear and lyrical qualities of that coloratura voice. In the same vein, I listen to Edita Gruberová and Lucia Popp, as well as Anna Netrebko in her early years. I am equally taken by the vocal timbre of Anna Moffo, even if mine is nowhere close to hers, not by a long shot.
What are your 10 top operas? 
I have a few stories about this, but my mother Caroline tells them much better than I. The first opera I was trying to listen to was in May 1993, when I was still in her womb. She doesn't remember which one, but it was a pretty long and almost unending one that made her think of Wagner. Talk to her about it, if you want, and she only told me about it years later, after I decided to take up singing. Eight months pregnant at the time, she thought she had lost me that night, because I was completely still as the music bellowed. Strange as it seems, I have no idea what opera it was, but I am obsessed about it to the point that it is the first one on my list. Next is Puccini's Turandot, which I saw in Bordeaux when I was 12. On that evening, it crossed my mind that I'd be up on stage one day doing it. As a kid, I was a bundle of nerves, and would go to the bathroom for no reason other than that, but not that night: I sat still through it all. In third position, I choose Madam Butterfly, the tragedy of it blew me away. Next, I discovered Mozart's Lucio Silla at 18, and I believe my attendance came about because of a special arrangement offered to students. I literally fell in love with Mozart and his writing, and that carried over to Idomeneo and Figaro, my fifth and sixth choices. I am also quite enraptured by tragedies, of which Verdi's La Traviata and Bellini's La Sonnambula occupy the next two spots on my list. For a little more cheer, there is always Donizetti's La fille du régiment, for which I have a certain fondness.
Do you come from a musical family?
I have four siblings and I am the only one who went into music. My relatives are all professionals: notaries, lawyers, doctors, scientists, policemen, military.
When did you start lessons?
My parents made me join a choir when I was young, then they asked me if I wanted to take singing lessons after attending that performance of Turandot. Unfortunately, I never learned how to sing with that vocal ensemble director, because the only thing she wanted from me is to sing louder all the time, because she liked my voice. I stopped for a few years, sensing the problem, but at 18, I tried my luck again at the conservatory in Bordeaux after a four-year hiatus, but was not accepted. I went instead to the small municipal conservatory in Mérignac, where I took half-hour private lessons for the next five years, during which I had to retrain myself through various physical and psychological therapies, as I had lost all self-esteem. (Actually, my parents did not endorse my wish to pursue music, as they hung on to that belief, which has only changed recently, that art is no career. And the same attitude prevailed among my siblings and schoolmates, who ridiculed me and my dream for years.) But at 23, I made it! After three tries and being put on a waiting list, I finally got into the conservatory in Bordeaux. That is where my vocal training began in earnest, after years of torment and personal problems, which started with that early choir experience, only to worsen with the disdain everyone had for my ambitions.
What lead you to study opera?
My own will. When no one backs you in your undertakings, that is all you have left: the will, the passion and the love of music.
Do you have career goals and how will you go about to achieve them?
I want to play parts on stage. For the time being, I am working with wonderful teachers at Université de Montréal, all of whom have been pushing me in the right direction over the past three years. I am looking to audition in European opera studios, but it's a rat race, and COVID has thrown a monkey wrench into the proceedings. But my faith is unshakeable.
What is your take on competitions?
They are stressful, but still good as testing grounds, and a sure way to be heard beyond the classroom.
Where did you study and with whom?
In the early stages, I went at it slowly and with much patience. Martine Boutant helped me greatly to overcome the many physical, mental and vocal obstacles that beset me. Then, I met Sharon Coste-Poras, a Canadian, who taught me so wonderfully to use my voice in the most serene way possible. I stayed with her until I met Rosemarie Landry and Richard Margison, and am in awe of both of them, as they enabled me to hone my craft in an unyielding way. All my teachers have allowed me to build up my vocal abilities, one step at a time.
How have you kept your voice in shape during the pandemic?
I stopped singing at the onset of the pandemic, as I was not feeling too well. My teacher then caught up with me a month later from afar and coaxed me into singing daily. That brought me to realize how much singing made me happy. I then fine-tuned a short practice routine to gradually warm up my voice, then to work on it some and sharpen it, while also looking around for new repertoire to deal with. The online lessons I took over the past year have been rather difficult and frustrating, but still an invaluable opportunity to do some serious work and get feedback from my teachers.
What hopes do you hold for the future?
My wish is that artists get more credit for their profession and their work. But old ideas die hard, and most people still view art as a hobby of sorts.
What kind of repertoire are you working on at this time?
I am deeply involved in Mozart, given my devotion to his music. Also on my plate are a few song cycles, and Lieder, too. Apart from that, there are a lot of oratorios (Bach, Brahms and Mozart), as well as operas, Mozart, of course, but also Bellini and Verdi.
Are there some artists who inspire you in particular – singers, instrumentalists or others?
There are no specific people who inspire me more than others, but rather their performances. For example, I like listening to a young Anna Netrebko sing Quando m'en vo, or Anna Moffo in La Sonnambula, even Natalie Dessay as the Queen of the Night. For me, it is more a question of being touched and inspired by a specific performance of a work, and no list could ever be exhaustive.
What are your biggest expectations for your upcoming stint at ICAV?
I am looking forward to meeting new teachers, to discover new repertoires and other ways of dealing with them, not to forget my fellow singers who will be there with me. I can't wait for it to start!
What is your favourite dish and why?
There is a French dish called magret de canard, and the best is when it is homemade with fresh ingredients picked from relatives' garden patches, all served with a good full-bodied red wine. All ingredients are so indispensable to each other. What can I say, my roots are there, in southwestern French cuisine!
If you landed on a desert island and had but one piece of music to listen to, which one would it be and why?
"Here Comes the Sun" by the Beatles. It comes to mind every time I look at the sun. After all, it is a desert island. But if it happens to be in a cold place, then I guess it would be "Let It Snow"!
Which do you prefer: a more powerful voice, or one with more dynamic shadings and timbral colours to it?
The latter unquestionably, and most of my daily practice deals with that.
What makes a great singer?
Audiences. Because they are the ones moved by a performer. A great singer is at the service of listeners, for he has to connect with them.
How do you see your voice evolving over the next decade?
I have to say, I do not ask myself that question too much. That might sound odd to say that, but I keep close track of my voice and how it changes, which then leads me to work on it in accordance to what it can do at a given time. I am just starting to look into the bel canto style after having dealt so much with Mozart. You never know, I might become a specialist of that Italian style someday. Or I might stick with Mozart for the rest of my life. Search me. The thing is this: I rely on my own will and sense of trust to move forward. Only time will tell.
What do you consider your weakness as a singer and how do you want to address this?
My blind spot, so to speak, is that habit I have of putting myself down in relation to others. In such a competitive field, it is very difficult not to compare one's path to those of others and feel frustrated. Obviously, I work at bolstering my self-esteem and accept the hardships I have encountered, yet there might be some nice surprises lying ahead. Otherwise, I have foibles of a strictly human nature, and being a singer is very human in and of itself. At times, I am little too exuberant and make errors of judgement by making up my mind too quickly.
What are your best assets?
My best asset, I believe, is putting myself at the service of the music. I always look for that inherent musical quality, finding the right nuances and shadings rather than the powerful effect. That, in my view, is what makes me a musician, and I am convinced that this is my main asset. But I remain humble regarding my output, because the work is never really over, and perfection is a myth, too. If successful, I am delighted, but still reserve judgement in working out some of the details that are not quite ironed out. Another asset is my perseverance, something I fail to explain, but have never backed off from, the proof of that being that I am still at it. I guess my urge to conquer the musical world has never waned.
Do you go through a specific routine before going on stage?
Yes, but only recently, because I do not have that much stage experience yet. I try to calm myself down, first by doing yoga in the morning and taking a good shower. Next, I give myself the time to prepare by engaging in a very long session of warmups, not only for the voice and breath, but also a more physical one, like body-stretching exercises. (In passing, I never was the type who was good at sprinting, but far better at long-distance runs.) At showtime, I enter into a bubble of sorts by doing some breathing exercises to settle my nerves and lower my usually racing pulse.
What are your thoughts on passagio?
At one time, it was my greatest foe. Now, it is my best friend that reminds me of the importance of technical precision.
What do you think of the upper range? What singer has the best handle on this and why?
Singing notes in that range is dependent on how supple the voice is, and I believe without a doubt that every singer can hit them. Cecilia Bartoli proves my point, too, and I like her very much for being able to do that.
What makes a good voice teacher?
A good voice teacher is someone who does not project himself on you, but who is there to lead you to the right path, not just as an artist who sings but as a human being.
What is your take on competitions?
It's a hellish experience, but you have to put yourself through them.
Translated by Marc Chénard
This page is also available in / Cette page est également disponible en:

Francais (French)