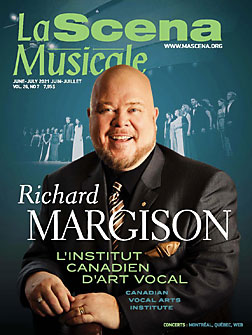 This page is also available in / Cette page est également disponible en:

Francais (French)
Name: Klara Martel-Laroche

Voice Type: Soprano

From: Quebec City

Teacher: Adrienne Savoie

Education: Conservatoire de musique de Montréal
Klara Martel-Laroche is pursuing a master's in performance at the Conservatoire de musique de Montréal under the supervision of Adrienne Savoie. Open-minded by nature, Klara is a sensitive artist whose commitment to music is as strong as her will to invest in it emotionally.
In operas and musicals alike, she handles soprano and mezzo roles with equal ease, with a readiness to depart from the beaten paths. In recent years, she has sung the title role in Massenet's Cendrillon under the baton of Jacques Lacombe, Prince Orlofsky in Johann Strauss's Die Fledermaus under the baton of Alain Trudel, Claudine in Offenbach's La fille du tambour-major and Cricri in Le chanteur de Mexico by Francis Lopez. In November she will make her third appearance in Quebec City at the Opéra Bouffe, this time as lead in La belle de Cadix, the company's annual production, which will have Simon Fournier on the podium and Alain Zouvi as stage director.
Klara is a recipient of the Lieutenant Governor's medal instituted for the purpose of encouraging new talents in schools and communities. She has also been awarded three scholarships to pursue graduate studies, including a prestigious one named in honour of Monique Barry, a second from the Conservatoire's foundation and a third offered by Opéra Bouffe bearing the names of Ratycz and Myre. In 2019, a jury including baritone Russell Braun and soprano Adrianne Pieczonka granted her the third prize at the FCAPM voice conference, a Canada-wide competition for which she was chosen to represent the province of Quebec. Recently, she stood out at the Concours de musique du Chœur de la montagne where she was awarded top honours in the voice category and a third position overall.
This young singer has been the object of much critical praise, especially for her multiple appearances at the Festival d'opéra de Québec as well as Opéra Bouffe. Take her performance in the aforementioned Massenet opera last February: In a glowing review that came out in the periodical L'Opéra, Daniel Turp said the following: "Allow me to predict that a star stood out among the cast: soprano Klara-Martel Laroche. She offered a remarkable vocal performance, just one example of many being her rendition of Enfin je suis ici, sung with such impeccable diction." In a subsequent edition, this promising talent was the object of a feature story.
Klara is very much on the move in the Quebec music scene. She has been increasingly visible in a variety of artistic projects, including a few self-organized concerts. For the summer, she has been invited to join the international vocal academy in Lachine and, once again, the Festival d'opéra de Québec. She was also approached by the Jeunesses musicales Canada to put together an online recital for its Moments musicaux series, an initiative highlighting rising talents held in conjunction with the Canadian Music Competition.
Do you come from a musical background?
I would say so. Arts are very much appreciated around me. Some of my folks are trained singers, like my mother and godfather, others work for the circus, or are active in theatre, dance, painting, even musical composition.
When did you first get involved in music?
I don't actually remember ever getting started in music. In fact, my mother has often told me that I would warble tunes as a baby rather than crying out after waking up.
What made you decide to study opera?
At 7, I asked my father to pay for my first acting lessons. Four years later, I fell in love with stage musicals after making my stage debut. And now, here I am, fully immersed into opera!
Where did you study and with whom?
I studied in Sainte-Foy at the CEGEP under the supervision of Linda Dumont. I came to Montreal to pursue undergraduate studies at the Conservatoire with Adrienne Dumont as my teacher, and am still with her for my master's, which I should finish by next year.
How have you kept your voice in shape during the pandemic?
At the outbreak, I applied to be a CHSLD service provider. I had the good fortune of singing for the residents, even with them on a few occasions, time permitting. I spread much happiness, and I believe it was beneficial to everyone, me included. After that, I took a break, choosing to focus on the basics of my vocal technique, which helped me considerably, as there was no pressure on me. I took some lessons in the Feldenkrais method, a most stimulating experience.
What are your hopes for the future?
For now, it's just a matter of getting back on stage and diving head first into a wide range of artistic projects that will bring me closer to others than the two metres imposed on us for so long! Looking into the future, I hope to develop myself further by seeking out operatic roles of character. I would also love being part of opera premieres and bring new characters to life with the assistance of a production team.
Are there any artists who you look up to – singers, instrumentalists or others?
Grace Bumbry is one of my idols. Her career impresses me; the roles she has played are so numerous and I love every one of them, be they in the soprano or mezzo range. Her acting is always honest and touching, not to forget her voice which is so warm and divine.
What are you most looking forward to during your time at ICAV?
I am very anxious to get comments and feedback from my teachers on my work. I am sure they will have interesting things to say that will egg me on. There are also courses on body awareness, which will surely be very beneficial.
What makes a singer great?
To have an incredibly strong mindset yet be very sensitive.
What do you think are your weaknesses are in singing and how do you plan to address these?
I try to let myself go a little too much and that taxes me physically. I invest myself into a part to the point of overdoing it a bit. But you have to be relaxed when acting, so I work hard on being aware of that and focus accordingly.
What are you best assets as a singer?
I am a very committed person and inquisitive, too. I like to do my homework on the pieces I tackle and give my 100 percent on stage.
Do you follow a routine before you go on?
No. Everything depends on how I feel that day, I try to monitor my needs closely at that time and place.
What is a good singing teacher in your view?
A trustworthy person who makes something seemingly difficult or complicated look easy.
Translated by Marc Chénard
This page is also available in / Cette page est également disponible en:

Francais (French)