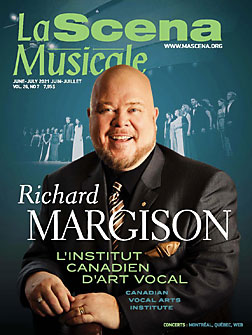 This page is also available in / Cette page est également disponible en:

Francais (French)
Name: Anne-Sophie Gagnon-Métellus

Voice Type: Soprano

From: Montreal

Teachers: Marie-Danielle Parent

Education: École de musique Vincent-d'Indy
Anne-Sophie Gagnon-Métellus is a promising young soprano known for her sparkling vocal abilities and stage charisma. After having studied piano and musicals in her early years, she turned to operatic singing at 15, when she took lessons with Chantal Dionne in a period leading up to her conservatory training. Around that time, she enrolled at a summer musical camp in Saguenay–Lac-St-Jean. She would then make her operatic debut at the Théâtre Lyrique de Laval by securing a leading role for the first time. She further demonstrated her love for classical music during the second season of the television show Virtuose hosted by Grégory Charles, going as far as the semifinals. She will soon be completing her collegiate studies in classical voice under the tutelage of Marie-Danielle Parent at École Vincent-d'Indy.
Anne-Sophie continues to share her passion for music with audiences by performing concerts on a regular basis. Among other appearances, she was seen in 2020 as an opening act to Karine Gauvin's rendition of Benjamin Britten's Les Illuminations. The young soprano has also earned several accolades and prizes, such as top honours in both the Festival concours de l'Estrie in 2017 and the Concours de concerto de l'OSCM at l'École Vincent-d'Indy three years later. More recently, she guested at L'OCM en concert à Vincent-d'Indy, en event where she was heard with the Orchestre symphonique du Conservatoire de la Montérégie. Up next is a summer performance during Festival Classica, at which time she will share the stage with Les Chambristes du Grand Montréal in a program of works by Mozart and Handel.


Do you come from a musical family?
No one in my family ever played an instrument, but music was there, as my parents were always classical music lovers. They played a very important role in my musical upbringing. They exposed me to all sorts of instruments, and were quite supportive of me once I made my choice. They paid for my lessons and made me attend concerts as well as enabling me to rehearse. I received their blessing, if you will, but they never pressured me. I am indebted to them for recognizing my talent and allowing me to pursue my dream. I would never have become a musician without them, nor without all the help they gave me through it all.
When did you first get involved in music?
I started with a xylophone as a child, when I was 5. My parents saw to it that I acquainted myself with all kinds of activities, swimming, phys ed, dance, but I really threw myself into music. I switched to piano, flirted then for a time with the violin (which was not my best suit), before finally settling on the voice, and realizing it was my true instrument. I took voice lessons simply because I liked singing. My interest in classical singing and opera came about when I was 12. I can say the switch was finally flicked when I took part in the Théatre d'Art Lyrique de Laval,  first as a chorus member, then as a soloist. I was so taken by those great voices, so honest and powerful, that I said to myself: I would do like them some day. I wanted to share those strong emotions with audiences out there and work on my voice so I could be just as marvelous as those I admired. I do believe that I am on the right path to achieve that goal and to inspire other young girls someday.
What incentivized you to pursue studies in opera? 
First and foremost, I love opera, it's my passion. Studying it would allow me to live out that passion of mine. I also feel that my training will enable me to explore myself more fully, both as a person and as an artist. I can therefore hone my craft, and my voice, too, but it also has an effect on working on yourself as a person. Opera requires a lot of knowledge and great mastery of the instrument and the body as a whole, but that extends into the psyche. Classical singing poses many challenges on me while bringing on some self-questioning; if that were not the case, then I would not be applying myself in the way I do. Part of the answer, then, is that studies in opera are a way for me to keep growing as a person. I for one know that the development of my voice and that of my own self are intertwined, and this is a profound motivation that lay at the heart of my artistic pursuit. You have to rid yourself of all tensions, work on breathing, understand the body, all of which have to be monitored on a daily basis, as they effect all sides of your life. Singing is actually a liberating activity and that is what I want to do with my life. So what better than devoting oneself to the study of something you love so much, and which makes you grow constantly?
What are your career goals and how do you plan to acheive them?
My first goal is to make a living at music. More than that, I aspire to make it internationally, where I can sing in other countries and meet musicians in all corners of the globe. I intend to achieve that by continuing my classical voice studies, to perfect my technique in order to have all the necessary means to attain that career goal. I would also like to study in Europe, and acquire a broader knowledge of music as well as meeting a wide range of people. It is essential for me to build my network to make due of those career objectives.
What do you think of music competitions?
Competitions are one more opportunity to stand up there stage and receive comments from musicians who know nothing of me. You learn a lot by knowing what total strangers say of you, and that gives me added fodder to improve myself. I like taking the plunge, if you will, and competitions give you an adrenaline boost for sure, but I do these for the experience I gain from them. When you go from one to the next, it is important to remind yourself that the abilities of one competitor do not take anything away for those of another, a point well taken from my voice teacher, Mme Parent.
Where did you study and with whom?
I studied piano and musicals at Pianissimo in Sherbrooke.
My first private voice lessons in opera and musicals were with Caroline Dionne at the Collège Régina Assumpta.
I continued my preparatory studies for conservatory with that same teacher from ages 15 to 17.
From 18 to 20, my collegiate studies in classical music were with Mme Paremt at the Vincent d'Indy music school.
This fall, I will pursue my studies at university level with Aline Kutan at the Conservatoire de Montréal.
How did you keep your voice in shape during the pandemic?
Luckily, I kept up with my singing lessons during most of the pandemic, although there were a few sessions done via Zoom. Seeing my teacher, Mme Parent, permitted me to keep my voice in good shape. Since I was also going out less last winter, my voice was not so much subjected to drastic temperature changes, a definite upside.
What are you banking on for the future?
I hope very much that my generation, me included of course, will put deeds to its words by embracing environmental and social causes in our decisions. If I do earn a degree of fame, I would like to use my increased visibility to defend these causes so dear to me. I also hope to get more involved in environmental issues and enhance the accessibility of the arts for socially underprivileged groups.
What kinds of repertoire are you studying?
I am mostly looking into the Baroque period at this time. I love it a lot, and it suits me, too, as it really brings out the best in my voice. I certainly hope to study it more deeply throughout my career.
What are you most looking forward to while attending ICAV?
My expectation is to meet and benefit from the teachings of prominent and talented singers. It's so wonderful to be able to meet such great people who have career to show for. I am also anxious to meet wonderful pianists, vocal and rehearsal coaches, stage and artistic directors. I feel so incredibly fortunate to learn in the presence of these artists, and that is what I am most eager to find out.
What is your favourite dish?
It's not a dish as such, by I have a preference for candies. I have a sweet tooth, and feel so spoiled when I get them as a gift. I can't tell you why that is, only that I've been like that ever since I was a kid.
Which do you prefer: achieving a more powerful sound or being able to create all sorts of dynamic shadings and tonal colours?
I prefer the latter. To me, a voice capable of all sorts of shadings can also be forceful, which makes it more interesting. Shadings and timbral colours only add depth to the performance of a piece.
What makes a great singer?
The greatness of a singer stems from his love of music. There are countless great voices in the world, but passion is what sets a great singer apart from the rest, far beyond his or her technical abilities. A great singer is one capable of communicating that love for music with all the passion in him or her. He or she has to bring those emotions alive in others, to touch them, even to entertain them, in sum, to transmit a message. Someone who sings without love or pleasure is not a great singer in my mind, as capable as his or her voice may be. He or she has to be very sensitive to the music. Those people are without doubt very disciplined, work hard and have great self-confidence, but the love of singing surpasses all other considerations.
How do you see your voice developing over the next decade?
I would like it to be stronger, richer and rounder. I see it becoming more mature and more capable of hitting the high notes.
What do you consider to be your weaknesses vocally and how do you want to address them?
One of my weaknesses is how I manage my breathing, something I want to improve by doing more exercises. I also think that meditation and yoga could be of help in making me more aware of my breath. So I will try to make use of these activities to see if they can be of use to me.
Another of my foibles is my posture. I have a tendency to not be totally erect in performance, in that my back is slightly hunched towards the audience. Even if I want to reach out to my audience that way, I have to remind myself that I can also let it come to me.
What are you best assets?
One of my best ones is my sensitivity. The music talks to me, I could say, and it's easy for me to share it with those before me. I can open myself up and let others into my world when I am on stage, and that is where we can have an exchange.
Stage presence is another one. I simply enjoy it when I sing and that has an impact on how I use the stage. In recent years, my gestures have been more supple and graceful, a positive development.
I also manage my jitters fairly well, a definite asset for a singer, or any artist, for that matter. I have the added ability of refocusing and not being knocked off stride by my surroundings, so that will surely enable me to keep my composure as my career unfolds.
Do you have a prescribed routine before heading out on stage?
I egg myself on with words of encouragement and stimulate that antsy feeling I have, to let some of that steam out of me before coming on stage. My routine then is to further bolster my confidence and that urge to just go for it. In sum, to be more aware of the moment and to be mentally up for it, like putting yourself in a kind of meditative state, or visualizing, for that matter.
What make a good music teacher?
A good teacher is always attentive to his students and their needs. He or she is also capable of questioning assumptions held rather than having to impose a will on students by virtue of a reputation. There are plenty of great voice teachers around, but it is important that a student find someone suitable to his needs. Conversely, a teacher might be great for some, but not for others. A good student-teacher relationship is so essential. Failing that, a pupil might not be able to realize his or her own potential. I was lucky enough to work with excellent voice teachers who I always felt good with as they listened to me and understood my needs. They let my voice come into its own, with a view of always improving it. Their help was essential in overcoming some of the tensions I felt in my instrument, and thus give me more pleasure in singing and finding a place all of my own. I've been so fortunate to have crossed paths with them.
Translated by Marc Chénard
This page is also available in / Cette page est également disponible en:

Francais (French)