Advertisement / Publicité
This page is also available in / Cette page est également disponible en:

Francais (French)
NEW All-Colour, All-Glossy Format

: 
Since the November 2017 issue, La Scena Musicale has transformed to a NEW All-Colour, All-Glossy Format. Read more about it.
La Scena Musicale Media Kit:
Information about La Scena Musicale
Advertising rates
Different advertising options
Distribution information
Reader profiles
Production Schedule
Advertising Dimensions
Web Advertising
Download our media kit (2020–21)
Special Kits
---
Upcoming Publications (2021–22 Season)
Notice: Due to the ongoing COVID-19 pandemic, the schedule of the print edition may change. Please return to this page for the latest schedule.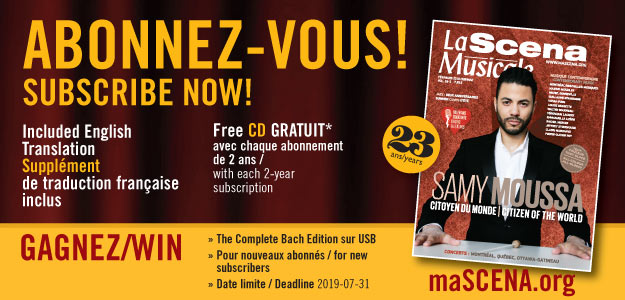 ---
La Scena Musicale September 2021 (bilingual)
Guide: Back to School & Fall Arts Preview
Guide: Fall Festivals
Appearance: September 16-18
Ad Deadline: Sep. 3
Artwork: Sep. 3 (5 PM)
Calendar Deadline: Aug. 30
Print run (bilingual edition): 25,000 copies
Distribution: Montréal, Laval, South Shore, Quebec City
Target audience: amateur and professional artists, music and arts lovers
Number of readers: 50,000
Number of viewings: 450,000
La Scena Musicale October 2021 (bilingual)
Guide: Competitions
Appearance: Oct. 8
Ad Deadline: Oct. 1
Artwork: Oct. 4 (5 PM)
Calendar Deadline: Sept. 24
Print run (bilingual edition): 25,000 copies
Distribution: Montréal, Laval, South Shore
Target audience: amateur and professional artists, music and arts lovers
Number of readers: 50,000
Number of viewings: 450,000
La Scena Musicale November-December 2021 (national)
Guide: Higher Music & Arts Education
Guide: Summer Academies
Theme: Gift Suggestions; Holiday Concerts; Audio
Guide: Winter Festivals
Appearance: Nov. 12-20
Ad Deadline: Nov. 5
Artwork: Nov. 5
Calendar Deadline: October 29
Distribution/Print run: 50,200 copies

English Edition (25,200)

Montreal: 12,000  (Gazette, Nov. 18)

Toronto:  12,000 (National Post, Nov. 20)

Mailing: 1000 (Subscribers, Nov. 15-17)

Office Copies: 200

French Edition (25,000)

Montreal: 6,000 (Gazette, Nov. 18)

Montreal: 13,175 (Le Devoir, Nov. 20)

Quebec City: 4,500 (Le Devoir, Nov. 20)

Mailing: 1100 (Subscribers, Nov. 15-17)

Office Copies: 225

Target audience: amateur and professional artists, music and arts lovers

Number of readers: 308,630

Average Household Income: $102,385
La Scena Musicale February-March 2022 (bilingual edition)
Guide: Summer Music/Arts Camps (info)
Themes: Love/Wedding Music and Arts/Hi-Fi Audio
Appearance: January 28
Ad Deadline: January 21
Artwork: January 21
Calendar Deadline: January 14
Distribution/Print run: 50,200 copies

English Edition (25,200)

Montreal: 12,000  (Gazette, Nov. 18)

Toronto:  12,000 (National Post, Nov. 20)

Mailing: 1000 (Subscribers, Nov. 15-17)

Office Copies: 200

French Edition (25,000)

Montreal: 6,000 (Gazette, Nov. 18)

Montreal: 13,175 (Le Devoir, Nov. 20)

Quebec City: 4,500 (Le Devoir, Nov. 20)

Mailing: 1100 (Subscribers, Nov. 15-17)

Office Copies: 225

Target audience: amateur and professional artists, music and arts lovers

Number of readers: 308,630

Average Household Income: $102,385
La Scena Musicale April-May 2022 (bilingual edition)
Guide: Summer Music/Arts Camps (info)
Guide: Spring Festivals Festivals
Appearance: April 1
Ad Deadline: March 25
Artwork: March 28
Calendar Deadline: March 229
Print run (bilingual edition): 25,000 copies
Distribution: Montreal, Laval, South Shore
Target audience: amateur and professional artists, music and arts lovers
Number of readers: 50,000
Number of viewings (over 2-months): 450,000
La Scena Musicale June–July 2021
(national edition)
Appearance: June 3
Ad Reservation Deadline: May 27
Artwork: May 27
Calendar Deadline: May 12 (info)
Print run (bilingual edition): 25,000 copies
Distribution/Print run: 50,200 copies

English Edition (25,200)

Montreal: 12,000  (Gazette, Nov. 18)

Toronto:  12,000 (National Post, Nov. 20)

Mailing: 1000 (Subscribers, Nov. 15-17)

Office Copies: 200

French Edition (25,000)

Montreal: 6,000 (Gazette, Nov. 18)

Montreal: 13,175 (Le Devoir, Nov. 20)

Quebec City: 4,500 (Le Devoir, Nov. 20)

Mailing: 1100 (Subscribers, Nov. 15-17)

Office Copies: 225

Target audience: amateur and professional artists, music and arts lovers

Number of readers: 308,630

Average Household Income: $102,385
---
---
Pay Invoice
This page is also available in / Cette page est également disponible en:

Francais (French)