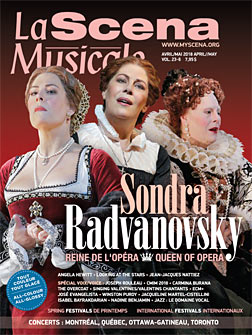 This page is also available in / Cette page est également disponible en:

Francais (French)
Soprano Nadine Benjamin could never have predicted a career as an opera singer. She was born in Brixton, an underprivileged London district where her single mother raised her along with a brother and sister.
Her first musical experiences were in church, singing along with her siblings. "We were all endowed with good voices," Benjamin recalls. Her mother was a part-time reggae musician and her father a DJ.
At age 16, Benjamin dropped regular school and joined the Youth Training Scheme, an on-the-job training program for people aged 16 or 17. She was placed in a job in the corporate finance world in the City of London, climbing the ladder quickly to become an important asset for the company.
At the same time she was signing in local jazz and soul concerts. She was the lead vocalist of a jazz ensemble called Solar Plexus. One day she decided to try something new and auditioned for the chorus in a production of Carmen Jones at the Royal Festival Hall.
It was a bold move for someone who barely knew a thing about opera. All Benjamin had was a pleasant voice and a fond memory of her high school teachers playing her the Queen of the Night's aria from Act 2 of Mozart's The Magic Flute. "You know, one day you could sing like that," she was told.
Benjamin got the job and other engagements started to come. She was hired to sing in a production of Gerswhin's Porgy and Bess in which she had brief solo.
Her success brought a new dilemma. She couldn't continue to accept new contracts and keep her demanding day job. Deciding to follow her new dream, Benjamin had a serious talk with her employers. They agreed to a three-month leave of absence.
Going back, however, wasn't an option. Benjamin quickly developed a business plan and sent numerous letters to philanthropists who might believe in her talent. Soon enough she found a woman who prefers to remain anonymous who helped her with a bursary that covered some of her lessons and audition fees.
Nowadays, Benjamin is on tour with the English Touring Opera (ETO), playing the Countess in an English-language production of Mozart's The Marriage of Figaro. "We go on tour and perform at different venues like Cambridge and Perth," she says. "We are bringing opera to the masses.
"ETO is a very diverse set of people and the company believes it's important to make opera accessible. They make sure that people who wouldn't normally get opera have access to it."
Debut CD
Apart from all her engagements, Benjamin is also preparing her debut CD, Women in Prayer, which will be released in May. "I'm very excited about it, because all the orchestra are ex-Royal Opera House musicians who range from 29 to 84 years old. Some have been there for 40 years!"
"The conductor is Kamal Khan. I chose the title of the CD, which is inspired by the fact that almost every female character in opera is either singing about love or are in prayer."
This page is also available in / Cette page est également disponible en:

Francais (French)