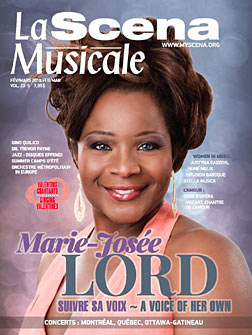 Advertisement / Publicité
This page is also available in / Cette page est également disponible en:

Francais (French)
After a 40-year career that has taken him to every major opera house in the world and placed him alongside the likes of Mirella Freni and Luciano Pavarotti, Canadian baritone Gino Quilico is embarking on new challenges. "This year, I am celebrating my 41st year of career by singing Mephistopheles," he declared with a hearty laugh.
He initially resisted the invitation from pianist Dominic Boulianne, artistic director of the Société d'art lyrique du Royaume de Saguenay. The devilish emissary from Gounod's Faust is, of course, a bass. Then Quilico looked at the score.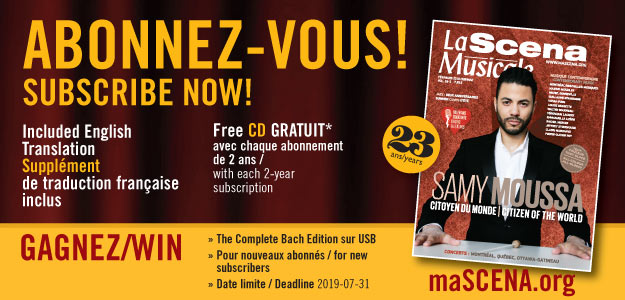 Soon he realized that the role was not as low as he thought and was substantially lyrical. The main challenge was its length.
"There are the incidental unusual low notes, that normally are not found in my usual repertoire," Quilico said. "That's why in the past I always sang Valentin, but strangely enough, these roles have the same tessitura.
"I have a score that has optional notes, so I can take a higher note if I decide to. But in the end I don't need the choice. I worked out my low notes and they are there. There is just one note that is very, very low."
Quilico demonstrated by singing a low D.
"I've been able to do it consistently," he assured me.
Endurance is the principal issue. "Mephistopheles is in the opera from beginning to end," Quilico explains. "Conditioning myself to sing all night is going to be tricky because we perform for three consecutive nights."
The other big challenge is acting. "Mephistopheles is a happy devil, the entertainer devil. He is the devil the people see and say, 'Oh, what a nice guy.' He is not Lucifer or cruel devil, he makes everybody happy, so I have to make him very lovable but very diabolic underneath."
Crossover
In the early 2000s this versatile artist began to explore the world of musicals, enjoying great success in Starmania, Notre-Dame de Paris and Les Misérables. Quilico has also released several crossover albums and produced his own shows, including Serata d'Amor, a biographical concert in which he tells anecdotes from his operatic career and his interaction with legendary singers; Nostalgie, covering the classic francophone hits; Gino et ses Divas, along with Natalie Choquette, a show that has a humorous flair; and, lately, Les grandes voix du Canada, which presents legendary voices from Canada in selected arias. This show takes a pedagogical approach and is aimed at both connoisseurs and those who are looking for an introduction to the world of opera.
Quilico is eloquent on the subject of singing pop as a classically trained singer.
"When I went into crossover about 10 years ago, the biggest lesson I had to learn was not to blow up the microphone," he says with a laugh. "Because we opera singers have a lot of power, I had to learn to place the microphone close to the mouth and concentrate more on the text and interpretation. And when going for the high note, I learned to pull away from the microphone."
Amplification has its advantages. "Having a microphone has allowed me to showcase my falsetto, for example. A microphone is something to be used as an instrument. I have the luxury of not having to project, therefore I can focus on the subtle nuances of the voice."
Amplification in opera
In recent years, more and more companies have adopted the use of microphones to "enhance" the acoustics of large halls that were not necessarily built for opera. "You already have companies like the Opéra of Montréal that use stages that were not conceived for opera. It makes sense in those types of places to use enhancement. However, it's going to be a hard concept to sell to big traditional houses such as the Metropolitan or San Francisco."
Quilico also reflects on the fact that in our modern society we are accustomed to loud volume and noises. The "three tenors" set an example of using microphones for the operatic voice. "We see opera singers doing these concerts in big arenas with microphones, like the three tenors.
"Currently, you have Andrea Bocelli, who some people say is an opera singer. But take his microphone away and I tell you, you won't hear him."
Staging
Last year, Quillico made his debut as a stage director in a production of Carmen that closed the Brazilian Festival de Música de Santa Catarina with conductor Catherine Larsen-Maguire. In January he returned to the ambitious 14-day classical music festival to present La Bohème, again with Larsen-Maguire.
"I'm approaching it in the period of 1930-1940," he explains. "I'm not reinventing anything, I don't claim to be a director who comes up with new concepts or anything grandiose, but I like to work with singers. That's my main goal. I understand the singers' needs well. I can almost sing every role, even Mimi!"
Relevance of opera
Quilico is optimistic about the future of opera despite its ups and downs. "Very often my kids say, 'Hey dad, come listen to this song.' I tell them, "Sorry, kids, but this song is back from my days, it was just revamped."
He continued: "We always go back to tradition, and opera is a tradition. Young people want to hear loud, funky music and then at one point in their 40s they are looking for something else. They discover opera."
"Everybody wants to do opera. I did a production of Otello where the costumes were designed by Armani. Why is Armani doing costumes for an opera? It's really not a place to make money, let me tell you.
"But great geniuses of fashion and cinema are often interested in doing opera because it combines the whole scale of the artistic disciplines. It's a prestigious thing to design the costumes for an opera. It's prestigious, real, historical and it combines all the art forms."
La Société d'art lyrique du Royaume (SALR) presents Charles Gounod's Faust, Feb. 16 to 18 at the Théâtre National Bank, Saguenay. www.salr.ca
This page is also available in / Cette page est également disponible en:

Francais (French)